$1.3M awarded to UC Davis researchers to build a low-cost sensor that measures plant water status
Associate Professor Tom Buckley and Omeed Momeni, an associate professor in the Department of Electrical and Computer Engineering at the University of California, Davis, have received a Seeding Solutions grant for $650,000 rom the Foundation for Food & Agriculture Research, or FFAR, to develop a low-cost, compact and non-invasive sensor that will measure plant water status for optimal crop irrigation. UC Davis matched the funds for a total research investment of $1,300,000.
FFAR awards Seeding Solutions grants annually to support research across the foundation's six Challenge Areas. This project supports the Sustainable Water Management Challenge Area that fuels best management practices and improved decision support tools for the agricultural sector, which uses more than 80 percent of America's water. 
"Drought was on my mind," said Momeni of the project and how it came to be. "In many parts of the world, including California, drought is becoming the new normal and we need to learn to live with it by inventing technologies for efficient water usage."
Collaborating across disciplines, Momeni and Buckley will work closely together during the four-year project. Momeni, an expert in extremely high frequency waves and the design of terahertz integrated circuit systems, will be in charge of implementing the sensor, while Buckley, a crop physiologist and plant ecologist who specializes in how plants adapt to environmental stress, will be crucial in the development of the sensor's use for understanding of drought or overwatering in tree crops. They will test the sensor, which mounts to just one side of a leaf to gauge the leaf's water status, at various crops across California.
"Water is always a limiting factor," said Buckley. "California has long been more profligate with water than it can be in the future, with climate change and smaller snow packs in the winter."
The sensor chip – as small as a water droplet – will be an ultra-short-range radar that is sensitive enough to measure a one percent change in leaf thickness and volumetric water content at the same time. From these two measurements, growers will be able to directly calculate the relative water content of leaves in the trees in their orchard, providing irrigators with clear and consistent data that can be used to inform accurate crop irrigation plans, even for a single tree.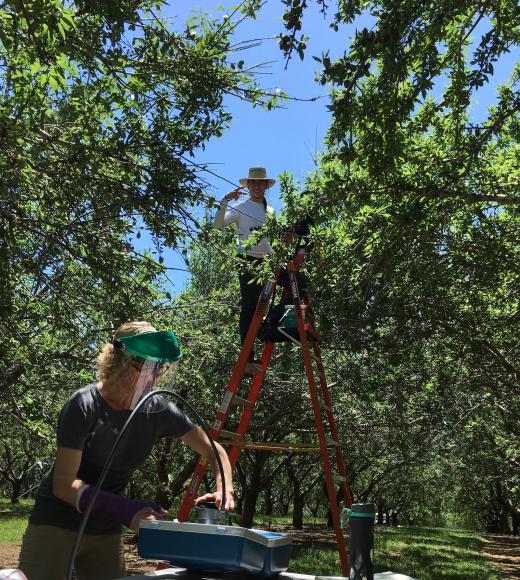 In the past, the greatest obstacle these types of decision support technologies have had for widespread adoption is their prohibitive costs. This sensor will directly address this concern by design: predicated on a small silicon chip that is widely available, the sensor will be easy and economical to manufacture. The chip will also require very little energy to function, running off of a single charge for months.
Looking at California again, where many of the key economic crops require a lot of water, such as almonds and grapes, a sensor that promises to help growers optimize their irrigation plans may have enormous potential.
"If we can save even a few percentage points of water from use in the agricultural sector, it will have a great impact for farmers, and the nation broadly," said Momeni.
The sensors also have the potential to greatly advance the speed of research by dramatically reducing the cost of water status measurement tools. 
Primary Category
Tags