Astrid Wingler to Join Plant Sciences at UC Davis as a Fulbright Scholar from University College Cork
Research will include carbon capture and soil carbon sequestration, January–July 2021
Professor Astrid Wingler, University College Cork, will join the Department of Plant Sciences at University of California, Davis, as a Fulbright Irish Scholar, from January to July 2021.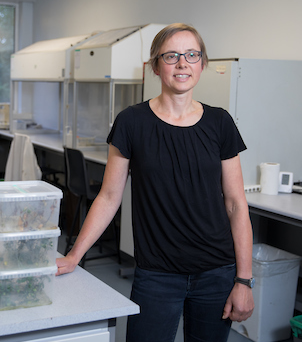 Wingler is the Professor of Plant Biology and Head of Plant Science at University College Cork in Ireland. After completing a Ph.D. in plant physiology in Germany, she was a postdoctoral researcher in the United Kingdom and Switzerland. From 2000 to 2015 she was a Lecturer/Senior Lecturer at University College London, before taking her current post in Ireland.
Her research explores the responses of plants to their environment. In particular, she researches the regulatory processes, such as sugar signaling, that determine the allocation of resources in plants and thereby enable plants to adjust metabolism and development in response to climate change and stress. More recently, the focus of her research has shifted from using the model plant Arabidopsis to investigate the effect of climate change on the seasonal (phenological) changes in trees and to improving grassland management for increased productivity.
As a Fulbright Scholar in the Department of Plant Sciences, UC Davis, Wingler will research carbon capture and soil carbon sequestration in annual and perennial grasslands. She is planning to collaborate with Plant Sciences professors Valerie Eviner, Diane Beckles, and Amélie Gaudin on how annual exotic grass species differ from native perennial species in the processes involved in allocating carbon below ground and how this affects the ability of Californian grasslands to sequester carbon. Astrid Wingler also looks forward to benefitting from the breadth of expertise available in the Department of Plant Sciences (and beyond) by exploring joint interests in plant-environment interactions and agricultural sustainability with other scientists at UC Davis.
"Astrid's interest in sustainable soils and the use of grassland systems for carbon sequestration and adaptation to future climates is of relevance to several research programs in our Department of Plant Sciences," said Gail Taylor, Professor and Chair of the Department of Plant Sciences. "We look forward to her arrival, and the fruitful research partnership between UC Davis and University College Cork."
More from Fulbright Ireland-USA:
Looking to the future, Fulbright Awardees from Ireland will

shine a light on urgent international research issues
At a time when international education programmes face huge challenges, the enduring Fulbright Programme will support 36 remarkable academics, professionals and students from Ireland to go to the USA and collaborate with their U.S. counterparts. Award recipients are due to travel from September 2020, with a majority going from January 2021.
With an emphasis on cultural immersion and building long-term academic and professional connections, the Fulbright programme selects excellent candidates from all over Ireland to work with top U.S. Institutions across all disciplines ranging from science, technology and business, to the arts and culture.
Minister Ciarán Cannon T.D.: "The role of Fulbright Awardees in driving international research and keeping global channels of communications open is more important than ever. Fulbright has always propelled collaboration between the brightest minds." 
The U.S. Ambassador to Ireland Edward F. Crawford: "The Fulbright program plays a crucial role in strengthening the unique relationship shared by the United States and Ireland. The durability of Fulbright is especially important during these challenging times."
2020–2021 Fulbright Irish Awardee Biographies
Astrid Wingler is Professor of Plant Biology at University College Cork. Her research focuses on the responses of plants to the changing environment, aiming to increase the climate resilience of plant production systems in agriculture and forestry. As a Fulbright-EPA Scholar she will visit the University of California, Davis, to investigate carbon capture and soil carbon sequestration in annual and perennial grasslands. In collaboration with colleagues in the Department of Plant Sciences at UC Davis, this research will determine how different management practices can be used to improve the climate resilience of grazing systems, while also counteracting the current rise in atmospheric CO2 concentration through carbon sequestration.
(Article by Ann Filmer, Plant Sciences, UC Davis. June 12, 2020.)
Primary Category
Tags