Bill Rains, former agronomy chair, put farmers' needs first
Discovered link between air-borne lead and horse deaths
Donald William "Bill" Rains passed away surrounded by his family on Dec. 15, 2022.  He was 85.
Rains was born on Dec. 16, 1937, in Fairfield, Iowa. His interest in science started at a young age as he helped tend the plants and animals on the family farm.  In 1953, when the price of hogs fell, the family could not service the farm's debt. They sold everything and moved to Fresno, Calif., where he got a job lining irrigation ditches on the west side of the San Joaquin Valley. There, he met large landowners who were interested in agricultural development in the area, including J.G. Boswell and Fred Salyer.
Soon after, the family moved to Culver City, Calif., where Rains attended Culver City High School. There, he met his future wife, Gail Ann Fish, whom he married in 1959. Growing up watching farmers struggle made an impression on him, and in his high school yearbook he stated, "I plan to work for the University of California Agricultural Extension Service, assisting farmers with their problems."
After graduating, Rains attended Santa Monica City College, then transferred to Pierce School of Agriculture, then to the University of California, Davis, in 1959. In 1961, he graduated with a bachelor of science degree in soil science and was selected as the outstanding soil science student of his class. He accepted a research assistant position with Prof. Emanuel Epstein in the Department of Soils and Plant Nutrition. He earned his doctoral degree in 1965, with Epstein serving as his major professor.
Long career at UC Davis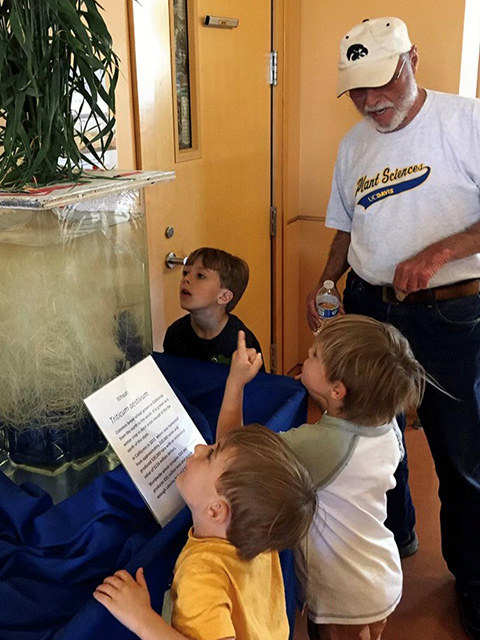 He was awarded a National Science Foundation postdoctoral fellowship to investigate the management of soil and plants in a saline environment, working in the laboratory of Prof. Andrew Benson at the Scripps Institute of Oceanography. During that time, he also lectured on plant nutrition and spent three months on the UC research vessel, the Alpha Helix, studying mineral nutrition of mangrove plants in the Great Barrier Reef of Australia. He then accepted a position in the Kearney Foundation of Soil Science at UC Davis, where he worked for the next three years before accepting a faculty position in the Department of Agronomy and Range Science. He spent his entire career at UC Davis, where, in addition to carrying out research recognized worldwide, he held a number of important administrative positions.
Rains' research interests within the field of agronomy were extremely diverse, but all were fundamentally linked to his high school wish to assist farmers with their problems. One of his earliest projects, and one of which he was most proud, began when he and his daughter were hiking in the hills near Benicia, Calif. There, they saw the bodies of several horses that had obviously perished in the field. At the urging of his daughter, he looked into the problem and found that the cause of these deaths was unknown, which led him to begin an investigation. Careful physiological study proved that the cause was contamination of the soil by lead particles that had been carried on the wind from a transfer port in the San Francisco Bay. His work was instrumental in removing this contamination and eliminating horse mortality. He was particularly fond of this project because it combined his two greatest loves, his family and science.
Promoted international ag studies
Rains' other contributions included studies on the use of azolla as an organic crop nutrient, efficient nitrogen fertilization of cotton and cereal crops, salt tolerance in cereal crops, sodium transport in plants, nitrogen and potassium in cereal crops and water stress in crop plants. Rains continued to collaborate with Epstein and with a wide variety of other scientists, both within Agronomy and Range Science and at other universities worldwide. He mentored a large number of graduate students, many of whom went on to distinguished careers in and out of academia.
Rains served as director of the UC Davis Plant Growth Laboratory, which was the site of considerable fundamental research in plant sciences. He served as chair of the International Agricultural Development Graduate Group and was instrumental in its rise to a position as a recognized world leader in this area. He served on two separate occasions as chair of the Department of Agronomy and Range Science, one of the four departments that were merged in 2005 to form the current Department of Plant Sciences.
After his retirement in 2005, Rains continued to engage in the UC Davis campus community, being active in the Emeriti Association, including service as chair of the association. He also, in collaboration with Prof. Melvin George, researched and wrote a history of the Department of Agronomy and Range Science and gave numerous lectures in the Osher Lifelong Learning Institute.
Plans for spring dedication
Rains enjoyed fishing, hunting, making wine at home, sharing his knowledge and stories, and most of all, spending time with his family and friends. He particularly loved the calmness of early morning fishing on Lake Berryessa and the warm companionship of the group of friends that fished every summer in Montana. He was a long-time member of the Fly Fishers of Davis and served as president for two years.  All who knew him appreciated and respected his love of life, sense of humor, dedication, loyalty and integrity. He appreciated and found joy in the life he felt lucky to have led, and those family, friends and colleagues who shared in it with him and helped him along the way.
Rains is survived by his wife, Gail; three children; five grandchildren; and nine great-grandchildren. This spring, a bench will be dedicated in honor of his contributions to and love of the UC Davis campus.
Media Resources
Trina Kleist, UC Davis Department of Plant Sciences, tkleist@ucdavis.edu, (530) 754-5148 or (530) 601-6846
Primary Category
Secondary Categories
Tags