Biodiversity Museum Day: Saturday, Feb. 16, 2019
UC Davis' eighth annual Biodiversity Museum Day is happening on Saturday. It's a free educational event, open to the public, and features the university's natural-world museums and collections. Not only can you explore the collections, but you can talk with scientists and students about their work.
The 13 collections that can be visited (with links to the plant-focused collections):
9 a.m. to noon:
Arboretum and Public Garden
Bohart Museum of Entomology
California Raptor Center
Museum of Wildlife and Fish Biology
Paleontology Collection
Phaff Yeast Culture Collection
Viticulture and Enology Culture Collection
Noon to 4 p.m.:
Anthropology Museum
Botanical Conservatory
Center for Plant Diversity (and Herbarium)
Haagen-Dazs Honey Bee Haven
Marine Invertebrate Collection
Nematode Collection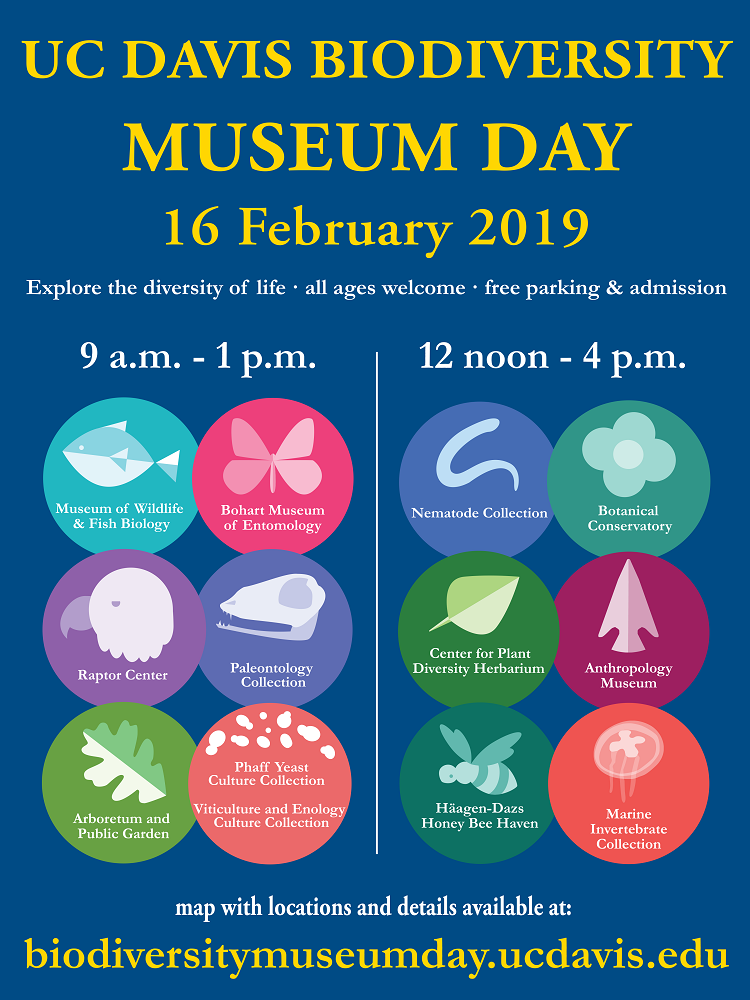 The event will be held, rain or shine – many of the museums and collections are indoors. Dress for weather if you're visiting outdoor sites. This is a great event for children to see natural wonders and to experience a university campus.
Please see this site for details before you go. Parking is free on weekends. Lunchtime dining options are available.
Schedule and timing of events
Campus map, with locations highlighted
(Article by Ann Filmer, Dept. of Plant Sciences, UC Davis)
Primary Category
Tags