Cameron Pittelkow receives ASA Early Career Award from the American Society of Agronomy
The American Society of Agronomy (ASA) has presented Cameron Pittelkow, assistant professor in the Department of Plant Sciences at UC Davis, with the ASA Early Career Award for his outstanding contributions to the field of agronomy since earning his Ph.D in 2013. The ceremony was virtually broadcasted on November 12.
To be considered for the award, one must demonstrate that they have made an exceptional contribution to the field of agronomy within seven years of their most recent degree. From the award's description, applicants are evaluated on the following contributions:
Evidence of quality teaching at the undergraduate and/or graduate levels.

Effectiveness in extension and outreach activities.

Significance and originality of basic and/or applied research.

Achievements in private sector application of agronomy, crop and/or soil science.

Contributions to the public or professional organizations and institutions.
Focus on Sustainability
Pittelkow, a UC Davis alumnus with an M.S. in International Agricultural Development and a Ph.D in Agronomy, is principally interested in the relationship between sustainability and crop production, particularly through the lens of mitigating negative environmental impacts. Throughout his early career, he has initiated projects nationally and internationally to advance systems-level sustainability for major grain cropping systems. In addition, Pittelkow has authored or co-authored 44 peer-reviewed publications, and has earned several awards celebrating his teaching and research excellence, including a U.S. Fulbright Scholar Award in 2014-2015.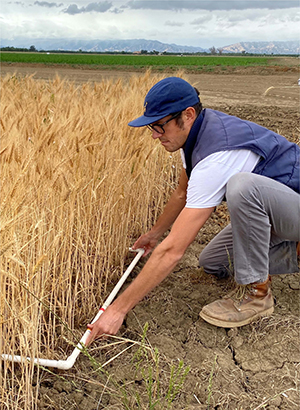 "Pittelkow's research is positioned for impact," wrote Department of Plant Sciences Professor Charlie Brummer, "because he develops practical pathways for balancing agronomic and environmental goals that can be adopted at scale in intensive crop production systems."
Brummer, who is also the Director of the Plant Breeding Center at UC Davis, nominated Cameron Pittelkow for this year's ASA Early Career Award. He was impressed with Pittelkow's accomplishments while as an assistant professor at the University of Illinois, noting in particular his work in nutrient stewardship in the Midwest region of the United States, his productive research program and his passion for teaching.
"I'm incredibly honored," said Pittelkow of the award. "I've been lucky to receive support from outstanding colleagues and graduate students along the way, so this is as much of a reflection on them. Mentorship is important to me and I look forward to helping others in their early career – we all know getting started is not easy"
On the topic of mentorship, Pittelkow is passionate about stewarding the next generation of agronomists, and it shows. Past students have said he creates a supportive and engaging learning environment.
"His accomplishments are easily among the very top of his peer group," wrote Brummer, "and it's very clear that he is on a trajectory for continued success."
Pittelkow joined UC Davis as a faculty member last year. As described in a previous article, his research program will focus on agronomic crop production in California and abroad.
Congratulations to Cameron Pittelkow for receiving the ASA Early Career Award
(Article by Matt Marcure, Communications, Department of Plant Sciences, with content from ASA Press Release by Sarah Uttech)
Primary Category
Tags