Cattle Ranchers Cope with Dry Pastures (Video)
California's bone-dry February didn't leave a lot of forage for Todd Swickard's cattle — though mid-March rains should provide some help.
While looking around his Napa County winter pasture last week, before a late-winter storm arrived during the weekend, Swickard noted conditions on the hills were what one would expect in mid-April or later, with land gradually fading to brown and poppies everywhere.
"Any of the south-facing slopes or the shallower soils, the grass is pretty much burned up," Swickard said. "It's done for the season."
The long February dry spell also means a lack of carryover vegetation, he added.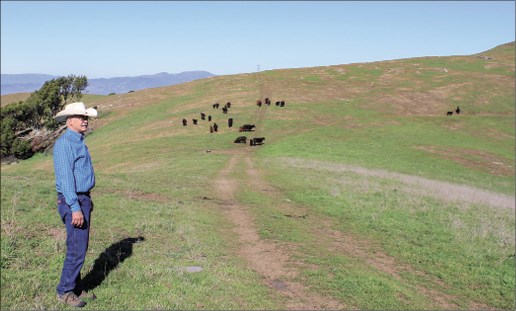 "Normally, you get some rains into the spring, the grass kind of takes off, and then you have a lot of dry vegetation left over," Swickard said. "That'll help you next fall as well, having some cover and dry vegetation for your livestock. Whereas now, this stuff's burning up, and it's only an inch tall or so."
He said the weekend rainfall — up to an inch overall in the hills, Swickard estimated — "should keep (the grass) going and be productive on into the spring."
"But any of that that was brown," he added, "it's probably too late for that."
Regardless, he said the mid-March rain was "probably going to extend the grazing season another 60 days or so," and give his operation "a lot more flexibility."
Water for his cattle also is an issue, Swickard noted.
"Usually, we have some pretty good rains in January that will get all the creeks running, the stock ponds filled," Swickard said. "And in some places, that didn't happen."
Leslie Roche, a Cooperative Extension specialist at the Department of Plant Sciences, University of California, Davis, said such observations have been commonplace this winter.
"One of the things that we're hearing from folks is that, with this lack of rain, the actual forage vegetation has progressed in maturity," she said. "We're seeing a lot of grasses heading out, producing seeds a lot earlier than would be a normal timeline. That's a problem because once they've headed out, and they've started diverting resources to producing seed, we're going to see less vegetative growth."
Ranchers around the state are taking notice of such conditions, and are being encouraged by cattle groups to report rangeland conditions to the U.S. Drought Monitor, which tracks drought conditions nationwide.
Brian Fuchs is a geoscientist and climatologist at the U.S. Drought Mitigation Center, based at the University of Nebraska-Lincoln. He encourages ranchers to report conditions, and the actions being taken in response to them.
"If someone comes in and says, 'Hey, conditions are worse than what's being shown on the map — we've had to do A, B, C and D to keep our operation going, we've had to cull animals, we had to do this and that' — that says a lot more than just coming out and saying what they think the map should be, because there's a standard process we go through to make that map," Fuchs said.
Boots-on-the-ground reports also help authors of the weekly Drought Monitor validate other information they've received, he noted. Ranchers also can sign up to report through the Community Collaborative Rain, Hail and Snow Network or CoCoRaHS; participants buy and install an inexpensive rain gauge and report daily.
"Sometimes, as a Drought Monitor author, I have been sitting here and I'm thinking, 'Well, is this area severe drought, or is it exceptional drought on the map?' And I have conflicting messages coming across the data, and all of a sudden I start looking at these reports, and I see that there have been a lot of issues going on," Fuchs said, noting that he and fellow authors met with livestock producers in Davis several years ago at the invitation of the California Cattlemen's Association to discuss ways to encourage and improve reporting.
Roche said she believes ranchers and UC Cooperative Extension have made good strides in reporting to the Drought Monitor.
"I've been in contact with the Drought Monitor authors, making sure that we are getting information to them," Roche said. "A concern of the Drought Monitor side was that they weren't getting a lot of information on the ground from California, and so we've been working to make sure that they are getting some of those observations."
Roche said the Drought Monitor appreciates "qualitative observations."
"They particularly are looking for information that can be contextualized," she said. "Like, there's ponds going dry that haven't gone dry in 20 years," or "we've never had to feed during these months and now we're feeding so many loads of hay."
Reports to the Drought Monitor can be made by visiting the U.S. Drought Mitigation Center page at droughtreporter.unl.edu/map/ and clicking "Submit a Report."
If conditions as noted by the Drought Monitor reach certain levels, livestock producers can apply for the Livestock Forage Disaster Program through the U.S. Department of Agriculture. The program provides payments to eligible ranchers who suffer grazing losses during a normal grazing period because of drought or fire. Payments are calculated according to the severity and duration of drought in a given county, as rated by the Drought Monitor.
"Those programs are pretty important to a lot of producers in California, because this potentially could be way worse than 2013–14" in terms of rangeland grass, said Doug Freitas, a Yolo County livestock producer. "These cow-calf guys — which are the lifeblood of the California cattle industry — they're going to have very minimal grass to summer their cattle on."
In Napa County, Swickard said he is confronted with a range of options: selling off some of the herd; moving cattle to other pasturelands; or buying feed. None of these is ideal.
He's already moved some cattle to Lassen County. Markets are collapsing on account of the coronavirus pandemic, and hay stocks are short.
"Everyone's scrambling to try to find some pasture somewhere else, but obviously there isn't much available since everyone's in the same boat right now," he said. "I've just been kind of jockeying things around, trying to decide what to do, getting cattle shipped out of here."
(Article by Kevin Hecteman, assistant editor of Ag Alert, khecteman@cfbf.com, March 18, 2020. Video from AgAlert, California Farm Bureau. Article reprinted from AgAlert, California Farm Bureau Federation.)
Related articles and information
Supporting first-generation ranchers in coping with drought and climate change. March 2020.
Is a new generation of young, female ranchers ready to adapt to climate change? October 2018.
UC Rangelands website.
Primary Category
Tags