Conservation Agriculture Key in Meeting UN Sustainable Development Goals
New analysis shows benefits of conservation agriculture to crop performance, water efficiency, and climate action in South Asia
An international team of scientists has provided a sweeping new analysis of the benefits of conservation agriculture for crop performance, water use efficiency, farmers' incomes, and climate action across a variety of cropping systems and environments in South Asia.
The analysis, published today in Nature Sustainability, is the first of its kind to synthesize existing studies on conservation agriculture in South Asia and allows policy makers to prioritize where and which cropping systems to deploy conservation agriculture techniques. The study uses data from over 9,500 site-year comparisons across South Asia.
According to M.L. Jat, a principal scientist at the International Maize and Wheat Improvement Center (CIMMYT) and first author of the study, conservation agriculture also offers positive contributions to the Sustainable Development Goals of no poverty, zero hunger, good health and wellbeing, climate action, and clean water.
"Conservation agriculture is going to be key to meet the United Nation's Sustainable Development Goals," echoed J.K. Ladha, adjunct professor in the Department of Plant Sciences at the University of California, Davis, and co-author of the study.
"Agriculture in South Asia faces multiple stresses which include plateauing crop productivity, a deteriorating resource base – soil health, water and labor shortages, and climate forcing associated with factors such as rising temperature, crop residue burning, and greenhouse emissions," added Ladha.
Scientists from CIMMYT, the Indian Council of Agricultural Research (ICAR), the University of California, Davis (UC Davis), the International Rice Research Institute (IRRI) and Cornell University looked at a variety of agricultural, economic, and environmental performance indicators — including crop yields, water use efficiency, economic return, greenhouse gas emissions, and global warming potential — and compared how they correlated with conservation agriculture conditions in smallholder farms and field stations across South Asia.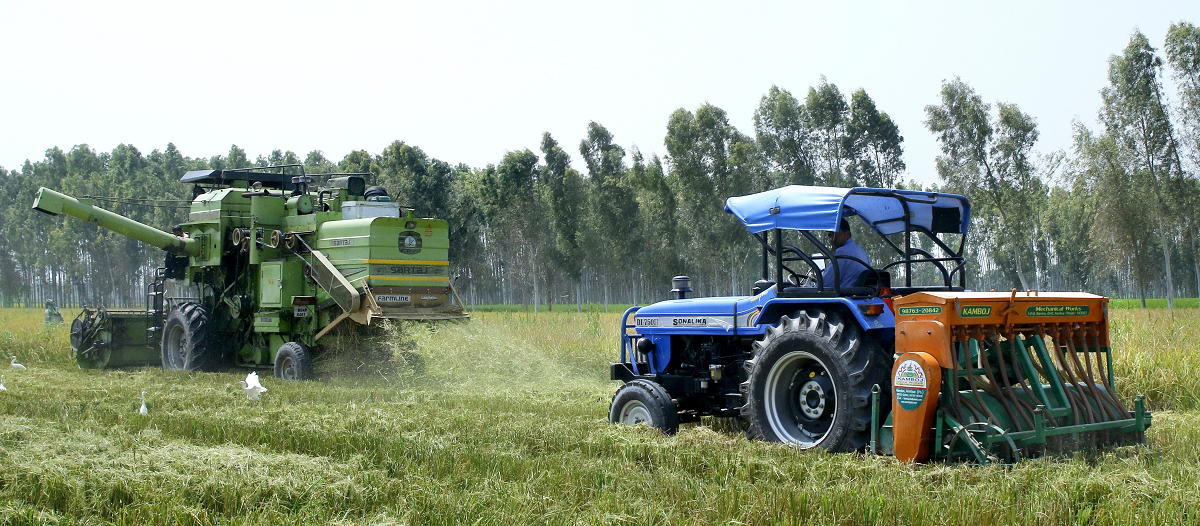 Results and impact on policy
Researchers found that many conservation agriculture practices had significant benefits for agricultural, economic, and environmental performance indicators, whether implemented separately or together. Zero tillage with residue retention, for example, had a mean yield advantage of around 6 percent, provided farmers almost 25 percent more income, and increased water use efficiency by about 13 percent compared to conventional agricultural practices. This combination of practices also was shown to cut global warming potential by up to 33 percent.
This comes as good news for national governments in South Asia, which have been actively promoting conservation agriculture to increase crop productivity while conserving natural resources. South Asian agriculture is known as a global "hotspot" for climate vulnerability.
"Smallholder farmers in South Asia will be impacted most by climate change and natural resource degradation," said Trilochan Mohapatra, Director General of ICAR and Secretary of India's Department of Agricultural Research and Education (DARE). "Protecting our natural resources for future generations while producing enough quality food to feed everyone is our top priority."
"ICAR, in collaboration with CIMMYT and other stakeholders, has been working intensively over the past decades to develop and deploy conservation agriculture in India. The country has been very successful in addressing residue burning and air pollution issues using conservation agriculture principles," he added.
"There are also serious emerging social issues," said Ladha, "such as rural youth moving away from dusty practices and labor-intensive farming. These stresses do not act in isolation but are interdependent and multidimensional in nature, therefore they require a paradigm shift in the way crop agronomy is managed. Conservation agriculture has emerged as an alternative to an inefficient tillage-based conventional agriculture."
With the region's population expected to rise to 2.4 billion, demand for cereals is expected to grow by about 43 percent between 2010 and 2050. This presents a major challenge for food producers who need to produce more while minimizing greenhouse gas emissions and damage to the environment and other natural resources.
"The collaborative effort behind this study epitomizes how researchers, policy-makers, and development practitioners can and should work together to find solutions to the many challenges facing agricultural development, not only in South Asia but worldwide," said Jon Hellin, leader of the Sustainable Impact Platform at IRRI.
Related publications:
For more information, or to arrange interviews, contact:
Acknowledgements:
Funders of this work include the Indian Council of Agricultural Research (ICAR), the Government of India, and the CGIAR Research Programs on Wheat Agri-Food Systems (CRP WHEAT) and Climate Change, Agriculture and Food Security (CCAFS).
About CIMMYT:
The International Maize and Wheat Improvement Center (CIMMYT) is the global leader in publicly-funded maize and wheat research and related farming systems. Headquartered near Mexico City, CIMMYT works with hundreds of partners throughout the developing world to sustainably increase the productivity of maize and wheat cropping systems, thus improving global food security and reducing poverty. CIMMYT is a member of the CGIAR System and leads the CGIAR Research Programs on Maize and Wheat and the Excellence in Breeding Platform. The center receives support from national governments, foundations, development banks, and other public and private agencies. For more information, visit www.cimmyt.org.
(Original article by Alison Doody, CIMMYT. Additions in this posting by Ann Filmer, Plant Sciences, UC Davis. April 16, 2020.)
Primary Category
Tags