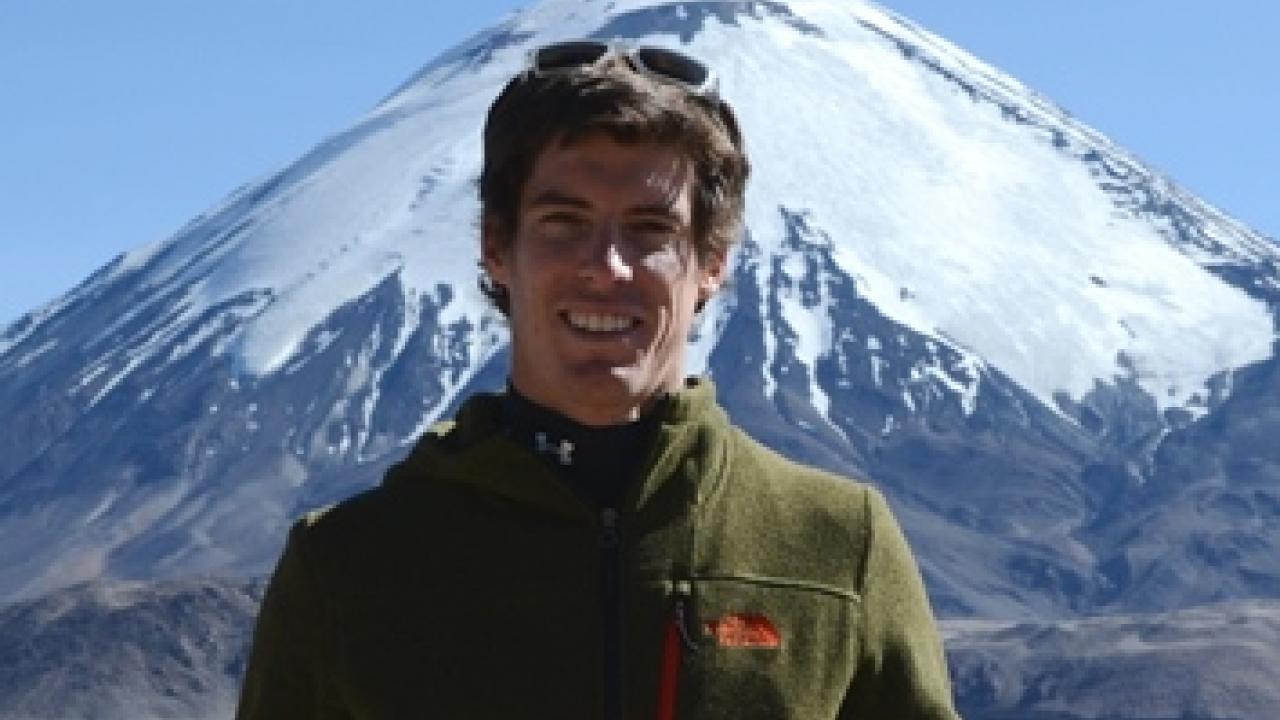 Cristobal Andres Heitmann, who was just finishing his master's degree in the Department of Plant Sciences at UC Davis, was killed in a bicycle accident on the evening of Tuesday, April 17, 2018.
Earlier that day, Allen Van Deynze, Cris Heitmann's major professor, signed off (approved) Heitmann's master's degree thesis. Cris had just begun a high-level position as a production nursery manager for Driscoll's, in Redding, California.
Heitmann, 32, originally from Chile, came to UC Davis in 2014, working with Allen Van Deynze and Alan Bennett in the Department of Plant Sciences on an international maize project. Van Deynze said, "Cris had excellent skills as an agronomist with exceptional attention to detail and understanding of plant sciences."
While at UC Davis, Cris was on the board of directors of the Chilean Students' Association. He was also passionate about triathlons. He qualified for the top Ironman competition in Kona, Hawaii, in 2019, and was listed as one of the top three athletes to watch.
At the time of the accident, Cris Heitmann was on a bicycle when he collided with a motorcycle on Highway 151 in Shasta County, near Shasta Dam. Heitmann died at the scene. A memorial reception and a celebration of life were held for Cris Heitmann on April 22 in Davis.
Cris touched many people at UC Davis and will be fondly remembered. A scholarship in his name is being planned.
(If you wish to leave a comment in remembrance of Cris, please add it below.)
(Article by Ann Filmer, Dept. of Plant Sciences, UC Davis)
____________________
Comments
____________________
My husband and I met you on the Davis Race Team Bike rides on Saturday mornings and I also in some of the local Tri For Real Triathlons. There was something about you, Cris, that was special and connected with people young and old, athletes and non-athletes, and all nationalities of friends. Your death hit both Doug and I hard, and I, Andrea, carry your continued enthusiasm and positivity with me whenever I have hard times or difficulties I think "What would Cris do?" Yes, we would rather have you here with us on Earth, but you still live on in our hearts.
– Andrea Kirsch and Doug Merrill
____________________
I feel shocked. I knew Cristobal because we took one stats course, and we were friends in facebook. I could always see how we was making every day count, so energetic and optimistic.
Hasta pronto Cris.
– Javier Vazquez
____________________
Chamaco.. I feel so proud of you.. always pursuing your dreams and making us think things beyond what we could see .. you achieved your goals, and you were always persevering… you are an example to follow and I am grateful to God that you have been my friend , and I am sure you will continue taking care of us from heaven bro, your big smile will always cheer us up , and your mood will raise our days of sadness
Thanks to UC Davis for remember him this way.
– Klauz Holzhauer
____________________
Cristóbal,
Our number two son, we always knew you were wonderful but to us you were so special! We had such good times shared through the years, we will cherish those memories; meeting you at the hospital before you were born, the playita at higuerillaswith Matthew and the baby penguin, Fourth of July in Washington, D.C., New York and the Twin Towers…. great times, food, joy and fun! Always and forever you will be on our minds.
– Love and peace from Charles, Monica and Matthew
____________________
Cris was a joy to be around, a tremendously warm spirit, an exceptional person. He treated everyone as a friend and will be remembered by so many whose lives he touched.
– Tamara McClung
____________________
Cris, a person intimately close to my family, left us a memory of a clean soul. I am sure God gave him a good place to rest.
– Jose Miguel de la Cruz
____________________
Your smiles wil never be forgotten and forever remembered! See you in Heaven some day my friend ! Your light will shine bright on the top of Shasta mountain forever!
– Diane Bloomfield
____________________
He was an outstanding person, a dedicated student, passionate about his work, his friends and his sports. But most of all, he was a wonderful brother, a delight and a hoot to be with. Our hearts will remain in shadow forever.
– MariaJose
____________________
Cristobal was the best brother and also my best friend. I'm sure he is riding his bike in heaven.
Love you so much, Your sister.
He was the best uncle I ever had, my hero.
Love and miss you tons, Iggy.
– Alejandra de la Cruz
____________________
I am so proud of my nephew. Very accomplished individual. We feel an enormous emptiness, but the light he carried shines on us forever. Glad to hear about the Foundation on his name, eager to contribute and make his legacy a reality of his permanent presence among us.
– Enrique Montero
____________________
Thanks to all for all you did for my Chris…..
– Alejandra Fogarty
____________________
I'm so sorry to hear this. RIP. Make him rest in Peace and always beside God. Amen.
– villabetting
____________________
I believe with this sentence > Cris touched many people at UC Davis and will be fondly remembered.
Thanks for a share in this brave story to us.
– Sakil Ahmed
____________________
Category
Tags