Faculty Profile: Brad Hanson
The Best Job in the University
Developing methods to manage weeds in tree and vine crops is the focus of Brad Hanson's research. Hanson is a faculty member in the Department of Plant Sciences at UC Davis, but he's also a statewide Cooperative Extension (CE) specialist for the UC Division of Agriculture and Natural Resources (ANR). He works primarily in orchard and vineyard crops on chemical-based weed control.
In addition to his role as CE specialist, he is the Vice Chair for Outreach and Extension in the Department of Plant Sciences, supervisor for the UC Davis IR-4 field research center, he gives 30 or more talks each year throughout the state and nation, he has field trials in a 400-mile swath of the Central Valley, he is on the road a lot, and he oversees his vibrant lab group that includes several graduate and undergraduate students, postdoctoral researchers, and research staff.
Whew, those are a lot of responsibilities for any one person, but Hanson says, "I have the best job in the university."
Cooperative Extension Responsibilities
He particularly likes being a CE specialist because he serves as a bridge for a lot of people. He and his lab group are doing or connected to fundamental research, while he is also very much connected to the growers in the field and their needs, along with working with regulators and herbicide manufacturers.
Hanson works with many levels in the crop advisory chain, from county-based Cooperative Extension advisors, who are really important bridges, too, along with licensed pest control advisers and certified crop advisers.
"My position is to touch on all the aspects of science from the lab to the tractor driver to the regulators to the manufacturers," notes Hanson. "It's really important in terms of serving all those people and being a liaison among all those stakeholder groups.
"The thing that drives me is helping people do a better job farming. That encompasses controlling weeds with better performance and improved economics, minimizing environmental damage, and all the ways that weeds and weed control practices impact production agriculture and the environment. That is my primary over-arching goal."
The extension part of Brad Hanson's program focuses on two primary areas -- weed control and herbicide performance -- and how weeds are controlled in different situations. This applied research forms the bulk of his extension program because that's what growers and pest control advisers want to know -- what is this weed and how do I kill it?
Award: Outstanding New Academic
As a result of Hanson's many accomplishments in Cooperative Extension, he received the 2015-2016 UC ANR Distinguished Service Award for Outstanding New Academic.
The award recognizes outstanding accomplishments by UCCE academics who have worked in UC Cooperative Extension for less than 10 years and recognizes outstanding beginnings in UCCE for academic excellence; contributions to the UC Cooperative Extension mission through university and public service; creation of an innovative extension research program; and identified impact and outcomes in extension and research efforts. Hanson began his position as the UC Weed Science specialist in 2009.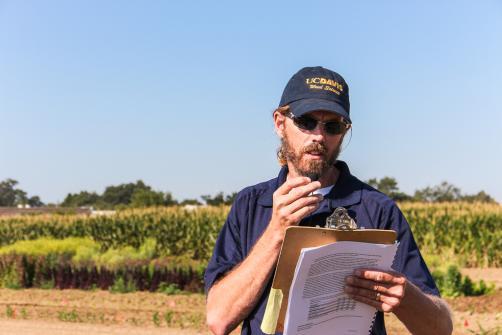 Research
One of the biggest issues driving weed control in orchard and vineyard systems right now is herbicide-resistant weeds. There are several glyphosate-resistant weeds, and because that's such an important herbicide in the system, it's causing some problems for growers.
"A number of people in my group have worked on glyphosate-resistant weeds of various sorts -- confirming and quantifying resistance, studying the mechanism of resistance, and studying the underlying genetics of resistance," said Hanson. "The basic and applied research we do on herbicide resistance has interesting scientific aspects but also provides important information that I use when talking to growers about managing weeds in their orchard, vineyard, or fields."
The other part of his chemical weed management program is crop safety.
"Compared to broad acre crops, there's often not as much information about crop safety in specialty crops, so quite a bit of my program also focuses on herbicide problems -- injury to crops or offsite movement," said Hanson. "One of my graduate students is working on a projected related to non-target injury on an orchard crop from herbicide drift."
The IR-4 Program
The Western Region IR-4 Program is headquartered at UC Davis and Hanson is supervisor for the field research center located on campus (there are four in California). The IR-4 Program is a USDA-supported effort that helps get pest management tools registered for use in minor acreage crops. This program is really important to California specialty crop growers since many of these crops do not present a sufficient market for pesticide manufacturers to do the expensive analytical residue testing that is needed for registration.
In the field program at UC Davis, Hanson's team conducts about 25 trials each year, including pesticide application sampling of the food products, using EPA-approved good laboratory practices and protocols. The samples are then shipped to an analytical lab which generates the data used by U.S. EPA in determining whether the proposed pesticide meets product safety standards.
Impact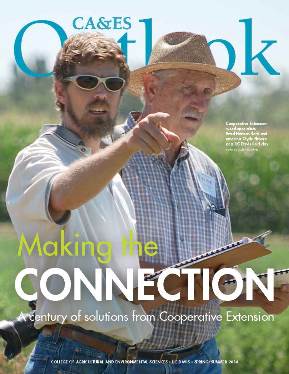 "I really like Cooperative Extension positions, whether they're advisor positions or the specialist positions because there's this great feedback loop," said Hanson. "I talk to growers a lot in my extension program. Twenty to 30 times a year I'm on stage, talking to farmers and pest control advisers. Or, I'm at a field meeting, standing in an orchard or field, talking to growers or the ag industry -- talking to them and answering questions.
"Often I get questions that I've gotten before. However, when I get a new question that I don't have an answer for, particularly when I get it several times, I know it's something we need to address with research. That's what drives the applied part of my research program.
"I really value the two-way interaction with the growers and pest control advisers, and with the fundamental researchers at UC Davis or on other campuses. That's what's so unique about the role of Cooperative Extension -- my job is to use my research and my connections with other researchers to help solve real problems."
The UC Davis Connection
Brad Hanson sees great value in having his Cooperative Extension program centered at UC Davis. It gives him a tremendous opportunity to work with basic researchers and with graduate students. He feels that they help magnify the program, the entire university benefits, and the work helps graduate students establish networks and pursue careers.
"Being located on campus," says Hanson, "there's probably somebody down the hall or across campus who can help me understand some fundamental of plant science -- maybe something like transmembrane transporters or the evolutionary driving force behind herbicide resistance or whatever. I can then use that information to help me answer a grower's questions in an orchard field meeting somewhere in the state.
"Again, that bridge, or that liaison part of my position is really enhanced because I have a UC Davis campus affiliation, along with the UC Cooperative Extension network. With my research team on campus and our Cooperative Extension collaborators, we can cover a lot of metaphorical and physical ground."
Looking Forward
Prospective students often ask Hanson about his research and extension continuum, and he finds that this continuum is what students are seeking. Those are the students Hanson wants. Having been at UC Davis for seven years, Hanson feels his program is gaining visibility to students and early career scientists who fit and create synergies within his program.
It all comes down to group dynamics.
"There's a real value in having a critical mass in a lab group or program," notes Hanson. "Not just my lab group, but our entire weed science group. We have close to 20 people working in weeds here at UC Davis, between the faculty, staff, support scientists, postdocs, and students. All those folks learn from each other, they problem solve, and they help each other on projects -- this helps everyone, especially the graduate students, become better scientists and better critical thinkers and mentors themselves.
"I'm really excited about the statewide weed program for the next five years. My program is hitting full stride and ANR is recruiting for several positions that have at least partial weed science assignments, so we're rebuilding some of the weed science expertise in the state. The teamwork is important in helping growers address difficult, complex multidisciplinary problems, whether it's agricultural productivity problems, or environmental problems."
And Brad Hanson is happy to be part of such a successful team.  
(Profile written by Ann Filmer, Department of Plant Sciences)
Primary Category
Tags