Fertilizer Timing and Rates for Wheat: Mark Lundy Research
The standard time to apply nitrogen on wheat is pre-plant, but new research from UC Cooperative Extension researchers Steve Orloff, Mark Lundy, Steve Wright and Bob Hutmacher has found evidence supporting different timing.
Working on the third year of the study, they've looked at different N application rates and timings. They are also looking at different diagnostic tools that would predict through the season how much N is needed, Orloff said.
Wheat growers need to get high yield and high protein content, but it can be difficult to achieve this combination, he said.
"Where you have high yield potential, it's really difficult to meet the protein standards," Orloff explained.
"The protein standards for hard red spring wheat are even higher in the intermountain area than they are in other areas. They have to get 14 percent, which is very difficult to achieve, especially with the high yield potential in the Klamath Basin," he said.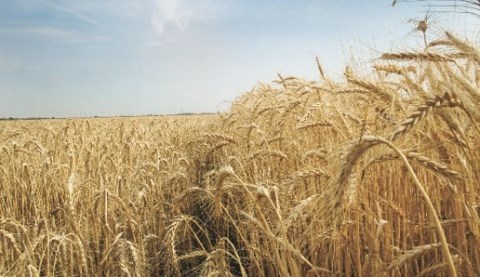 "The common practice in the past has been to apply all the N pre-plant, and maybe come back with a topdress application at flowering later in the season to try to improve protein," Orloff said.
The research has found that if more N is applied later in the season, it increased the protein content, he said.
"I thought that it would either sacrifice yield or maybe you would see no difference in yield, but we actually found that N at tillering improved yield and resulted in higher protein," he said. "One of our most effective treatments was to apply N at tillering, and then another application at flowering. And then that gave you high yield and high protein content.
"To be totally frank, if I was a grower, I would be a little bit nervous to do just this kind of a program, because it's a lot easier to put on N at planting time," he said. "The concern that I would have if I was a grower was: What if the weather conditions aren't conducive to having a tillering application if you went on later?"
Orloff pointed out that there would be a yield penalty if the application wasn't applied because of rain.
This would be of greater concern in the valley versus the intermountain regions, because growers in the intermountain regions primarily plant spring winter wheat, and with spring wheat there is usually a window to apply the N, Orloff said.
"But still, I would want to hedge a little bit. I'd still want to put on some pre-plant and maybe come back with the tillering application," he said.
Orloff said, at the tillering, the grain already looked N-deficient, and the plants didn't look as robust.
"I would have thought previously that you couldn't compensate for that later on, that you wouldn't get highest yield had you somewhat stressed the plant for nitrogen early on, but that didn't seem to be the case," he said. "Nitrogen and tillering was really key. And that's probably because that's going into peak uptake periods."
Orloff said matching the application rate to plant uptake seems to be important.
Mark Lundy, UCCE grain cropping systems specialist, is looking at different diagnostic tools to predict, during the season, whether an additional late-season N application is needed and how much to apply. Lundy is a faculty member in the Department of Plant Sciences at UC Davis.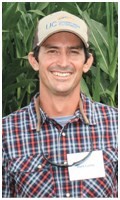 "We're trying to also understand how technologies that we're using to measure the crop in-season can indicate whether the crop will use nitrogen, and if so, how much," Lundy said.
Lundy is using a couple of different technologies to measure this.
"We're measuring leaf greenness as well as canopy greenness, and measuring it both in the visible spectrum, where you can see with your eyes, and the near-infrared spectrums," Lundy said. "We are actually doing some soil measurement as well, but for that we're using a modified nitrate quick test. We're still in the process of figuring out how accurate that is, and how much information it gives.
"The sensors are basically knock-off versions of things that have been around for a while. It's a leaf chlorophyll meter, and it's used at the leaf level," Lundy said.
An active red light bounces off of the leaf, then a receiver measures the reflectance in two wavelengths that are sensitive to nitrogen content, Lundy said.
The other sensor Lundy is using is a handheld NDVI (normalized difference vegetative index) meter called a Greenseeker.
"Again, it's cued into a couple of wavelengths that are sensitive to greenness and nitrogen content, and it's trying to quantify the differences by measuring how much plant is there, and how green the plant is," he said.
What's unique about Lundy's approach is that he's using the devices together.
"We're finding that the two sensors used together provide more information than a single sensor would provide on its own," Lundy said. "We're trying to create the thresholds that would be decision support tools for growers, so that if they use both of these sensors they can say, 'OK, here I am at this point of the season; how sufficient or deficient am I in nitrogen, and would it make sense for me to apply at this time?'" Lundy said.
"The big picture is, we find it more effective to apply nitrogen in-season than preseason," Lundy said. "If you're going to wait and apply the majority of your fertilizer nitrogen after the plant is growing, then you can also use the plant as a way to measure how much nitrogen you should be applying."
Growers need to know if the plant is very deficient, not deficient at all, or somewhere in between.
"The sensors can help you determine that," Lundy said.
(Article by Kathy Coatney a reporter in Bend, Ore., kacoatney@gmail.com. Article reprinted from AgAlert, California Farm Bureau Federation)
Primary Category
Tags