Field Research Showcased at Russell Ranch Field Day, UC Davis
Russell Ranch Field Day is an annual event at UC Davis each June, at which faculty, graduate students, and postdocs present their plant, soil, and irrigation field research to growers and other researchers. This year's field day theme, on June 11, 2018, was "Increasing Farm Resilience Through Healthy Soils and Water Management." Included in the program were a grower panel discussion and poster session.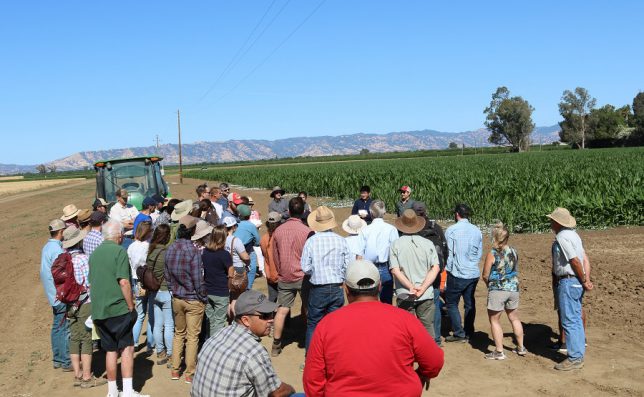 Presenters of field research from Plant Sciences at UC Davis included faculty members Amelie Gaudin and Mark Lundy, postdoc Meng Li, and graduate student Kalyn Diederich.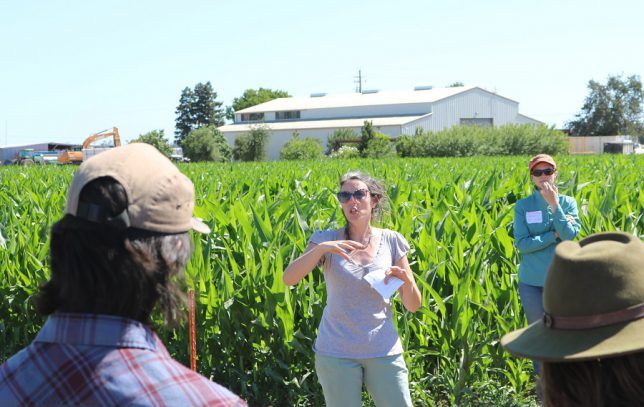 Amelie Gaudin's presentation on "Impact of Irrigation Management on Tomato Roots and Rhizosphere," addressed root functions in building soil health. She talked about the diversity of rhizosphere populations, including the differences in root systems in drip- vs furrow-irrigated organic tomatoes. Drip-irrigated tomatoes produce fine, lateral roots, while furrow-irrigated roots are coarser, and in greater number. Gaudin's overall research interest is agroecology and developing sustainable and resilient agroecosystems.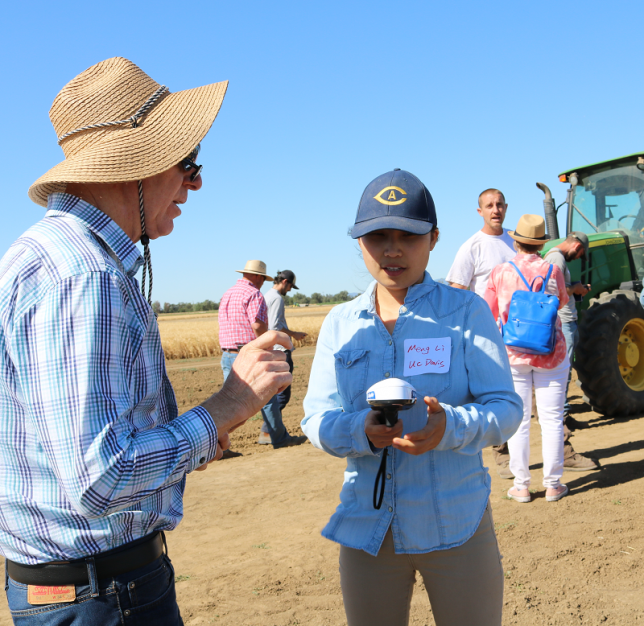 Meng Li, a postdoctoral researcher in Gaudin's lab, talked about "Deficit Irrigation Strategies to Optimize Processing Tomato Quality and Yield," and the impact of deficit irrigation on brix levels (total soluble solids) in tomatoes. Her research interest is rhizosphere functioning in irrigated tomato and the magnitude and potential shifts in mechanisms associated with resilience to water stress in organic vs conventional tomato systems.
Mark Lundy's Ph.D. graduate student Kalyn Diederich is working on "Kernza in California." Lundy presented her work since she was unable to attend the field day. They are studying kernza, a perennial 'cousin' of wheat, and whether kernza wheatgrass is viable in California as a forage crop or specialty grain. Lundy is a statewide Cooperative Extension specialist who focuses on grain cropping systems in California.
The Russell Ranch Sustainable Agriculture Facility at UC Davis has hosted an annual field day since 1994.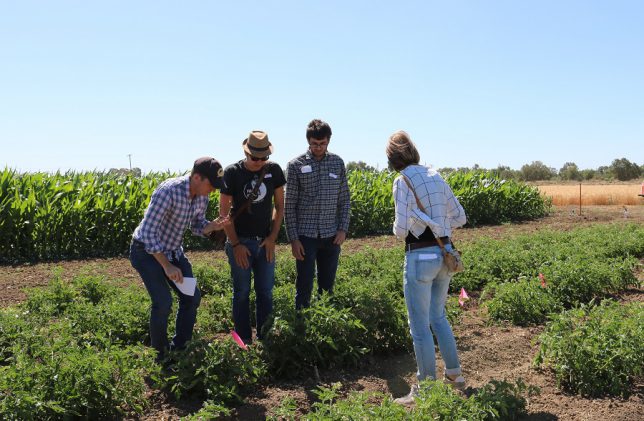 RUSSELL RANCH FIELD DAY
FIELD PRESENTATIONS
Farming Systems
Long-Term Yield Trends in The Century Experiment after 24 Years; (Nicole Tautges)
Soil Health Assessment at Russell Ranch; (Kate Scow)
Considering Management and Landform on Micronutrient Availability; (Devin Rippner)
Soil and Plant Health
Impact of Subsurface Drip Irrigation on Soil Health; (Deirdre Griffin)
Impact of Irrigation Management on Tomato Roots and Rhizosphere; (Amelie Gaudin)
Kernza in California; (Kalyn Diederich, Mark Lundy, and Kate Scow)
Irrigation and Soil Amendments  
Dairy Manure Effects on Soil Health Metrics; (Daoyuan Wang and Jordan Sayre)
Deficit Irrigation Strategies to Optimize Processing Tomato Quality and Yield; (Meng Li)
Irrigation Management in Alfalfa; (Daniele Zaccaria and Isaya Kisekka)
BARN PRESENTATIONS
Environmental Impacts of California Tomato Production and Processing; (Sonja Brodt)
Soil Microbial Changes with Different Crop Management Systems; (Eoin Brodie)
Soil Food Webs in Agricultural Soils; (Franz Bender)
GROWER PANEL
[Article by Ann Filmer, Department of Plant Sciences, UC Davis, June 11, 2018]
Connect with us:
Field Day: #RRFD2018
Dept. of Plant Sciences on Twitter: @UCDavisPlants
- - - - - - - - - -
[For past Plant Sciences news, go to https://news.plantsciences.ucdavis.edu/]
Primary Category
Tags