Horticulture Innovation Lab Featured at UC Davis' World Food Day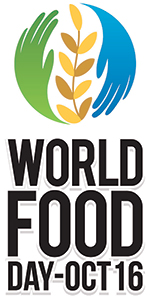 UC Davis gets into the dirt for World Food Day, on Friday (Oct. 16). First, there's a talk and panel discussion on "Healthy Soils for a Healthy Life." The next program will be in the soil, or, rather, in a new garden where the Horticulture Innovation Lab is demonstrating the technologies that it is cultivating around the world. The public is welcome at either or both events.
The first program features Daphne Miller, author of Farmacology, in which she brings her readers beyond the simple concept of "food as medicine" and introduces them to the critical idea that it's the farm where that food is grown that offers the real medicine.
Besides giving a talk, Miller will participate in the follow-up panel discussion with UC Davis Professors Bruce German (food science and technology) and Kate Scow (land, air and water resources). The facilitator: Tom Tomich, professor and director, UC Davis Agricultural and Sustainability Institute.
This event, part of the Sacramento-based America's Farm-to-Fork Capital Speakers Series, is free -- including lunch. Registration and lunch will be from 11 a.m. to noon, and the program will run from noon to 1:30 p.m., at the Buehler Alumni Center.
Grand opening of new garden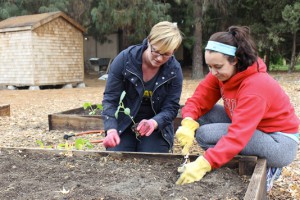 The day's next program, also free, starts at 2 p.m. just a short walk away, on Solano Field, site of the Horticulture Innovation Lab Demonstration Center. It features African and Asian vegetables, along with technologies that the program team uses around the world to help smallholder farmers better grow fruits and vegetables.
Read more about the center
The World Food Day program is serving as the demonstration center's grand opening. As such, the program will include a ceremonial planting. The program also includes these speakers, each of whom will give brief remarks:
Ami Bera, member of the U.S. House of Representatives, 7th District (Sacramento County)
Helene Dillard, dean, College of Agricultural and Environmental Sciences
Elizabeth Mitcham, director, Horticulture Innovation Lab
Allen Van Deynze and Howard-Yana Shapiro, African Orphan Crops Consortium
The "open garden" event isn't just about the Horticulture Innovation Lab. Representatives from other organizations will be there, too, sharing information about their own agricultural development work.
Light refreshments will be served, and visitors are invited to take home a souvenir plant, one of several varieties of amaranth grown in parts of Africa and Asia as a nutritious leafy vegetable.
Food Day turns into food month'
"Eating Insects" -- Learn about the role of insects as food for people. Free samples of commercially available products made with cricket protein. 9 a.m.-5 p.m. Wednesday, Oct. 14, Bohart Museum of Entomology, 1124 Academic Surge.
UC Davis Farmers Market -- 11:30 a.m.-1 p.m. Wednesday, Oct. 14, Quad. The market continues every Wednesday, same location, same hours, through Nov. 4.
World Food Center panel at the Borlaug Dialogue -- UC Davis affiliates occupy three of the four seats on the panel: Roger Beachy, the center's founding executive director; Christine Stewart, assistant professor, nutrition; and Daniel Sumner, professor, agricultural and resource economics. The fourth panelist is Joe Glauber, visiting senior research fellow, International Food Policy Research Institute, Washington, D.C. The topic: "Launching a New Initiative -- Food for a Healthy World." The panel is part of Borlaug 101: Fundamentals of Global Food Security, the 2015 Borlaug Dialogue, celebrating the presentation of the World Food Prize. The World Food Center panel is scheduled to begin at 1:30 PDT Wednesday, Oct. 14. The World Food Prize communications team plans coverage via Twitter, using the handles @UCDavisFood and @UCDavisCAES.
Farm-to-Fork Dinner -- Special event in the dining commons, "a celebration of local, organic and sustainable food from farm to fork." Open to the public: $14.75, or $11.80 for faculty and staff with 20 percent discount. 4:45-7:30 p.m. Thursday, Oct. 15, Segundo, Tercero and Cuarto dining commons. Menu items include Butternut Squash Soup, Beet and Chickpea Salad with Feta Cheese, Roasted Chicken with Brussel Sprouts, Rustic Olive Loaf, Grape with Gorgonzola Pizza, Flat Iron Steak with Arugula Pesto, Seitan Au Vin Steamed Brown Rice, Apple Galette and Pumpkin Loaf Cake.
Farm-to-Table Academy -- Every Saturday in October, with two programs remaining: Oct. 17 and 24. Presented by the Institute for Food and Agricultural Literacy, part of the UC Davis World Food Center; and CLEAR (for Communication, Literacy and Education for Agricultural Research), part of the UC Global Food Initiative. Members of the general public and campus community are invited to participate in the free academy, examining farming practices and technologies that affect the global food system. Academy classes run from 10 a.m. to noon in 1002 Giedt Hall. Here are the topics for the last two classes: livestock and sustainable agricultural practices (Oct. 17) and agricultural innovations (Oct. 24). A list of speakers is available online. Go to the same site to register. In-person registration will begin at 9:30 a.m. before each class.
Food and Agriculture Roundtable -- Featuring UC Davis Professor Jonathan Eisen (Genome Center, evolution and ecology, microbiology and immunology, and the Center for Population Biology), presenting on the topic, "Microbes in Food and Agriculture." This is the first quarterly roundtable sponsored by the World Food Center's Institute for Food and Agricultural Literacy and the UC Global Food Initiative's CLEAR (Communication, Literacy and Education for Agricultural Research). 1-3 p.m. Monday, Oct. 19, multipurpose room, Student Community Center.
Just Eat It -- Award-winning documentary about food waste and food rescue. 6:15 p.m. free snacks, 7 p.m. film (running time 1 hour 14 minutes), Thursday, Oct. 22, main lawn, Tercero Residence Halls. Tabling by campus organizations around food waste and food insecurity. Free admission. Presented by Dining Services.
(article prepared by UC Davis Dateline staff, October 12, 2015)
Primary Category
Tags