Invitation for Landscape Horticulture Academics and Professionals: The 2018 UC Landscape Plant Irrigation Trials
UC Landscape Plant Irrigation Trials evaluate plant material to identify low water-use plants for California.
UC's Landscape Plant Irrigation Trials invites members of the professional landscape, nursery, and horticultural industries to the Spring 2018 Open House Ratings Day. All new landscape plants undergo evaluation in plant trials before being introduced to the market. At the University of California, these trials take on the additional aspect of screening for performance under several levels of reduced irrigation to judge their suitability for California's new low-water landscapes, and to place them in water-use categories. (http://ucanr.edu/sites/WUCOLS/)
You will be able to walk through the trials fields, rate a sample of all the cultivars in the field at the beginning of their second year in the ground, and chat with researchers about the trials and plant water use.
WHEN: May 1 and May 2, 8 a.m. to 12 noon (you may choose either Tuesday or Wednesday).
WHERE: Old Davis Road, just off the UC Davis campus
To join us on one of the Open House days, you must register online as space is limited: https://ucanr.edu/survey/survey.cfm?surveynumber=24299
After registering, you will receive directions and other pertinent information. We value your input and hope to see you there.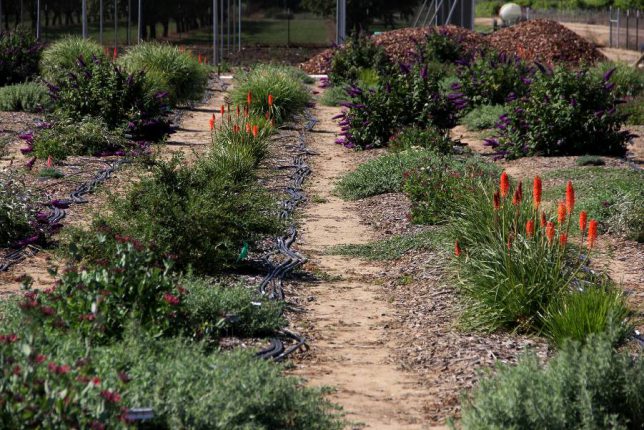 To see pictures of previous events and some of our featured plants, visit our Facebook page: https://www.facebook.com/UCLPIT/. For complete trials results visit California Center for Urban Horticulture's website: https://ccuh.ucdavis.edu/uc-davis-field-trials.
The ratings take about 60 to 100 minutes to complete and participants may arrive any time between 8:00 and 11:30 a.m.
Participation is voluntary, and is not open to the general public at this time.
If you have any questions or need to change or cancel your date, please contact Karrie Reid at: skreid@ucanr.edu, and copy Jared Sisneroz, jasisneroz@ucdavis.edu.
Important Details: Participants should wear sturdy, comfortable shoes, as the fields are packed soil. You may also want to pack sunscreen and wear a hat, as the majority of plants are in full sun. Carpooling is encouraged, but not required. You will be provided a ratings sheet, writing implement and given general instructions when you arrive. Cold water will be provided.
(Article by Ann Filmer, Dept. of Plant Sciences, UC Davis)
- - - - - - - - - -
[For past Plant Sciences news, go to https://news.plantsciences.ucdavis.edu/]
Primary Category
Tags