John Labavitch, Plant Sciences Professor Emeritus at UC Davis, Passes Away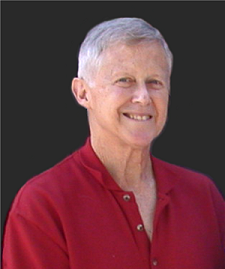 UC Davis professor emeritus John Labavitch, who taught countless students about plant development, fruit ripening, and cell walls, and who was well-known and respected for his research, passed away on September 24, 2019.
After earning a Ph.D. from Stanford University, Labavitch began his faculty position in the Department of Pomology (now part of the Department of Plant Sciences) at UC Davis in 1976, working on cell walls and postharvest biology. He retired in 2014 as a professor in the Department of Plant Sciences. His main subject areas were cell wall metabolism in relationship to aspects of fruit development and ripening, plant-pathogen interactions, and biofuel production.
His lab group introduced the use of specific polysaccharide structural information to describe and understand changes in plant cell walls that occur as fruits ripen and/or are infected by pathogens. These studies led to the description of plant proteins that inhibit pathogen and insect cell wall-digesting enzymes and, thus, contribute to plant resistance to these crop "enemies."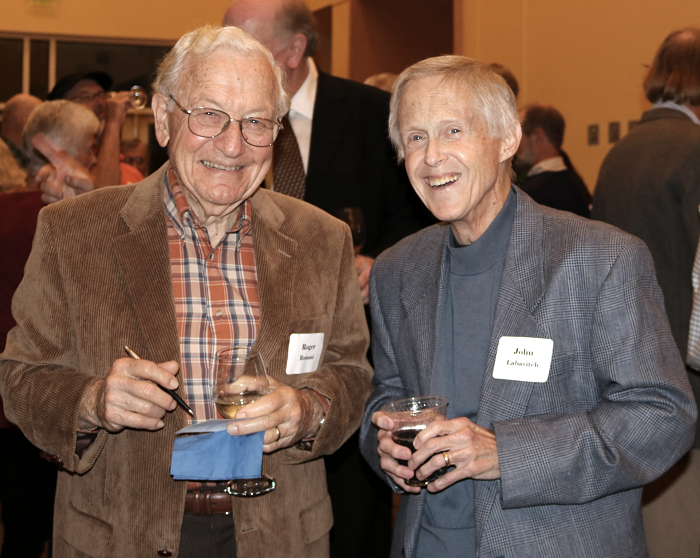 In 2015, Labavitch received the Academic Senate's "Distinguished Teaching Award for Graduate and Professional Teaching." Over the course of his career, he developed and taught, with colleagues, several undergraduate and graduate courses, and the core courses of the Plant Biology, and the Horticulture and Agronomy graduate groups.
Upon Labavitch receiving the Distinguished Teaching Award:

His devotion to students in the Plant Biology Graduate Program can be characterized in three words: dedication, passion and encouragement. Students and colleagues feel he far exceeded his expected role in organizing and executing the required core series, creating an interactive and connected foundational series. To students he conveyed his passion for biology, that it should be studied both for its intrinsic beauty as well as its application to human betterment. And students appreciated his bright and encouraging spirit: He was nothing but enthusiastic and optimistic.
John Labavitch is survived by his wife, Frances Tennant, who earned a Ph.D. in Genetics at UC Davis. A celebration of John's life will be held on October 10, 2019, at UC Davis. In his retirement, Labavitch continued to work, traveled with his wife, and regularly challenged his dog to see who could walk farther. He will be missed by his many friends, colleagues, and former students.
Additional Information
(Article by Ann Filmer, Department of Plant Sciences, UC Davis. September 27, 2019.)
Tributes from John Labavitch's colleagues and friends
 (Send additional memories and tributes to plantsci@ucdavis.edu)
___________________
I worked in the department from 2008 to 2011, and worked with John Labvitch for about a year. I am highly indebted for his kind support during that time. With his positive attitude, perpetual enthusiasm for work, and his visionary and empathetic leadership, John has always been an inspiration to me.
He was clearly a widely respected and brilliant scientist with a sharp intellect and highly analytical mind. I am deeply saddened to hear of his passing away, but compassionate souls like John will always live on in our memories and hearts. I can never forget his captivating smile, his quick wit, and his warm "good morning" greetings every morning around the lab. The world is short by one great guy.
– Ravi Barabote, former Postdoc, Dept. of Plant Sciences, UC Davis
____________________
John Labavitch was a friend, and a great colleague and teacher. He was a member of the search committee involved in my hiring in 1981. He was very helpful as I learned to make the transition to work on fruit and nut trees, and helpful to my students. We will miss John.
– Rick Bostock, Distinguished Professor, Dept. of Plant Pathology, UC Davis
____________________
John Labavitch was one of my first instructors during my doctoral studies in the Plant Biology Graduate Group. His enthusiasm for science and his persistent joy were inspiring then and will continue to be so for me. I am grateful for the ways he influenced my work and scientific outlook.
– Siobhan Braybrook, PBGG graduate 2008; now an Assistant Professor at UCLA
____________________
It has been my pleasure to be a faculty colleague of John Labavitch since 1982 and to occupy an office adjacent to his since 2003. Over that time, John's dedication to both science and education stand out. He was truly committed to exploring and understanding plant cell walls and made major contributions to that important field of plant physiology and biochemistry. He was among the most dedicated instructors I have known, devoting his time to assure that the core Plant Physiology courses were well coordinated and providing continuity to the students by attending each class, regardless of whether he was lecturing. He also offered a freshman seminar virtually every year to attract students into plant sciences. He mentored many graduate students and postdocs and maintained close relationships with them around the world.
What others may not know is John's role in enhancing the environment around the Plant Reproductive Biology building. Immediately after he moved into the building in 2003, John embarked on planting roses around the building entrance and yard. This included installing drip irrigation that he monitored and maintained, and subsequently developed into replacing the rather bland landscaping grasses initially planted when the building was built, with spring bulbs and diverse plants to assure that the grounds illustrated plant reproduction (flowers) throughout the year. John initiated and participated in what became an annual bulb-planting event in the fall that now rewards us with muscari, tulips and daffodils from January through April, followed by irises, roses, sunflowers and belladonnas through the summer months. I invite you to think warmly of John when you pass by the Plant Reproductive Biology building and thank him for his generosity and dedication.
– Kent Bradford, Professor emeritus, Dept. of Plant Sciences, UC Davis
____________________
John represented the definition of professor in all its dimensions. He was always concerned with the development of students in an integral way, both academically and personally. Given his great experience with foreign students, he allowed those of us who were lucky enough to share with him, to make our curiosity for science relevant, and he once told me that I should never apologize for my level of English, the important thing was to communicate, and he knew how to do that very well. Professor John Marcus Labavitch – thank you very much. I am going to miss you.
– Reinaldo Campos-Vargas, former Ph.D. student, UC Davis; now Professor, Universidad Andres Bello, Chile
____________________
John Labavitch was a pillar of the Plant Biology Graduate Group. Like most, I will miss his informal style, his availability, his dedicated presence at our events and seminars, his penetrating questions, his insight in cell structure and function, and his curiosity about scientific matters. Most of all, I will miss stepping into the Plant Reproductive Biology and seeing him at work, a reassuring and friendly presence in the daily life of plant folks at UCD. Farewell, John!
– Lucas Comai, Professor, Dept. of Plant Biology, UC Davis
____________________
Remembering John, I had greatest respect for his devotion to teaching. He was insightful, gracious and welcoming both to students and faculty colleagues. We have many dedicated teachers on campus today, but John was a unique treasure for campus. I saw him at the end of spring quarter and he was clearly declining, but positive and as insightful about life and career as ever. John Labavitch will be missed and remembered.
– Doug Cook, Professor, Dept. of Plant Pathology, UC Davis
____________________
I am so sorry to hear that John Labavitch has passed away. I always have very fond memories of being in his laboratory with Veerle, Karin, Valeriano and David. John really spent so much time explaining cell walls in detail to his new students. He always made all his exchange students feel so welcome; integrating them with his other students/staff by organizing BBQs and bocce ball games. These great memories will live on in us, and I hope to teach with as great a passion as he did. I feel so fortunate to have been able to travel and meet him and all of you in Davis.
Frances, I am thinking of you at this time. It is unimaginable to lose a life partner after so many years and experiences. We are grateful that you shared him with all of his students — to teach and inspire. May the memories of John comfort you and live on in you. Kind regards.
– Dr. Elke Crouch, Postharvest Physiologist and Technologist, Dept. of Horticultural Sciences, Stellenbosch University, South Africa
____________________
I am deeply saddened by the untimely loss of a dear friend, colleague and mentor John Labavitch. Back in 1984, John chaired the search committee that hired me in the Pomology Department [now part of the Dept. of Plant Sciences]. He was very generous with his time, his thoughts, ideas, and resources, which were crucial in developing many long-lasting collaborations with many colleagues. He had a strong and enduring commitment to students and teaching. He had a great sense of humor and was a fierce competitor on the golf course.
I always enjoyed John's presentations on cell walls and plant hormones – they were always full of information, well presented with great sense of clarity, and sprinkled with his unique brand of humor. He was a great plant biochemist, a dedicated teacher, a gracious colleague, mentor, and a caring friend who will be dearly missed.
– Abhaya Dandekar, Professor, Dept. of Plant Sciences, UC Davis
____________________
John was an incredibly thoughtful mentor to me and many, many other students. More than anyone I've ever met, John exemplified everything a scientist and professor should be. Intensely curious, always hypothesizing, endlessly enthusiastic and encouraging. I think the only thing that excited him more than science itself was seeing the spark of curiosity in the students around him.
I'll remember him for many things, but perhaps the most poignant memory is of John standing in front of the room presenting the wordiest slides I have ever seen, with Joey (his dog) moseying around at our feet. And when John Labavitch wasn't presenting, he was patiently sitting in the back of the class every day just to make sure we got everything we needed from each lecture. He quite literally took the Plant Biology core class with me and my cohort our first year. And he was, as always, the most attentive student in the room. He will be dearly missed.
– Destiny Davis, Ph.D. student, Dept. of Plant Sciences, UC Davis
____________________
John Labavitch made me and my cohort feel welcome and included in grad school at UC Davis. I loved that he brought his dog, Joey, and snacks to class. I remember meeting him as a perspective student, and though he didn't have space in his lab, he was still willing to talk about his research and asked a lot about the biofuels work I had previously been doing in a way that made me excited to share my work.
That sentiment of being excited about the research that students were doing and what they were learning continued the whole time I knew John. John's regular attendance at grad student events and weekly seminars gave the plant biology graduate group a little bit more of a family feeling, and I really appreciated him.
– Sarah Dohle, former Ph.D. student, Plant Sciences, UC Davis; now a Professor at Delaware Valley University
____________________
John was a fantastic colleague and friend, and a dedicated mentor and teacher. He will always be with us, asking the last question on seminars and reminding us the values and principles of education. He was brave to cite his own Ph.D. work. John Labavitch will always be with us.
– Georgia Drakakaki, Professor, Dept. of Plant Sciences, UC Davis
____________________
We are so sorry to hear of the passing of John Labavitch. So very sorry.
– Don and Tania Durzan; Don Durzan is Professor emeritus, Dept. of Plant Sciences, UC Davis
____________________
I am honoured to have shared with John Labavitch as an amazing mentor, professor and human being. His devotion for his students and passion for his research are difficult to match. He will be deeply missed, but lives in each one of the lucky ones that were able to meet him!
– Macarena Farcuh, former Plant Sciences Ph.D. student, UC Davis; now Assistant Professor, University of Maryland, College Park
____________________
John Labavitch was an outstanding scientist and a well-liked teacher and faculty member. I remember my first day at UC Davis as a faculty member – he was the first person to reach out to me. He casually dropped by my office with some printed PowerPoint slides and invited me for a coffee to chat about science and teaching. I felt valued and energized by what was to come. This grew into more regular exchanges and mentoring, even though our scientific work did not overlap. I have been very fortunate that he took the time to share some of his wisdom with me over the last five years. John's dedication and passion for science and students has always amazed me and I will dearly miss him.
– Amelie Gaudin, Professor, Dept. of Plant Sciences, UC Davis
___________________
I am a plant biology graduate student in Shota Atsumi's chemistry lab. It's clear that Dr. Labavitch was very special. Despite being "retired" for several years, he always went out of his way to help students. He was supposed to be on my committee for my qualifying exam in exactly one month. This was to be done as a favor because he made a strong impression on me during our first meeting. Despite not being familiar with my field of research he said he was willing to learn and asked me many enthusiastic questions.
His concern for me as an individual was apparent — we traded life stories and talked about his dog Joey for over two hours. His sense of humor and unique ability to tell jokes have managed to put a smile on my face, even now, despite the sad news of his passing. Maybe they can do the same for others grieving, as well.
– Jake Gonzales, Plant Biology graduate student, Dept. of Chemistry, UC Davis
____________________
John Labavitch was an excellent colleague. He was always willing to share his expertise, much to the benefit of many graduate students in Plant Pathology.
– Thomas Gordon, Professor, Dept. of Plant Pathology, UC Davis
____________________
John Labavitch was a great plant biologist. John played a fundamental role in my graduate education as a UC Davis Plant Biology graduate program student (2004–2009). I still often hear him encouraging us to "make connections" when thinking about our own research and the research of others. John was unique among our graduate group faculty members in that he was incredibly dedicated to increasing our breadth and depth of knowledge and simultaneously promoting an inclusive community. I will always remember him fondly with great respect.
– Dior Kelley, Asst. Professor, Genetics, Development and Cell Biology, Iowa State University
____________________
John Labavitch was so generous to colleagues of the plant biology community on campus and unselfishly devoted his time to and shared his wisdom with many generations of graduate students. We will be thinking about him for a long time to come when we talk about cell walls, go to seminars, and recruit graduate students. He was truly a great asset to the Plant Biology Graduate Group before and after he retired. Thank you, John!
– Bo Liu, Professor, Dept. of Plant Biology, UC Davis
____________________
John was a wonderful friend and colleague whose dedication to teaching our graduate students was an inspiration to us all. He was generous with his time, always being available to teach, serve on student committees, and participate in Plant Biology Graduate Group (PBGG) activities.
I will always remember our conversations on the intricacies of the plant cell wall and its role on the physiology of the plant! John Labavitch was a legend on campus and his impact on his students, and us, was a tremendous gift. John, your smile, and questions at seminars, will be sorely missed; rest well my dear old pal.
– Bill Lucas, Professor Emeritus, Dept. of Plant Biology, UC Davis
____________________
I have known John Labavitch from the 1980s when he had a research grant with colleagues in Israel. I would meet him at international meetings and enjoyed shop talk with him. And then I spent a year in his laboratory on sabbatical in the 1990s. There I saw how insightful he was about research questions, how focused he was in directing his students, and how exciting he was as a teacher in the classroom. In the weekly group meetings he continually brought up questions and points about presentations of the students which led them to think more deeply about their experiments and the results they presented. His expertise was in plant cell walls, and he used this focus to investigate far reaching subjects, from the spread of Pierce's disease in grapevines to signal molecules created by breakdown products of cell wall polysaccharides which might be involved in fruit ripening or in defense against pathogens, to the involvement of cell walls in fruit storage disorders.
He was very open to collaboration with other colleagues and often involved scientists from other departments in his investigations. To me, he was a model of what a good scientist should be; a person who is passionately interested in his subject, open to collaboration with others, and who continually asks questions and queries the experimental results to find answers. Although he was less active in the university lately, I think that he died before his time, and he will be missed by many of his colleagues and friends. 
– Susan Lurie, Scientist Emeritus, Agricultural Research Organization, Israel
____________________
We are sorry to hear of John Labavitch's passing earlier this week, and we offer our condolences. We feel grateful to have had the pleasure of taking the plant cell walls class with John last fall. He was one of the most passionate and friendly researchers we have met, and it was truly a pleasure to hear his stories about the development of cell wall theory and about his career in general. He will be sincerely missed. With caring thoughts.
– Lauren Lynn, Alex Hitomi, and Ben Arbaugh; graduate students in Biological Engineering, UC Davis
____________________
I first met John at a Postharvest Gordon Conference in the late 1980s where we had in-depth discussions about our similar work on cell wall changes during fruit ripening. When I joined the Plant Sciences department at UC Davis in 1992, John was very welcoming; inviting me to participate in his lab group meetings. I also had the pleasure to participate in weekend barbeques at John's house where a collection of students, visitors and colleagues enjoyed food and debated scientific topics.
John was always so welcoming and supportive of others. He always gave primary credit to the students and collaborators who contributed to his research when speaking about the results. John was such a passionate person; for his work, his lovely wife Frances, his students, and his dogs. Throughout the time I knew John, I was always amazed how he would close his eyes and presumably fall asleep during most departmental seminars but then wake up at the end to ask the most insightful and probing question from the audience. John Labavitch will definitely be missed, but not forgotten.
– Beth Mitcham, Cooperative Extension Specialist, Dept. of Plant Sciences, UC Davis
____________________
I am very sad to hear of the passing of Professor John Labavitch. John was an outstanding scientist, teacher and mentor. John was among the first people I met at the beginning of my Ph.D. studies at UC Davis in 2000, as he was serving as chair of the Plant Biology Graduate Group. As such, he never failed in welcoming students in his office, the lab or the classroom with a big smile, and he certainly had the quality of making any place warmer.
Later, as his student, I started to work in his fantastic lab, hectic with research activity from other grad students, as well as local and international visitors. That is when I experienced more closely his accurate guidance as a mentor, full of kindness and scientific rigor at the same time. He was truly a well of knowledge in many fields, and his curiosity did not recognize boundaries, nor comfort zones. He was and continues to be an inspiration for his former students, who were effectively infected with his passion and enthusiasm for plant biology.
I feel lucky that John was my mentor, but more importantly, I am fortunate that he also offered his friendship to me, and for that, I will be always grateful. My mind and heart are full of wonderful memories with him, playing bocce ball at his home, setting an experiment in the lab together with Carl Greve, having discussions with other colleagues at lab meetings while eating pie, or planting flowers in yard of the PRB building. John, you will be deeply missed, but I will treasure and honor our friendship forever.
– Alonso Pérez-Donoso, Associate Professor, Dept. Fruticultura y Enología, Pontificia Universidad Católica de Chile
____________________
John Labavitch was a devoted mentor to many of us. He was committed to making sure that all of the students he taught received an outstanding education. We are full of memories of him and of the impact he had on our lives and careers. He is missed.
– Ann Powell, Professional researcher emeritus, Dept. of Plant Sciences, UC Davis
____________________
John Labavitch was a consummate gentleman and an extraordinary teacher. He was always warm, patient, and understanding. Even in difficult or contentious situations, he would calmly strive to understand everyone's perspectives and gently make a path towards agreement. His mere presence was reassuring. It is so sad to think we won't have the chance to run into him on campus anymore. Thank you for being you and sharing that with us, John!
– Nicole Rabaud, Director of Graduate Academic Programs, College of Biological Sciences, UC Davis
____________________
I was a Plant Pathology graduate student in John Labavitch's lab. I still feel so lucky that I landed in his lab and got to experience his mentorship as a graduate student. I learned so much valuable science about plant cell wall composition and biochemistry and how to integrate that into studies on plant-microbe interactions. Aside from learning science, so much of what dictates a positive outcome in graduate school is the community you are surrounded with, and I am forever grateful to that experience John created at UC Davis. His lab was always lively with grad students, postdocs, visiting international scholars and research faculty. I am sure everyone remembers lab meetings with Bakers Square pies and the Labavitch lab cd collection with ABBA's greatest hits on constant replay.
John and Frances frequently hosted lab croquet and bocce ball tournaments, as well as Thanksgiving feasts for those of us who lived too far to travel home. In creating this community, John made us feel like we were all part of something bigger than just ourselves and our own research projects. So many lifelong friendships and professional collaborations were formed in his lab and I consider myself extremely fortunate to have encountered John and the Labavitch lab group in my formative grad school years. He provided me with so many opportunities and taught me many lessons not only about science, but also how to be a good and effective mentor.
Professor Labavitch, you were a force and you will be missed.
– Caroline Roper, Associate Professor, Plant Pathology, UC Riverside
____________________
I have multi-faceted memories of John Labavitch: a mentor who would encourage, push, doggedly chew on knotty problems, cajole, and burst bubbles when necessary, but who would always listen; a passionate teacher who cared tremendously about every student, every class, every interaction, every presentation, and every epically structured handout; a host whose lab meetings I had the privilege of attending over many years (who can forget "It's high time for Pie Time"?) and in whose lab I conducted a large part of my Ph.D. research, learning under his and Carl Greve's watchful and patient supervision; and John as a friend, arguing the finer points of croquet (yes John, it really was invented in England), and after leaving Davis, continuing to chat on the phone periodically, his enthusiasm always streaming across the country from Davis to Cornell.
John was an insightful and bold scientist who stuck to his convictions, but willingly embraced new ideas and perspectives and moved with the times. I have kept on the shelf of my office his hand-written edits of my Ph.D. thesis. They are quintessential John: pithy, poking, provocative, and joking that the thesis should be rewritten with British English spelling, and with twice the number of parentheses. He had suggestions for future directions for each chapter of the research, which cumulatively would have taken another decade, and then a final concluding suggestion that I ignore everything that he had just suggested! He also would often claim that he never actually signed my thesis. Looking back, he was right about almost everything, and it would have been a well-spent decade.
John should be, and I hope was, proud of the legacy he created: exciting, innovative science, some published and some passed on through conversation, collaboration and inspiration; the countless colleagues and advisees from around the world who have benefited from passing through his lab, office and classroom; and a phone book-sized list of admiring friends, of whom I count myself one. I raise a proverbial glass to give thanks and recognize John for his guidance, collegiality, and friendship. He is greatly missed, but with a large smile. How lucky is that? With many happy memories.
– Jocelyn 'Joss' Rose, Professor, Plant Biology Section, School of Integrative Plant Science, Cornell University
____________________
Words cannot convey how important John Labavitch was during my early years as a graduate student in the Plant Biology Graduate Group. John quickly became a mentor and a quintessential element in my early years at UC Davis. He was always providing us with humor, advice and the most positive attitude amongst professors. I will miss him dearly and will miss his dedication and his spirit for enhancing our education at UC Davis.
– Juan Sanchez, Sr. Environmental Scientist, Calif. Dept. of Pesticide Regulation
____________________
John Labavitch developed invaluable tools for learning cell wall's components, its biology and disassembly. However, more than a good teacher, John was a good friend, devoted in training his students for life in each indoor/outdoor conversation. Thanks, John, because you always encouraged us to find smart solutions in many other aspects of our lives, not only science. We are going to miss you in many ways, enjoying the lab bench, planting roses, playing croquet, feeding Joey, and at so many other remarkable moments.
Dear John, also thank you for your patience and guidance. We are committed to continue your work around the world, for sure your legacy in plant cell walls and their interactions with other kingdoms will keep going on for a long time. Fly to heaven, dear John.
– Adriana Sanudo Barajas, Professor, Research Center for Food and Development (CIAD), Mexico
____________________
I was hired into the Pomology department in 1986 [now part of the Dept. of Plant Sciences], and consider myself very lucky to have had John Labavitch as a close colleague since that time. John understood the meaning of "co." John and I co-taught BIS 1C from 1997 to 2008, and both of us attended the classes taught by the other, in part to foster a high degree of continuity/integration in the class, and in part to ask clarifying questions and/or to poke fun at one-another during lectures, whichever was most appropriate (or not). John was instrumental in establishing the current version of the Plant Biology Graduate core course, and, during his tenure as the course organizer, showed the same commitment to class integration by attending the lectures presented by his colleagues.
John and I have also had a fruitful (pomology pun intended) research relationship over the years, being co-authors on seven papers. However, I think most would agree that the highlight of our relationship, in which we made the most effective use of our respective skills, was running the Pomology department Christmas party raffle. This was always a team effort which required extensive cross-training. Sometimes I would pull the ticket from the hat and John would read the names, and sometimes the other way around. There were also a wide range of purchased and home-grown prizes that needed to be properly presented, for instance the ever-popular large sacks of almonds or walnuts from the respective breeding research labs, and the for-some-reason-not-so-popular vial of "designer cell walls" from the Labavitch lab. John was particularly effective at presenting the latter.
– Ken Shackel, Professor, Dept. of Plant Sciences, UC Davis
____________________
I am terribly sad to learn of the death of my colleague John Labavitch. We met in graduate school when the students in Russ Jones' botany group at Berkeley would go down to Stanford for plant physiology seminars. John stood out even then for his lively comments in seminars, his devotion to his work on the chemistry of plant cell walls, and his wide-ranging curiosity and interest in how things work. I was delighted to find him on campus when I arrived as assistant professor at UC Davis in 1977. His biochemical expertise was a tremendous resource; we collaborated on a paper, and his comments enriched many other of my projects.
John was deeply devoted to teaching. He spent long hours organizing, lecturing and evaluating for the graduate core course that he headed in winter term. Yet even when he was off the hook for responsibility, he often came to the spring term lectures to contribute to class discussions and cheer the students. His wry comments waked many a snoozing student (or colleague) when meetings bogged down. John's papers on cell wall metabolism and implications for growth, fruit ripening and pathogen resistance, will continue to influence plant physiology. And all of the students who passed through our graduate programs in plant science at Davis will carry some of John's wisdom with them.
– Wendy Silk, Professor Emerita, Dept. of Land, Air and Water Resources, UC Davis
____________________
John Labavitch was an amazing mentor and teacher. His dedicated efforts to implement a graduate core curriculum in the Plant Biology Graduate Group (PBGG) will be remembered by all of us. I will miss chatting with him and seeing him at seminars. I am privileged to have known this incredible human being.
– Neelima Sinha, Professor, Dept. of Plant Biology, UC Davis
____________________
John Labavitch was instrumental in getting me to UC Davis for my Ph.D. studies in 1989. Quite a bit of memories have come back after I received the news yesterday, and I woke up this morning still thinking about him a lot. I still communicated with him via email this year.
John has been a true friend and mentor and I will always keep a place in my heart that belongs to him. I remember his fondness of moving from Ohio to Stanford, California and being exposed to the flower power movement. John was a free spirit.
– Dr. Henrik Stotz, School of Life and Medical Sciences, University of Hertfordshire, UK
____________________
I am deeply saddened to hear the news of John Labavitch's passing. I did my postdoc research with John for about one year and have since then collaborated with him on grapevine Pierce's disease research. John is an excellent mentor, colleague and friend to me. He gave me a lot of great advice that helped me a lot in my professional development. His dedication to education and passion for research are obvious and have inspired me tremendously to become a better educator and researcher.
John cares about people working with him and is always willing to offer his help. His amazing personality and unselfishness has earned him the highest respect from others. He will dearly be missed.
– Qiang Sun, Professor, Dept. of Biology, University of Wisconsin
____________________
In the contacts that I had with John Labavitch in the 1990s (often by fax!) I learned a lot from his enormous knowledge of polysaccharide chemistry and enzymatic degradation. He shared his knowledge, ideas and hypotheses in a pleasant way. I remember receiving detailed protocols from him for purifying different pectin fractions and for performing PGIP assays. Also, he made me aware of Pierce's disease long before Xylella became the very serious problem that it currently poses in Europe.
One aspect that typifies John was the way in which he could let others shine and take the stage, while he remained modestly in the background, watching and enjoying the performance of his team members. It was amazing that he continued to work so long after his retirement; that is very unusual in Europe. During my visits to Davis every other year, it was sad for me to notice that at each interval his health had deteriorated a little further. I greatly admired his perseverance to continue to contribute to the science in the department.
I will remember him with great respect and gratitude for the science and the enjoyable moments that he shared with me. I will also remember him as the only academic (in Davis, in the US, in the world?) with permission to take his dog into the lab despite a good eyesight!
– Jan van Kan, Professor of Phytopathology, Dept. of Plant Sciences, Wageningen University, the Netherlands
____________________
With sorrow, and unexpectedly, did I receive the news of the passing of John Labavitch. Although I met John soon after I arrived at UC Davis in the late nineties, I got to know John much better after the merger of the four departments, and when John became section chair of the section of Plant Biology. At our regular executive council meetings, I always respected John's straight and honest opinion about any matter he had an opinion about, and he had an opinion about almost anything. I respected John even when we did not always agree on what the core mandate is of a department of Plant Sciences in a land-grant college.
I truly appreciate John's sincere commitment as section chair. With great passion did he handle the merit and promotion process. Yes, I know, his merit and promotion letters were long, the longest in the department, maybe even the longest in the college. But the letters he wrote always reflected great compassion and sincerity, and were written in full earnest. When I commented that the letter had become too verbose, he always replied that it could not be shortened, because that would hurt the faculty member's merit or promotion action.
John, thanks for all that you have done to make the Department of Plant Sciences as we know it today. Thanks for your commitment, your passion, your service, and your friendship. I will always remember you.
– Chris van Kessel, Professor Emeritus and Former Chair, Dept. of Plant Sciences, UC Davis
____________________
Dear colleagues and friends of John and Frances, In 2002 and 2004, I was one of the very lucky foreign students that were invited to John Labavitch's lab. Google brought me to John by the magic combination "tomato, enzymes and bruising". I had no experience whatsoever in plant or cell wall research but I was intrigued by the mechanism behind bruising, a common postharvest damage in Belgium. Long story short: John replied to my email with an invitation to come visit and learn.  That is how I got to be part of John's wonderful family: students and PhDs from all over the world, sharing a passion for research, good laughs, music in the lab, pizzas during John's home teaching classes, and grateful memories ever since. 
I am truly overwhelmed by the news of John's death. My most sincere condolences to you all.  There is such a large and warm UC Davis family out there, thanks to John and all the pomology staff we met. That is, to me, one very important heritage that really changed my life. I am still grateful, every day, for the chances I got, the warm welcome in John's house and later Ann Powell's, and the unmatched atmosphere in the lab. It is difficult to believe and to imagine that John is no longer physically with us.
I send my warmest wishes and support to Frances, and all who loved John. I will remember John in my prayers and keep him in my heart. Love, silent and warm greetings, Veerle.
– Veerle Van linden, Ph.D., Technology and Food Science, Research Institute for Agriculture, Fisheries and Food, Belgium
____________________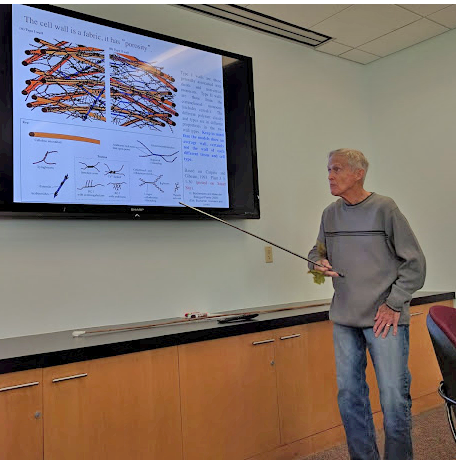 .
Primary Category
Tags