Lightening the Load in Orchards and Fields
Mechanizing table olive harvest
Traditionally, table olives are hand harvested by crews on ladders, a slow and expensive process. Labor costs can run 45 to 60 percent of producers' gross returns.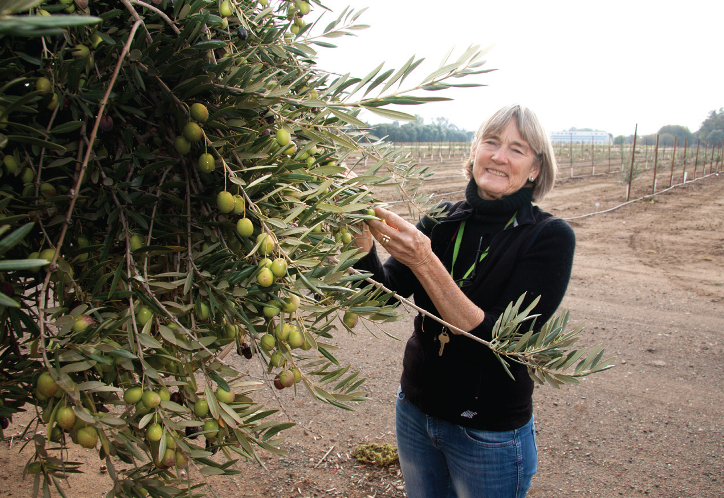 Mechanical harvesting has been developed for many tree crops, but table olives are tricky because they can bruise easily when ripe and then won't cure well. Recently, two types of harvesting technology have shown promise. The first is a tree shaker that grips the trunk and shakes the olives free. The second method utilizes a canopy contact harvesting head that gently moves through the branches to liberate the olives. Louise Ferguson, a Department of Plant Sciences faculty member and Cooperative Extension specialist, has worked diligently with growers, engineers, fellow scientists, even family members to test these technologies.
Gavin Nielsen is an engineer who has worked with Ferguson for many years. His company, Nielsen Technologies, has successfully harvested table olives with an inertial trunk shaker: 100 trees per hour with an impressive 90 percent removal. "I am confident that mechanical harvesting will become the standard for olive harvesting in the very near future," he said.
Another approach for automating the olive harvest uses a contact head that looks like a giant bottle brush. It is attached to a tractor and moves through the orchard, passively engaging the tree and coaxing the olives from the branch. With help from retired UC Davis agricultural engineer John Miles and others, refinements have enabled this technology to harvest olives without bruising the fruit and at economically feasible levels. Importantly, both a consumer panel and a trained sensory panel couldn't tell the difference between the hand-harvested and mechanically harvested olives.
Ferguson is quick to credit many people who have helped her since she first started working on mechanical olive harvesting 20 years ago. "Progress is always incremental," she says. "We can do the technology and we can do the evaluations. Now it's ready for a commercial fabricator willing to make the machine."
[article by John Stumbos, condensed and reprinted from CA&ES Outlook magazine, spring/summer 2015, College of Agricultural and Environmental Sciences, UC Davis]
Primary Category
Tags