Marie Jasieniuk: David W. Staniforth Memorial Lecture
Plant Sciences professor Marie Jasieniuk was invited to give the twenty-seventh annual David W. Staniforth Memorial Lecture at Iowa State University in October. Her presentation was "Managing the Evolution of Weed Adaptations."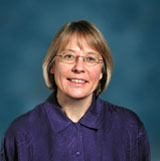 Jasieniuk's expertise is in the evolution, population genetics, molecular ecology, and management of herbicide-resistant weeds. She is an international expert in the population genetics and ecology of agricultural and invasive weeds.
Her lab research focuses on elucidating the genetic, demographic, and evolutionary processes underlying the introduction, establishment, and spread of weeds and invasive weeds in agroecosystems, and their adaptation to changing environments, including management practices.
Two systems have been the focus of her research: cropland weeds' evolving resistance to herbicides, and invasive plants with horticultural origins.
Jasieniuk is chair of the Undergraduate Program Review Committee for the College of Agricultural and Environmental Sciences at UC Davis and is an academic adviser for the Plant Biology Graduate Group. She is associated with the John Muir Institute of the Environment at UC Davis, and she is an associate editor for the Journal of Weed Science.
Marie Jasieniuk received her B.S. degree in Biology from the University of Saskatchewan, an M.S. in Plant Ecology, and a Ph.D. in Biology from McGill University, all in Canada. She has been on the faculty at UC Davis since 2002.
The Staniforth Lecture series is presented in honor of David W. Staniforth, former agronomy professor and Iowa State University alumnus. It is sponsored by the Staniforth Fund in the Department of Agronomy at Iowa State University. Staniforth taught at Iowa State from 1949 to 1960 and was a pioneer in the field of weed science. He was particularly interested in weed biology and ecology. His experience spanned the development of modern herbicides through refinements in weed control systems, including those used in conservation tillage.
(Article by Ann Filmer, Dept. of Plant Sciences, UC Davis)
Primary Category
Tags