Meet Some Stellar Graduates in the Department of Plant Sciences, UC Davis
Undergraduate commencement for the College of Agricultural and Environmental Sciences students at UC Davis was held on Friday, June 15, 2018. The Department of Plant Sciences oversees five campus-wide undergraduate majors:
Biotechnology
Ecological management and restoration
Environmental horticulture and urban forestry
International agricultural development
Plant sciences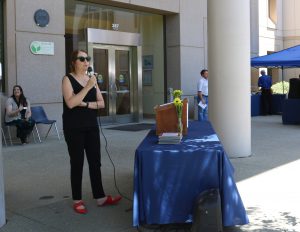 During a post-ceremony luncheon for these new Bachelor of Science graduates, held in the Plant and Environmental Sciences courtyard, Professor and Department Chair Gail Taylor welcomed the new graduates and their families. She told the graduates that they had completed a fabulous achievement, and that this is just the first phase of an exciting life's journey. Taylor reminded the students to keep all doors open as they move forward in their careers, and that the knowledge gained here will help them take on many of the current global challenges in agricultural and environmental sciences. Lastly, she reminded the graduates that they will always be part of this Plant Sciences family.
Department citations in recognition of outstanding accomplishments, based on academic merit, were then presented to some of the students by Professors Daniel Potter (Vice chair of teaching for the department), John Yoder (Master advisor), and Patrick Brown (Master advisor). Award recipients were:
BIOTECHNOLOGY
Lana Christensen

 

– she interned on campus, took several classes with John Yoder, and will apply for a Ph.D. program.
Cleo Fan

 

– she will pursue graduate work at the University of Pennsylvania, in the area of public health.
Michelle Li

 

– she worked in Professor Li Tian's lab in Plant Sciences and will next pursue a master's degree in biotechnology.
Andres Valentino Reyes

 

– he presented his work at the Undergraduate Research Conference while at UC Davis, and now plans to pursue a Ph.D. degree.
Nathaniel Sanjaya

 

– he plans to work in the biotechnology industry following graduation.
Kartik Singhal

 

– he was a peer advisor in the Department ofPlant Sciences and will next work in a life sciences company in San Jose, followed by graduate school.
Cari Young

 

– she plans to work in a biotechnology company and will also pursue a graduate degree.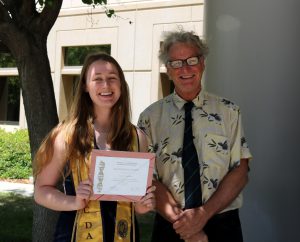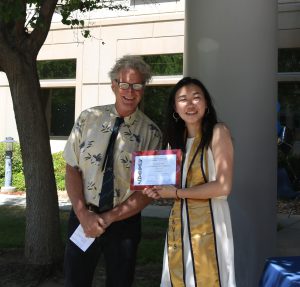 ECOLOGICAL MANAGEMENT AND RESTORATION
Emma Liffick

 

– she plans to attend graduate school and get a doctorate degree in nursing and midwifery.
Cricket Swanson

 

– with an interest in working in the field, she will do just that this summer, then apply to graduate school in the fall.
ENVIRONMENTAL HORTICULTURE AND URBAN FORESTRY
Jillian Hagenston

 

– she will work with the Forest Service this summer, and ultimately plans to work in the area of wetland restoration, if not the Forest Service.
Yufei Qian

 

– she plans to be a plant breeder in order to develop new plants with better traits. Her short-term plan is to spend the summer with her family in Beijing, China.
INTERNATIONAL AGRICULTURAL DEVELOPMENT
Matthew Bridges

 

– this summer he will work in a literacy and social action program for at-risk youth, and work with the Yolo County Farmworker Advocacy Project. He will then pursue graduate school.
PLANT SCIENCES
Samuel Koehler
Jiaqi Xia

 

– he will attend graduate school at Cornell University, and ultimately starting his own business after graduate school.
SPECIAL SCHOLARSHIP AWARD FOR ALICE PIERCE
The California Crop Improvement Association, based at UC Davis, does genetic certification of agronomic crop seeds for the California seed industry. The association annually awards a $2,000 scholarship to a student at each of five California universities – UC Davis, Cal Poly San Luis Obispo, Cal Poly Pomona, Fresno State University, and Chico State University.
Alice Valdez Pierce, a student at UC Davis finishing her third year, received the UC Davis scholarship to help support her final year at UC Davis, starting in the fall. Pierce is a Biochemistry major, in the area of molecular and cellular biology, with an emphasis on plants. She is honored to receive the scholarship and thanks the California Crop Improvement Association.
(Article by Ann Filmer, Dept. of Plant Sciences, UC Davis)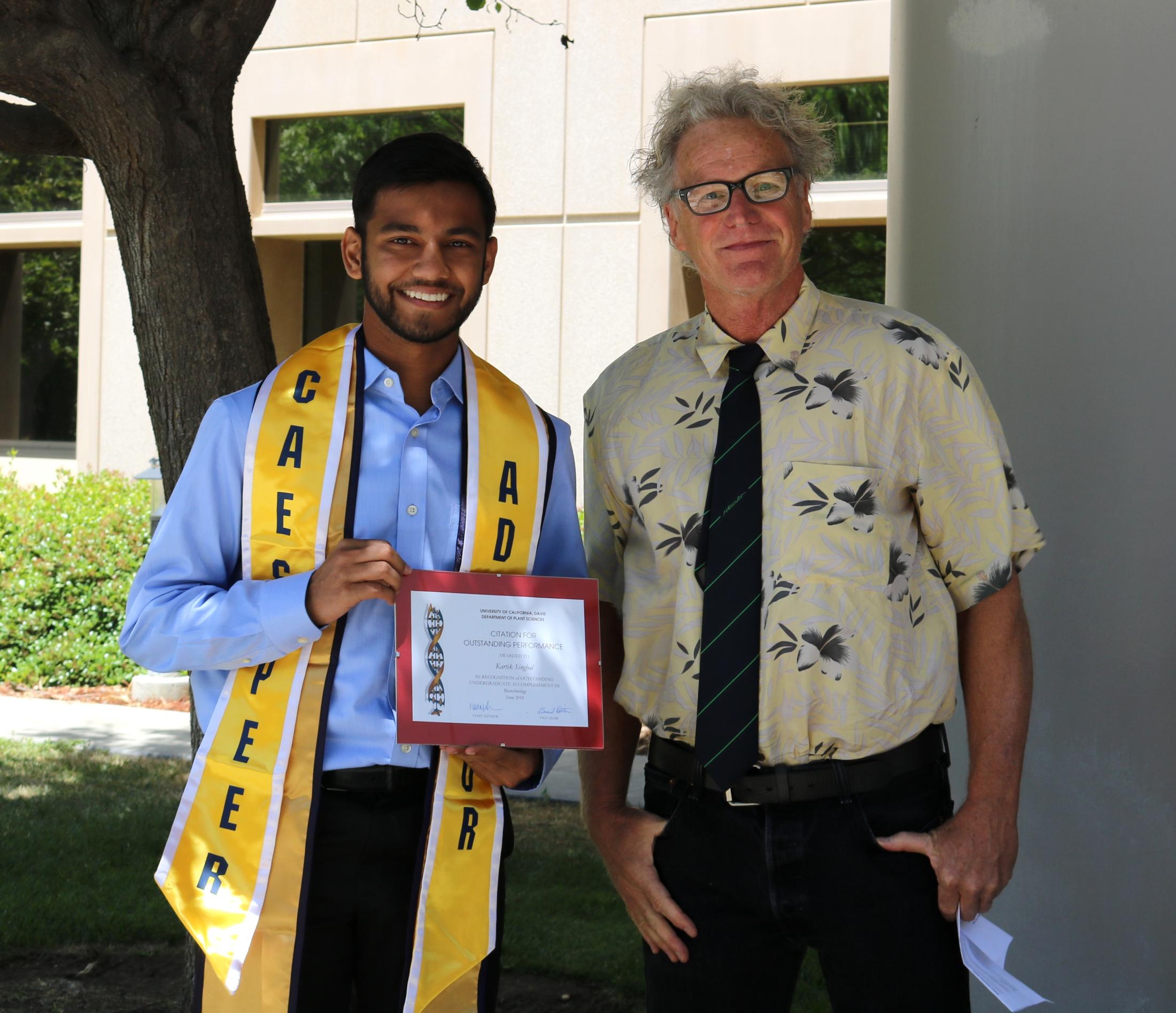 New graduate Kartik Singhal (left), with Professor John Yoder. (photo Ann Filmer/UC Davis)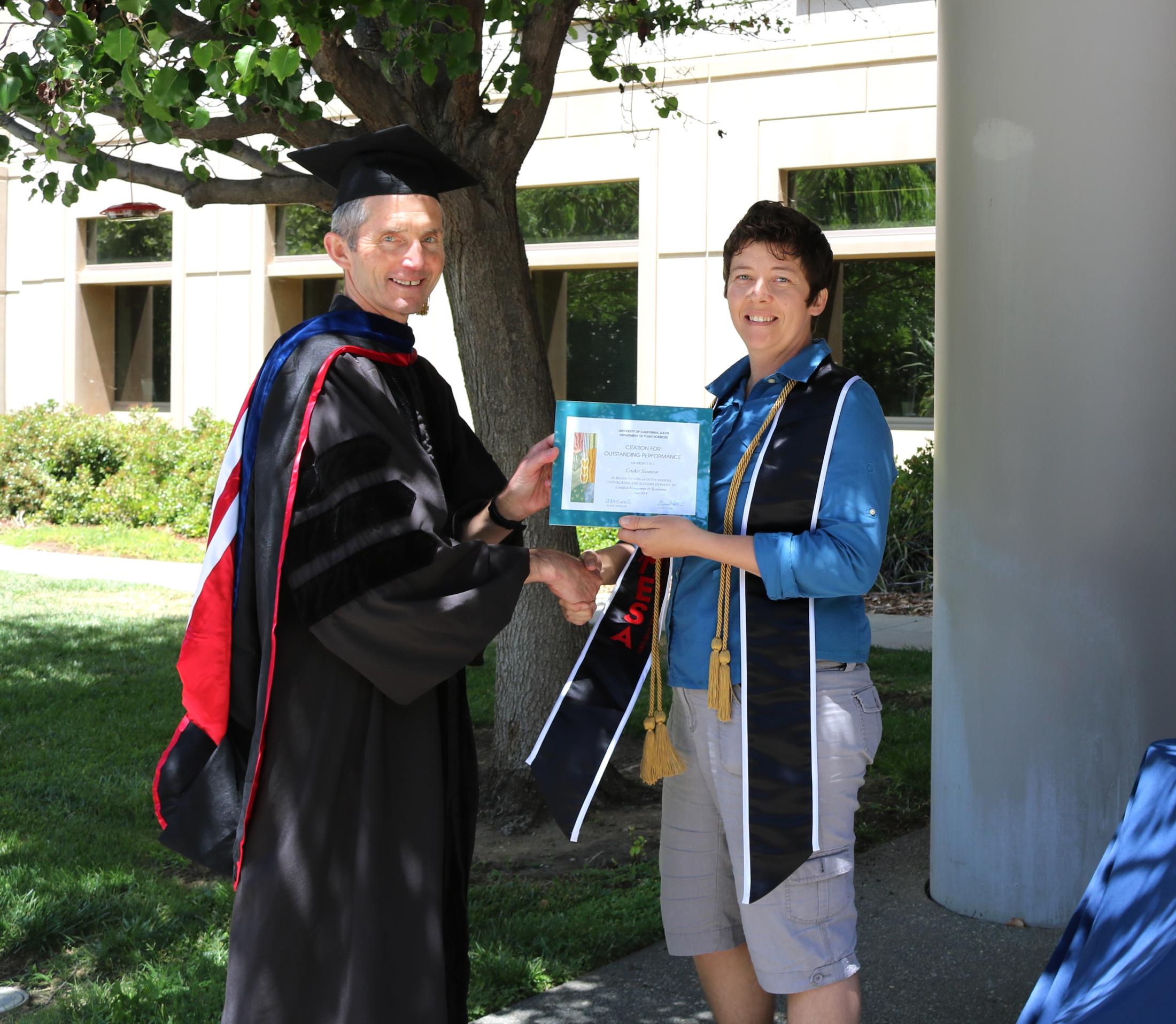 New graduate Cricket Swanson (right), with Professor Daniel Potter. (photo Ann Filmer/UC Davis)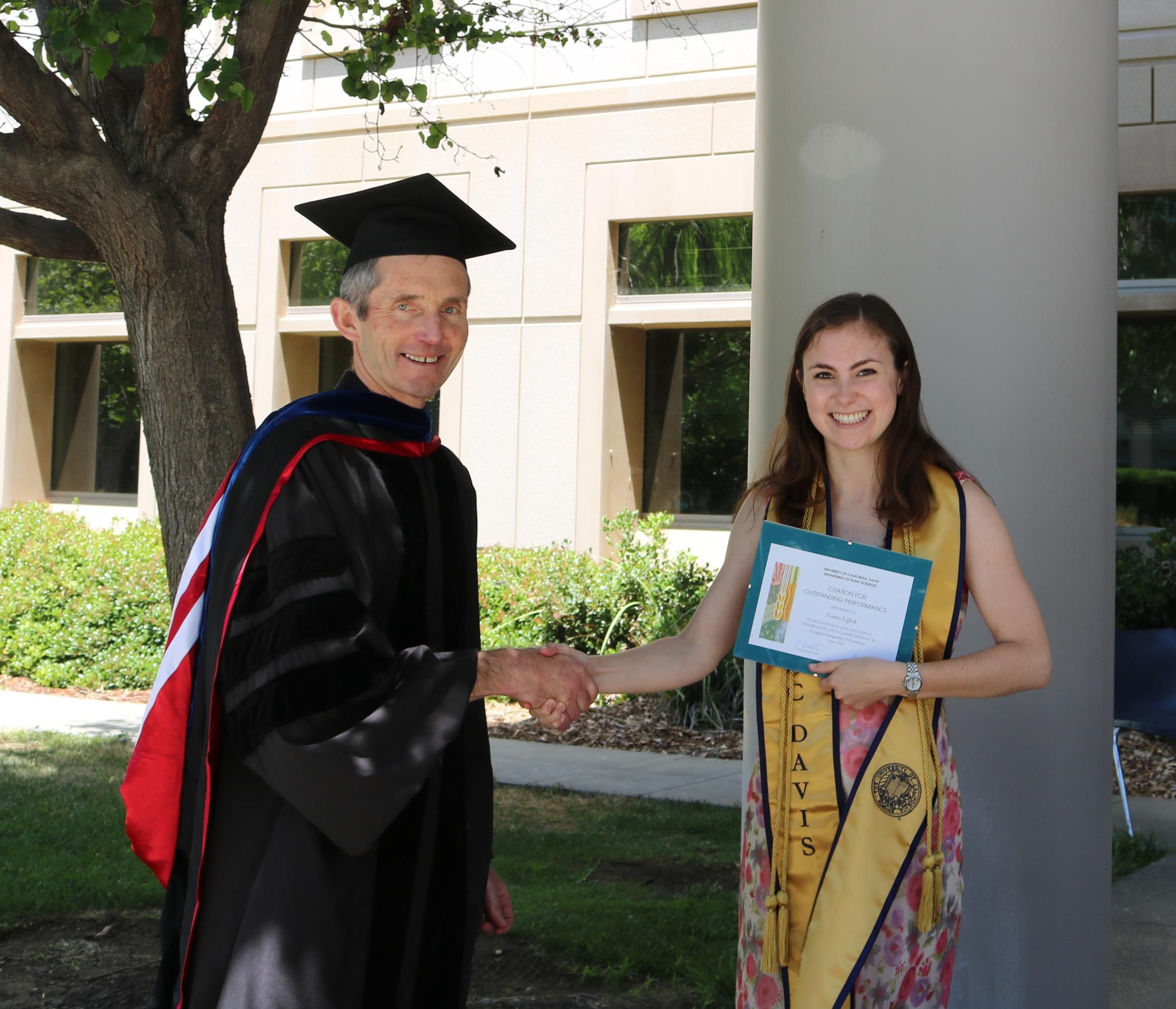 New graduate Emma Liffick (right), with Professor Daniel Potter. (photo Ann Filmer/UC Davis)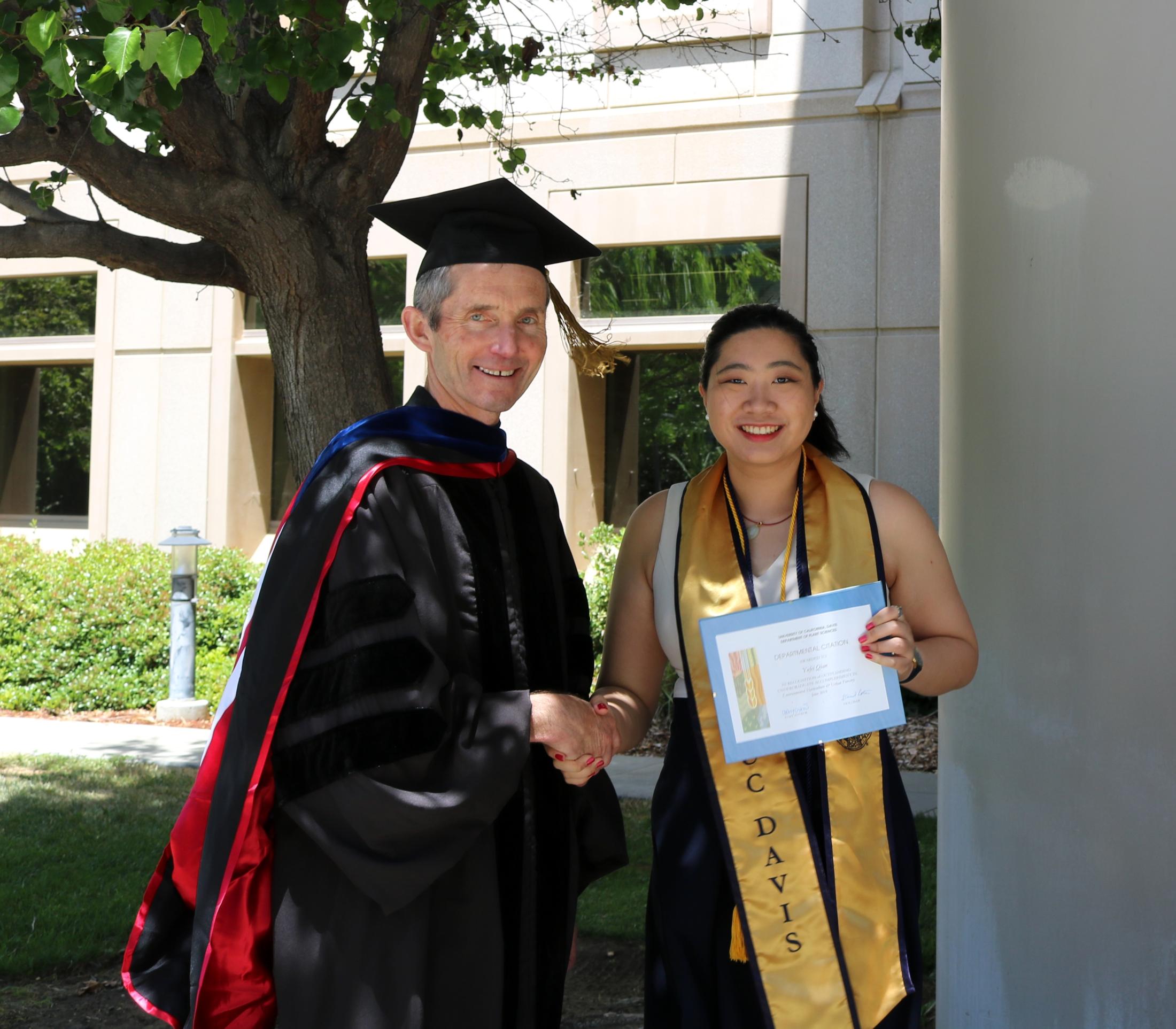 New graduate Yufei Qian (right), with Professor Daniel Potter. (photo Ann Filmer/UC Davis)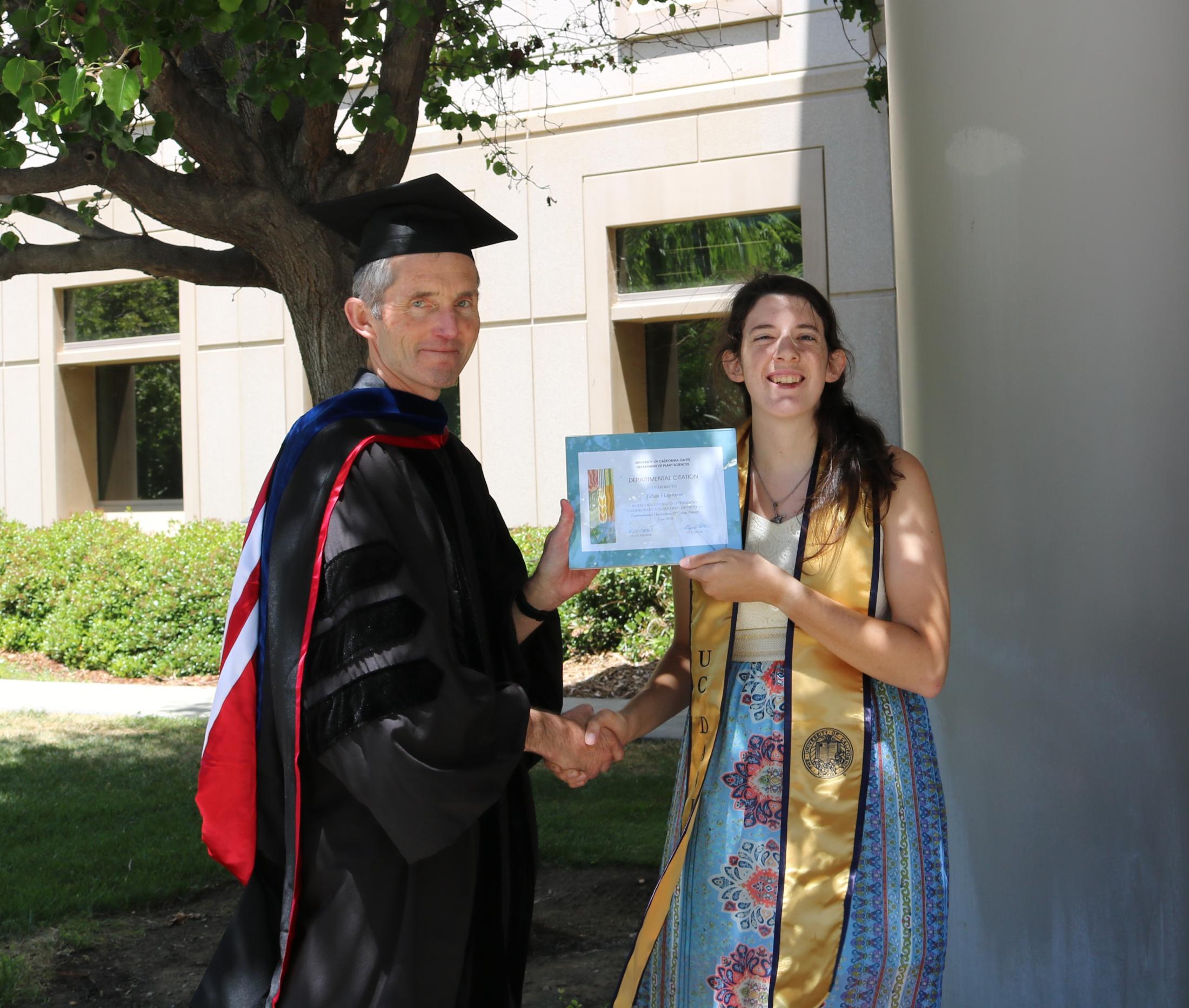 New graduate Jillian Hagenston (right), with Professor Daniel Potter. (photo Ann Filmer/UC Davis)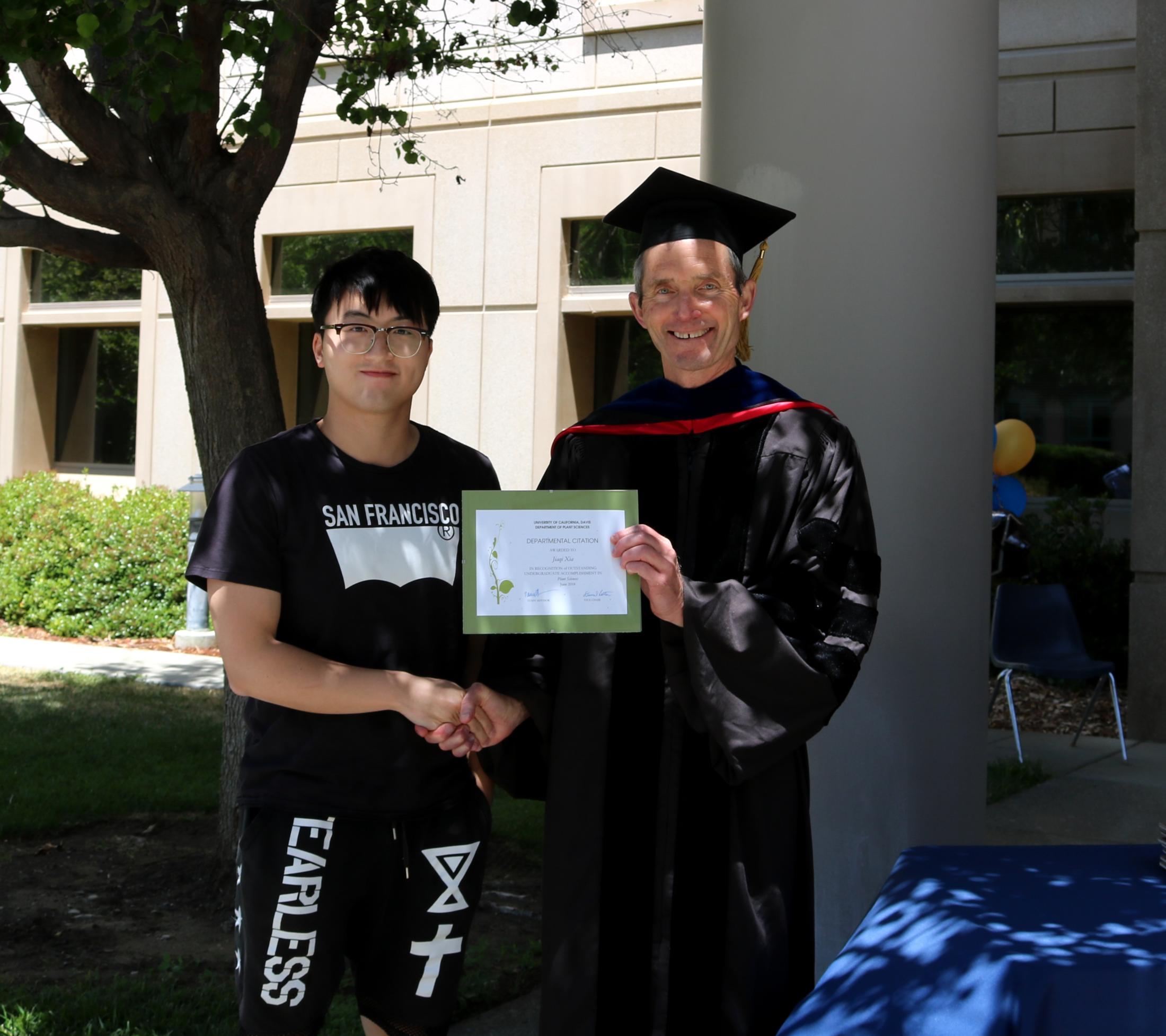 New graduate Jiaqi Xia (left), with Professor Daniel Potter. (photo Ann Filmer/UC Davis)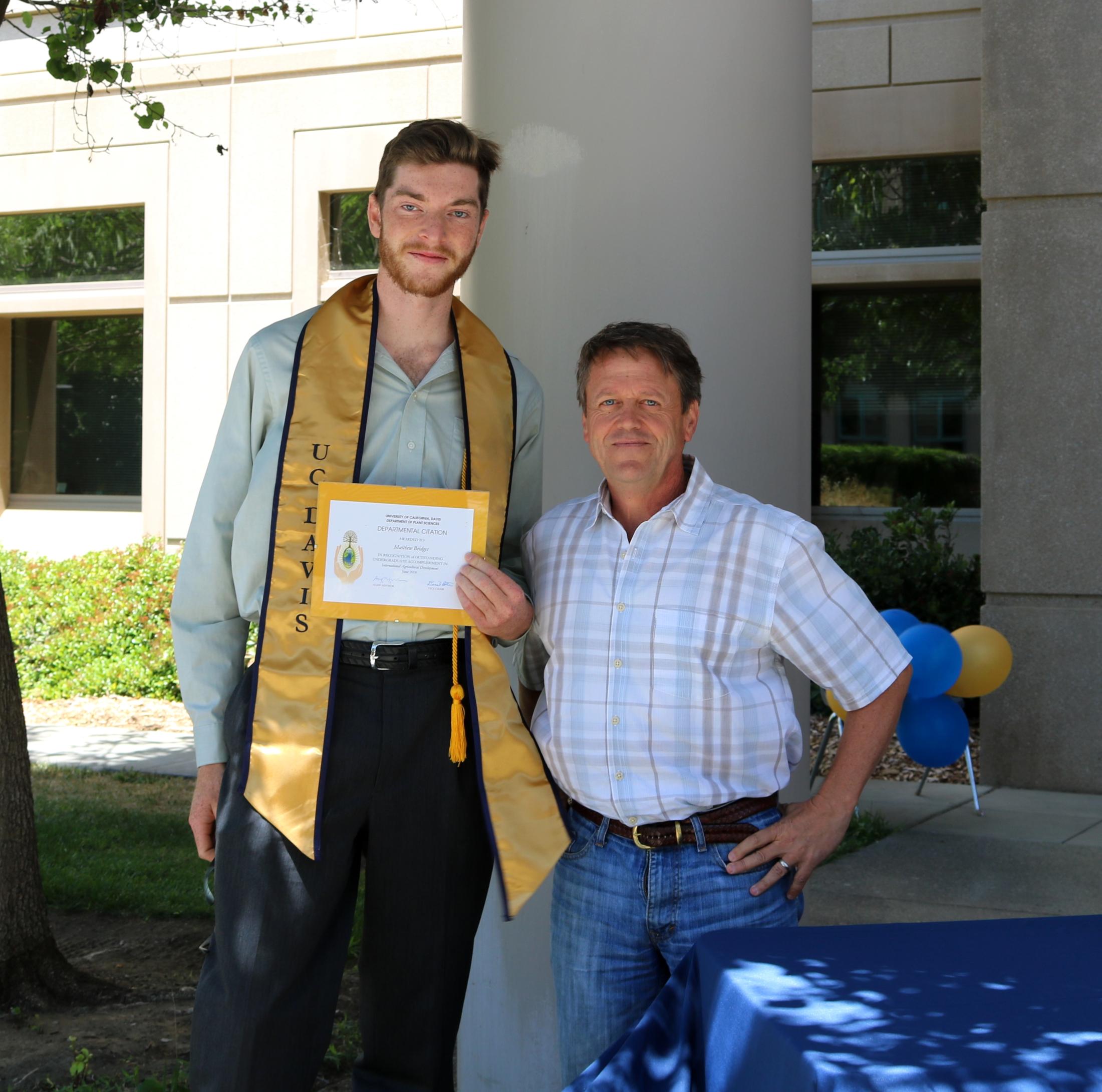 New graduate Matthew Bridges (left), with Professor Patrick Brown. (photo Ann Filmer/UC Davis)
Scholarship recipient Alice Pierce (right) with Robert Stewart, CCIA . (photo Ann Filmer/UC Davis)
- - - - - - - - - -
[For past Plant Sciences news, go to https://news.plantsciences.ucdavis.edu/]
Primary Category
Tags