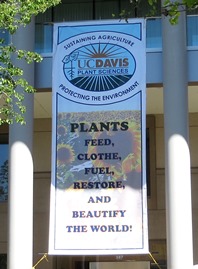 Department Formation
The Department of Plant Sciences at UC Davis was created in 2004 by consolidating four commodity-based departments: Agronomy and Range Science, Environmental Horticulture, Pomology, and Vegetable Crops. The Plant Sciences department is now one of the leading departments in the country, focusing on plant, agricultural, and environmental sciences.
Combining faculty from four departments promoted broad-thinking, interdisciplinary research, in addition to commodity-based research, teaching, and outreach. The pooling of resources (such as IT, human resources, and business management units) helped at a time of severe budget cuts in the early 2000s, but has also resulted in a streamlined system that effectively serves a large department.
Staff members were critical to the success of the new Plant Sciences department. They worked toward a single unit for months prior to the official merger, according to Dee Madderra, chief administrative officer for the department, and Chris van Kessel, the first chair of the department.
Professor Chris van Kessel, who had been chair of the Department of Agronomy and Range Science, was the inaugural chair of the new Plant Sciences department. He served as chair for 12 years, stepping down in June 2016 to return to his faculty position. Faculty member Joe DiTomaso, a Cooperative Extension specialist and professor in weed science, is currently serving as interim department chair during the ongoing search for a new chair.
Department chair: Joe DiTomaso
Vice chair of outreach and extension: Brad Hanson
Vice chair of teaching and curriculum: John Yoder
Section chair of crops and ecosystem: Valerie Eviner
Section chair of agricultural plant biology: Jeff Ross-Ibarra
Department Strengths
Plant science disciplines remain a cornerstone of excellence at UC Davis, dating back to when the UC Davis campus started as the University Farm more than a century ago, when crop production information was (and still is) a critical need in California. However, today's plant science disciplines extend far beyond crop production needs.
Faculty, researchers, and students collaborate in the programmatic areas of plant and environmental sciences. Fundamental advances in genetics, plant physiology, and ecology are translated into improvements in crop improvement and production, ecosystem management, postharvest technology, and agricultural sustainability.
Van Kessel said, "The strength of the department is diversity and the creation of a spectrum from basic research all the way to delivery. We have a focus on our land-grant mission, which includes our commodities and stakeholders. We make sure that our research goes all the way through the pipeline and is delivered to these groups."
With a large dynamic department, high-performing faculty seek positions here because of the wide range of research, from basic to applied, and the ability to teach undergraduate and graduate students, and to extend information to a broad array of external constituents.
While the merger promoted more cross-disciplinary work across the spectrum of plant science disciplines, many of the programs that existed before the merger still exist such as the research and information centers, and many other research and outreach programs.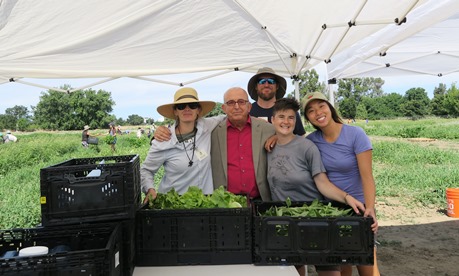 People and Distribution
The plant sciences department has more than 70 faculty members and 600 employees. Eight academic buildings on campus house the department (the Plant and Environmental Sciences building, Asmundson Hall, the Environmental Horticulture building, Hunt Hall, the Mann Lab, the Plant Reproductive Biology building, Robbins Hall, and Wickson Hall), along with four off-campus locations, and several experimental farms on campus (with more than 1,000 acres).
The Plant and Environmental Sciences building, completed in 2002, houses the department chair, the chief administrative officer, and a portion of the faculty and staff.
Many other campus units and facilities collaborate with the department including greenhouses, growth chambers, Parsons Building, Foundation Seed Program, Student Farm, Ecological Garden, Russell Ranch Sustainable Agriculture Facility, the Botanical Conservatory, the UC Davis Genome Center, and the UC Davis Arboretum.
Plant Sciences Mission
The Department of Plant Sciences engages in teaching, research, and outreach in all aspects of agricultural and environmental plant sciences. Department programs range from fundamental discovery to application of research findings to delivery of research-based information and new technology to end users.
Develop students into scholars, mentors, and responsible citizens of California, the United States and the world;
Advance, integrate, evaluate and communicate knowledge of plant sciences from lab to field, rangeland, forest, parks, waterways and beyond -- using and improving plants to feed, clothe, fuel, restore, and beautify the planet;
Seek out, anticipate, and lead in addressing the agricultural, ecological, and environmental needs of industry, governmental agencies, communities, and people throughout the world.
Genetics
Physiology
Ecology
Application Themes, and faculty affiliations
Crop improvement
Crop production and management
Ecosystem management
Postharvest biology and technology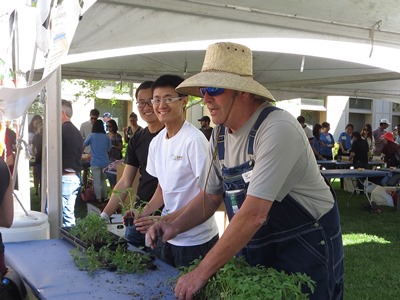 Undergraduate Programs
The Undergraduate program in the Department of Plant Sciences offers five majors and five minors, leading to a bachelor's degree. There are about 375 students in the five undergraduate majors:
Undergraduate minors:
Graduate Programs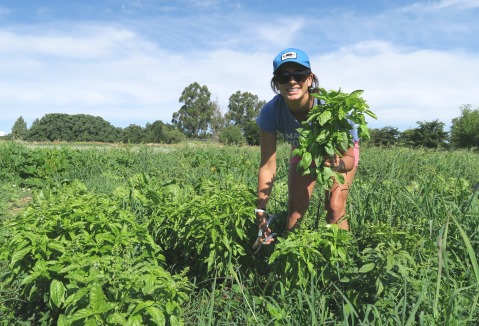 Interdisciplinary graduate programs at UC Davis include graduate students and faculty from different departments, allowing for cross-department and interdisciplinary collaboration. Faculty may belong to more than one graduate program, but each student selects one program. The Department of Plant Sciences administers two graduate groups:
The 166 graduate students in the Department of Plant Sciences are currently members of one of the following graduate groups:
Visit us online.  
(Article and photos by Ann Filmer, Department of Plant Sciences, UC Davis)
Category
Tags