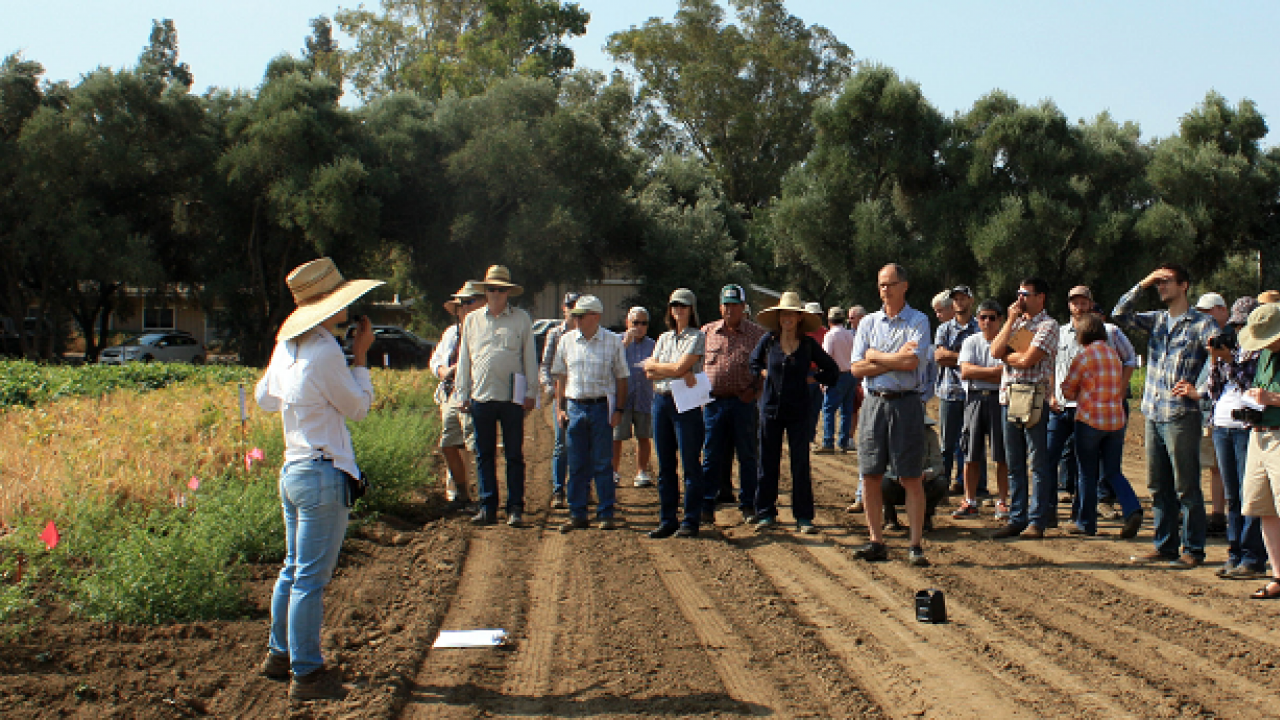 The University of California, Davis, Student Collaborative Organic Plant Breeding Education project (SCOPE) is a student-led project of faculty and student plant breeders. The project works with local organic growers to improve crop varieties for organic farming systems in Northern California. Future expansion could include other regions.
The organic plant breeding project was developed after California's organic growers reported a scarcity of seeds for organic farming.
New varieties being developed through the program are:
Heirloom-like tomatoes

Jalapeño and bell peppers

Pest-resistant common beans

Lima beans

Wheat
The breeding objectives are based on input from local organic farmers as well as the Organic Seed Alliance, a collaborator on the project.
Besides the breeding projects, the students participate in seminars focused on conducting outreach activities, organic farming methods, project management and field days to showcase their work.
Professor Charlie Brummer with the Department of Plant Sciences at UC Davis runs the SCOPE program, and he said the project is funded through the U.S. Department of Agriculture Organic Agriculture Research and Extension Initiative with a twofold goal. One is to develop new varieties of vegetables and other crops. Second is to train graduate and undergraduate students in plant breeding.
"The breeding programs for different crops are actually run by graduate students with undergraduate student helpers," Brummer explained.
"It gives them kind of real-world experience in how you run an admittedly small breeding program, but it at least shows them different steps in the real world of things you would do," Brummer said.
"What we're really interested in is developing something that might be different from what's available in the organic seed industry currently," Brummer said, adding, "something that has value specifically focused on organic growers."
The tomato project is looking for unique flavors and colors, and good productivity for the Sacramento Valley.
"We've debated to some degree as to whether we want to breed for diseases that may be more prevalent on the coast versus in the valley," Brummer said, adding as the program progresses the plan is to have as broad adaptation as possible.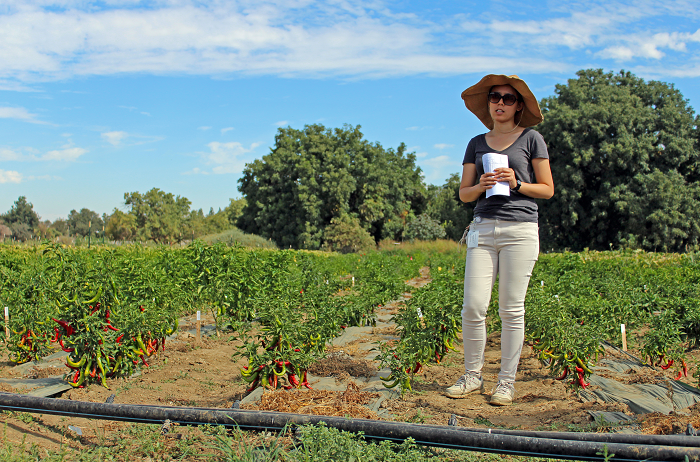 Mengyuan Xiao, a Plant Sciences graduate student with UC Davis, has been working on the pepper breeding project.
In the summer, peppers are grown in the field and in the winter they are grown in the greenhouse.
"Basically, you have two seasons per year for the testing," Xiao said, adding there are two objectives to the research.
The first objective is to increase tolerance to sun scald for bell pepper. The bell pepper can become sunburned in the summer because of the intense heat in the Sacramento Valley. Sun scald will scar the bell pepper, creating white spots and leaving the texture paperish, making it unmarketable, Xiao explained.
"This has been a big problem for pepper growing in California. So that's one goal we're trying to achieve," she said.
The second objective is to create a jalapeño pepper that is larger in size. Testing is continuing with the possibility of releasing a new jalapeño variety in a year or two, Xiao said.
She said she feels this has been a good learning experience for her.
"My dissertation project is more about genetics, but at the same time I want to get some experience with breeding because I want to be a breeder or geneticist working in industry in the future," Xiao said, adding having only the genetics knowledge is not enough.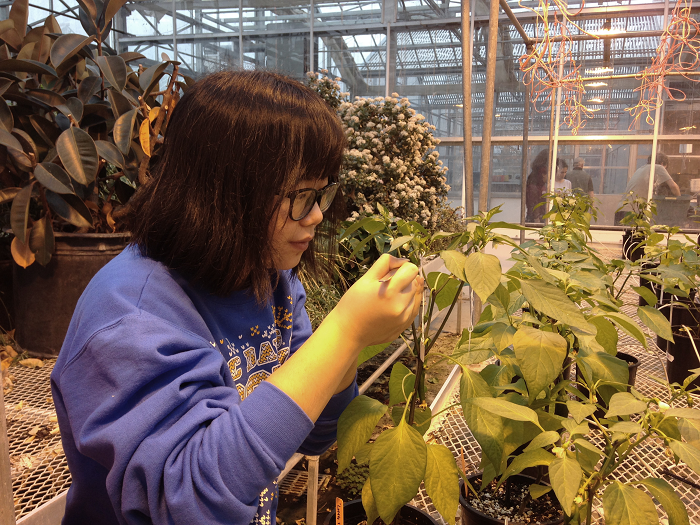 The students are also looking to develop new and novel common beans that have good taste and interesting coat colors or coat patterns, Brummer said.
The lima bean project is also working on different coat patterns and colors.
"They're not all just little, bland white beans," Brummer said.
The organic wheat project is looking at heirloom wheat varieties. The student researchers are making crosses and looking for different varieties specifically for organic systems in California for baking, Brummer said.
Saarah Kuzay, a graduate student at UC Davis and part of the Professor Jorge Dubcovsky Lab at UC Davis, is working on the wheat project to improve the quality traits for organic varieties.
"These traits have been pretty well studied already in modern wheat," Kuzay said, "but they are missing in the heritage material."
The second part of the project is the dialogue between the bakers and farmers, she said.
Farmers would like to grow modern wheat because it actually has much better quality and yields, but the bakers want the older varieties for new flavors and the story behind them for marketing purposes, Kuzay said.
The heritage lines in the organic systems generally do very well regardless of the disease. The issue is they are tall and difficult to harvest, resulting in low yields, Kuzay said.
Because of the low yields, the growers need a high price point, and while this is a high-end market and the bakers can pay a very high price, it's usually not high enough to make up for the yield losses.
One idea being considered is to create a modern artisan-type California wheat that would be locally grown and developed in California.
"We're hoping that that might be a nice compromise for the two worlds, for people who want a novel product and the people who want good yields," Kuzay said.
The biggest issue is the actual pipeline itself. There needs to be a regular supply, but since there are few farmers growing this wheat, the quantity is small, so there isn't a steady supply, she said.
"Even if there was a really large supply available, there's nowhere to store it, because the entire supply chain is just not really worked out yet," Kuzay said.
(Original article by Kathy Coatney, published in AgAlert, part of the California Farm Bureau Federation.)
Additional Information:
Plant Sciences contact:
Category
Tags