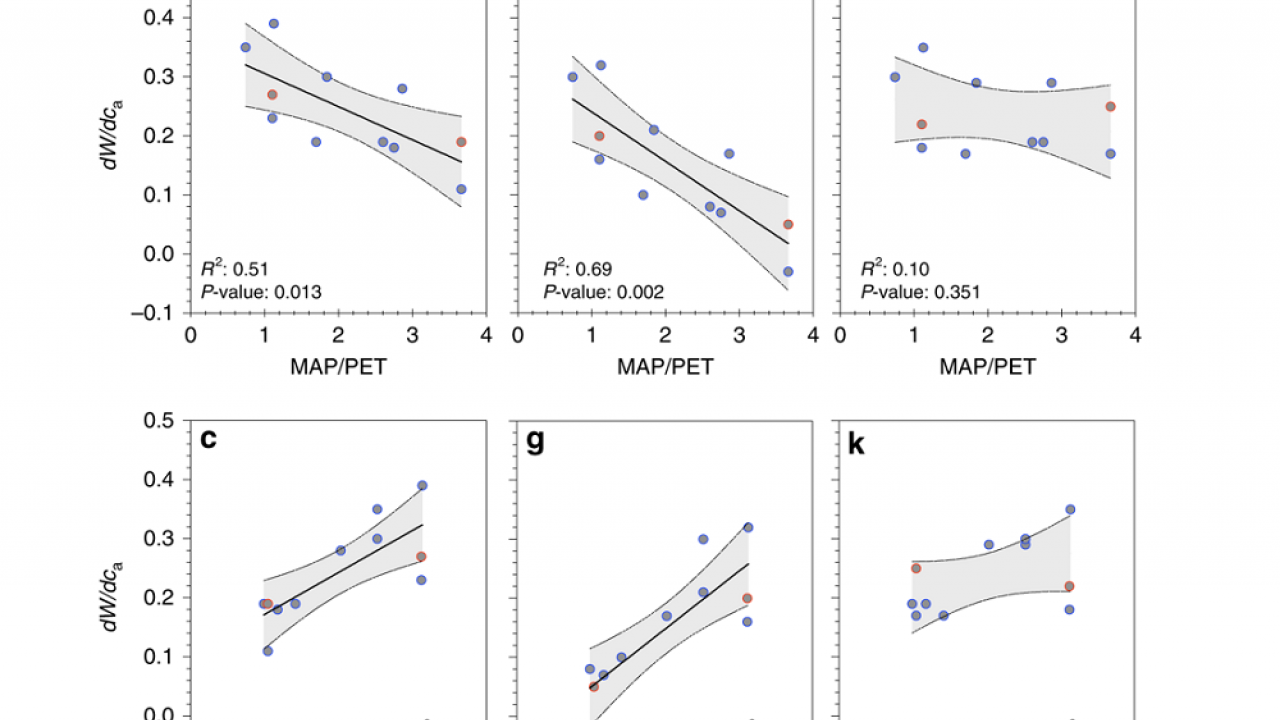 In a new article in the journal Nature Communications – Rainfall Drives Variation in Rates of Change in Intrinsic Water Use Efficiency of Tropical Forests – the authors inferred water use efficiency (WUE) from carbon isotope discrimination in tree rings from tropical forests around the world for most of the 20th century (1915–1995).
"As expected, WUE increased in response to rising CO2. However, the rate of increase varied greatly among locations," noted Tom Buckley, co-author and professor in the Department of Plant Sciences, University of California, Davis. "Half of the variation in that rate was explained by rainfall, such that trees in drier sites were much more responsive to CO2 than those in wetter sites.
"This result increases our understanding of feedbacks between plants and the atmosphere. For example, if plants use water more efficiently as a result of their responses to rising CO2, they will put more water back into the atmosphere. That affects the hydrological cycle, which in turn also influences climate. This so-called 'physiological forcing' of climate is poorly represented in climate models, and our study is a step towards remedying that."
Presented below is part of the article, with a link to the full article.
Rainfall Drives Variation in Rates of Change in Intrinsic Water Use Efficiency of Tropical Forests
Mark A. Adams

, Thomas N. Buckley, and Tarryn L. Turnbull


Nature Communications

10,

Article number: 361

(2019)
Abstract
Rates of change in intrinsic water use efficiency (W) of trees relative to those in atmospheric [CO2] (ca) have been mostly assessed via short-term studies (e.g., leaf analysis, flux analysis) and/or step increases in ca (e.g., FACE studies). Here we use compiled data for abundances of carbon isotopes in tree stems to show that on decadal scales, rates of change (dW/dca) vary with location and rainfall within the global tropics. For the period 1915–1995, and including corrections for mesophyll conductance and photorespiration, dW/dca for drier tropical forests (receiving ~ 1000 mm rainfall) were at least twice that of the wettest (receiving ~ 4000 mm). The data also empirically confirm theorized roles of tropical forests in changes in atmospheric 13C/12C ratios (the 13C Suess Effect). Further formal analysis of geographic variation in decade-to-century scale dW/dca will be needed to refine current models that predict increases in carbon uptake by forests without hydrological cost.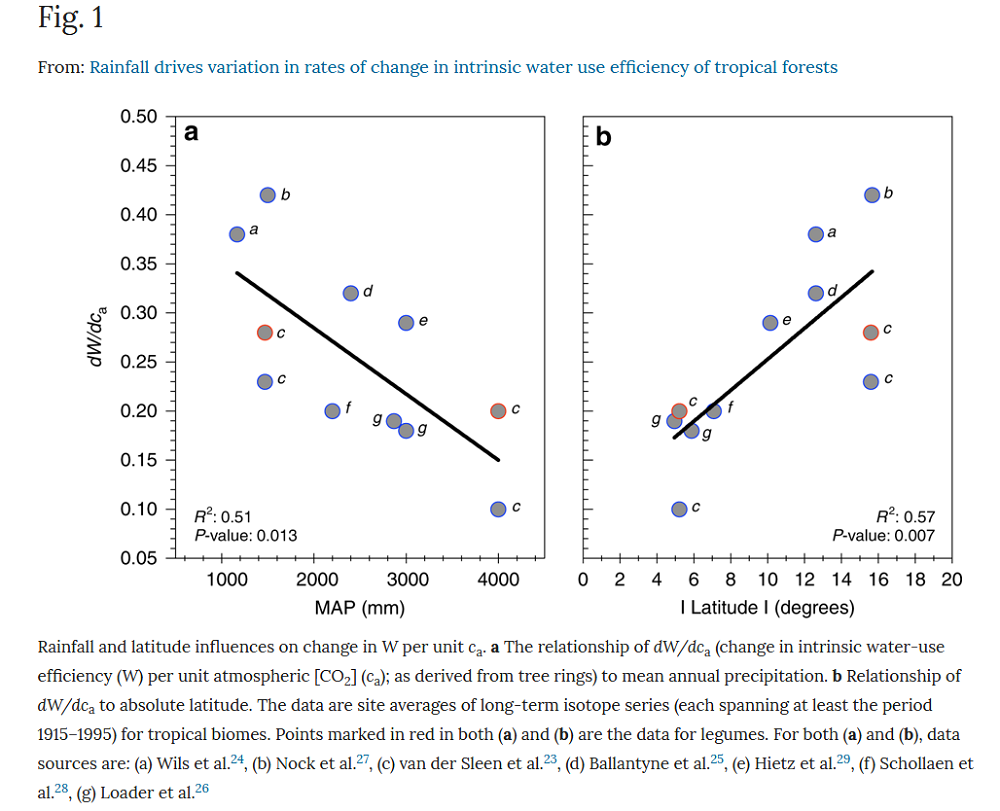 (Article posted by Ann Filmer, Department of Plant Sciences, UC Davis; August 15, 2019.)
Category
Tags