Recruitment Seminars: Research Leader, USDA ARS Water Management Unit at UC Davis, Nov. 19–21
Research Leader position being filled
Three candidates are being interviewed November 19–21, 2019, at UC Davis for the Research Leader position in the new USDA-ARS Water Management Unit that will be located at UC Davis.
The contact for additional information is Daniel Kluepfel, USDA-ARS Research Leader for Crops Pathology and Genetics Research at UC Davis, dakluepfel@ucdavis.edu
Here are the three candidates and their interview dates. Below this are profiles of each of the three candidates.
Dr. Laurent Ahiablame
"Evaluating the Effects of Land Use and Climate Change on Water Quantity and Quality at Field and Watershed Scales: A Perspective from the Upper Midwest"
Nov. 19, 2019  /  9:30–10:30 a.m.
3001 Plant and Environmental Sciences (PES) building
UC Davis campus
Dr. Scott Bradford
"Managed Aquifer Recharge for Water Reclamation, Recycling, and Reuse"
Nov. 20, 2019  /  10:00–11:00 a.m.
3001 Plant and Environmental Sciences (PES) building
UC Davis campus
Dr. Andrew French
"Creating and Testing Water Management Strategies for California Agriculture"
Nov. 21, 2019  /  10:00–11:00 a.m.
3001 Plant and Environmental Sciences (PES) building
UC Davis campus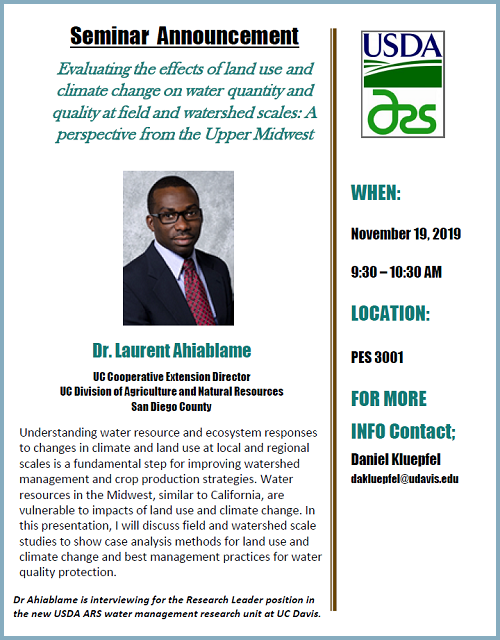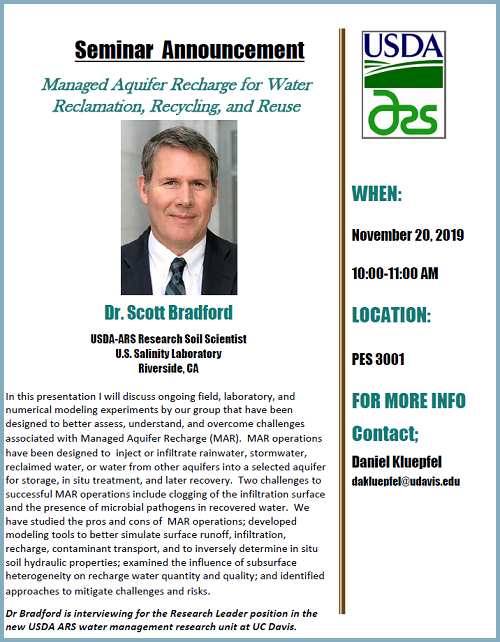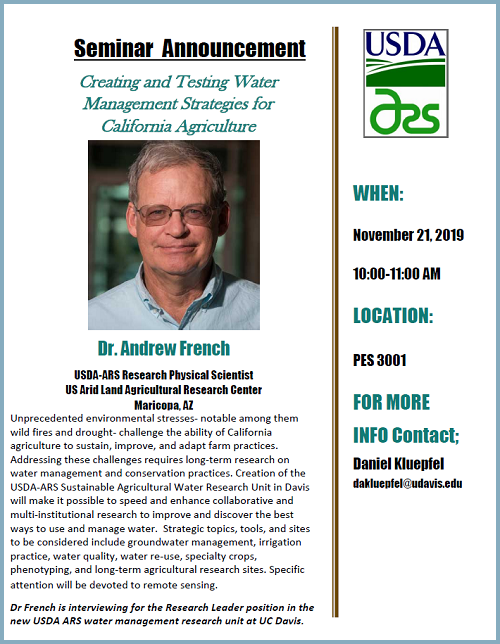 (Article by Ann Filmer, Plant Sciences, UC Davis. Nov. 15, 2019)
Primary Category
Tags