Regulatory Barriers to the Development of Innovative Agricultural Biotechnology by Small Businesses and Universities
New CAST issue paper, co-authored by Professor Kent Bradford at UC Davis, examines the current U.S. regulatory system for GE crops, compares it with those of major trading partners, and considers the effects it has on agricultural biotechnology.
The authors of this paper demonstrate that the current process-based U.S. biotechnology regulatory system is a barrier to agricultural innovation. The regulatory system needs to be adjusted, or "public, academic, and small business entities will continue to be frustrated in using these safe tools to deliver useful products."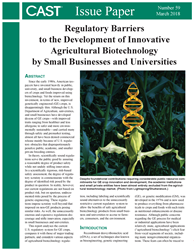 In theory, scientifically sound regulations serve the public good by assuring safety while not stifling innovation. But current regulations are sometimes based on spurious, undocumented risks -- onerous, expensive regulations discourage innovation, especially in small businesses and universities.
These experts show that despite foundational contributions requiring considerable public resource commitments for GE crop innovation and development, academic institutions and small private entities have been almost entirely excluded from the agricultural biotechnology market.
This issue paper explains the problem by examining several key topics:
the history of GE or genetically modified development and regulations
evidence that genetic engineering in plants is safe and beneficial
the need for better record keeping and communication about management and practices
the problem of inconsistent and costly regulations by U.S. and international agencies
poor regulatory practices that hinder production and commerce and lead to trade disputes
unfair labeling practices that influence consumer perceptions and negatively affect research and development especially for academic institutions and small businesses
Unreasonable barriers result in biotech innovation projects that have been slowed down or shelved. Regulations need to align with the stated public policy goal of reasonably assuring safety -- in a way that is commensurate with the degree of risk posed. Otherwise, public, academic, and small business entities will continue to be frustrated in using these safe and beneficial tools. The 35-year history of public and small private investment in agricultural biotechnology will continue to be squandered.
This [CAST Issue Paper (IP59) and its companion Ag quickCAST are available online at the CAST website. Task Force Authors:
Alan McHughen (chair), University of California, Riverside
Kent J. Bradford, University of California, Davis
Neal Carter, Okanagan Specialty Fruits Inc.
Dennis Eriksson, Swedish University of Agricultural Sciences
Elizabeth Grabau, Virginia Tech
Elizabeth Hood, Infinite Enzymes
Wayne Parrott, University of Georgia
Jeff Wolt, Iowa State University
Contacts:
CAST is an international consortium of scientific and professional societies, companies, and nonprofit organizations. Through its network of experts, CAST assembles, interprets, and communicates credible, balanced, science-based information to policymakers, the media, the private sector, and the public.
- - - - - - - - - -
[For past Plant Sciences news, go to https://news.plantsciences.ucdavis.edu/]
Primary Category
Tags