Russell Ranch Field Day – Kernza, Corn, and Small Grains (amongst many other topics)
"More than Yield: Exploring the Full Potential of Our Agroecosystems" was the theme at Russell Ranch Field Day on June 12. Field tours included three topic areas:
Soil Structure, Carbon, and Microbes

Management and Cropping for Resilience

Irrigation, Nutrient Retention, and Disease
In addition to field tours, there were a number of flash talks (in the barn on a very hot day), and a grower panel, followed by lunch.
Field research presenters from Plant Sciences included faculty Mark Lundy and Amelie Gaudin, graduate students Kalyn Diederich and Taylor Becker, and postdoc Meng Li.
Management and Cropping for Resilience included three presentations:
1.

Mark Lundy
Greeting the Uncertain with the Flexible: Winter Cropping System Strategies in a Variable Rainfall Environment
Challenges to winter small grain production in California include:
Low prices and increasing acreage of high-value perennials

Climatic variability, with increased variability projected under future climate change scenarios
Opportunities for small grain production in California include:
Winter cereals have multiple uses/markets and flexible (plastic) growth habits that permit them to be managed reactively, depending on season.

Early-season forage harvests guarantee return to system with the possibility of regrowth for a second harvest, depending on water availability.

Early-season crop termination may be a net water benefit over fallow due to increased infiltration.

Increased selection for early-season growth/vigor and multiple uses/harvests could broaden potential small grain acres.
"Management strategies that offer small grain growers flexibility are important given the precipitation and climatic variability that we experience in California," said Lundy.
2.

Kalyn Diederich (

Ph.D. student with

Kate Scow

and Mark Lundy

)
Kernza's Productivity and Soil Ecosystem Services in California
Kernza (Thinopyrum intermedium) is a dual-use, long-lived, cool season grass with short rhizomes. Diederich and colleagues at UC Davis are conducting the first large-scale, long-term studies on Kernza in California. Kernza has potential in the specialty grain market in California.
Questions being studied include:
Is Kernza a practical crop choice for California growers?

How do belowground changes in labile soil carbon and nitrogen, stable soil carbon and soil microbial communities differ between annual tilled wheat, no-till wheat, and Kernza?

How are above and belowground dynamics affected by the availability of water and nitrogen?
"This is a four-year cropping system experiment," said Diederich. "We hope that this experiment catalyzes other Kernza research throughout the state, so together we can begin to fully understand the productivity potential and associated soil ecosystem services of Kernza cultivation in the Mediterranean climate of California."
3.

Taylor Becker (

M.S. student with Mark Lundy

)
In-season Measurement of the Interaction between Nitrogen and Water Stress in Corn Using Proximal Sensing
A key aspect managing corn is understanding crop demands for nitrogen (N) and water. Both are co-limiting – when the crop has insufficient water or N its ability to acquire and use the other resource is also limited.
Information on in-season crop N and water status would be useful for precision nitrogen and irrigation management. The objective of this research is to determine if canopy reflectance measured in-season by proximal sensing devices can differentiate between crop N and water deficiency.
UAV-mounted multi-spectral cameras are being used to generate images over various time intervals.
"With these tools we plan to create methods that allow growers to detect and better manage nitrogen and water stress in corn," said Becker.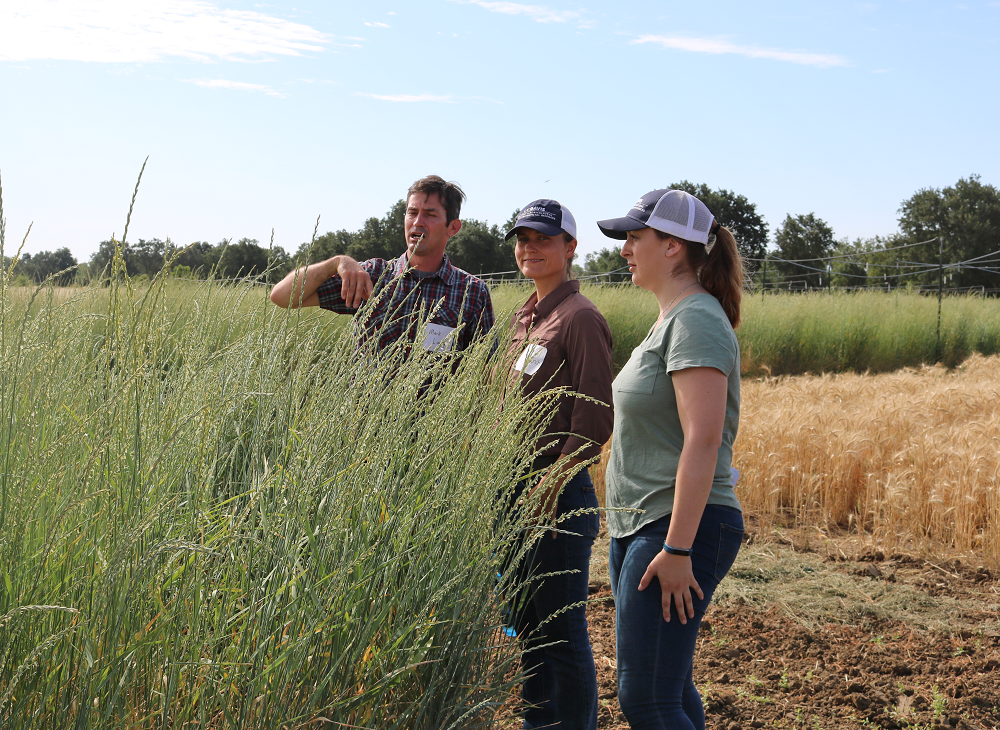 - - - - - - - - - -
Some of the research questions are being answered now, others will result from continuing research.
It's inspiring to see the depth into which graduate students pursue their research, and their ability to analyze the needs for conducting field research. Those attending the field day had a lot of insightful questions about the three research projects.
There were many other valuable presentations at the field day, but this post focused only on Management and Cropping for Resilience.
(Article by Ann Filmer, Department of Plant Sciences, UC Davis)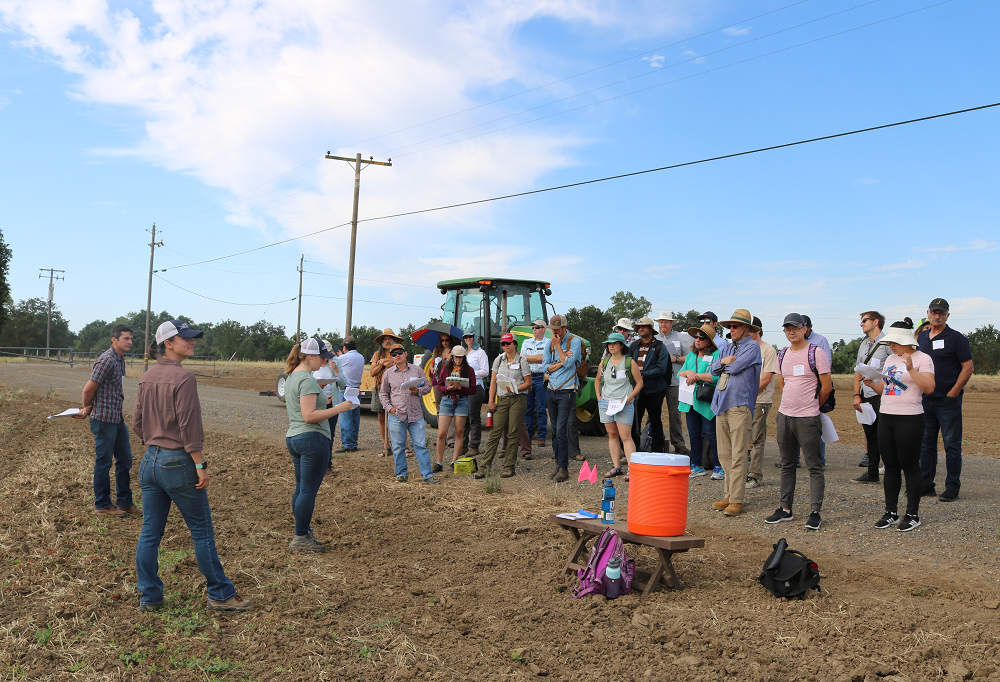 .
Primary Category
Tags