Steve Fennimore Receives Fulbright Scholar Award to Work in Uruguay on Weed Management in Organic Vegetable Production
The U.S. Department of State and the J. William Fulbright Foreign Scholarship Board are pleased to announce that Steven Fennimore of the University of California, Davis, has received a Fulbright U.S. Scholar Program award to work in Uruguay in agriculture. Fennimore will conduct research and teaching at the INIA Las Brujas horticultural field station as part of a project to develop sustainable weed management systems in specialty crops.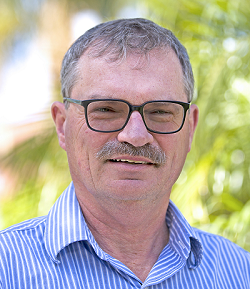 Fennimore is a faculty member in the Department of Plant Sciences at UC Davis, and a statewide Cooperative Extension Specialist with UC Agriculture and Natural Resources. His expertise is weed management in vegetable crops and small fruits, as well as weed seed biology and physiology, and seed bank ecology. He is director of the statewide Vegetable Research and Information Center, housed at UC Davis.
Based in Salinas, California, Fennimore conducts a research and extension program focused on weed management in vegetables, flowers and strawberries, particularly in coastal production areas in California. His program combines chemical and nonchemical methods, for both organic and conventional systems, with the objective of minimizing weed management costs. He also focuses on automated weeding systems to mitigate the severe labor shortages in California, and use of field-scale steam applicators to reduce the need for chemical fumigation in sensitive sites and near urban areas.
Dr. Fennimore is one of over 800 U.S. citizens who will teach, conduct research, and/or provide expertise abroad for the 2019–2020 academic year through the Fulbright U.S. Scholar Program. Recipients of Fulbright awards are selected on the basis of academic and professional achievement, as well as record of service and demonstrated leadership in their respective fields.
About the Fulbright Program
The Fulbright Program is the U.S. government's flagship international educational exchange program and is designed to build lasting connections between the people of the United States and the people of other countries. The Fulbright Program is funded through an annual appropriation made by the U.S. Congress to the U.S. Department of State. Participating governments and host institutions, corporations, and foundations around the world also provide direct and indirect support to the Program, which operates in over 160 countries worldwide.
Since its establishment in 1946 under legislation introduced by the late U.S. Senator J. William Fulbright of Arkansas, the Fulbright Program has given more than 390,000 students, scholars, teachers, artists, and professionals of all backgrounds and fields the opportunity to study, teach and conduct research, exchange ideas, and contribute to finding solutions to shared international concerns.
Fulbrighters address critical global challenges in all disciplines, while building relationships, knowledge, and leadership in support of the long-term interests of the United States. Fulbright alumni have achieved distinction in many fields, including 59 who have been awarded the Nobel Prize, 84 who have received Pulitzer Prizes, and 37 who have served as a head of state or government.
For further information about the Fulbright Program or the U.S. Department of State, please visit http://eca.state.gov/fulbright or contact the Bureau of Educational and Cultural Affairs Press Office by telephone 202-632-6452 or e-mail ECA-Press@state.gov.
Contacts
Steve Fennimore, Department of Plant Sciences, UC Davis; safennimore@ucdavis.edu ; (Note: Fennimore is leaving for Uruguay on October 13, 2019)
Ann Filmer, Communications, Department of Plant Sciences, UC Davis; afilmer@ucdavis.edu
Additional news related to Fennimore's research:
Automated Weeders are Attracting More Interest: Steve Fennimore Explains. September 2019.
Weed Management in Specialty Crop Production. VIDEO. July 2019.
(Article by Ann Filmer, Plant Sciences, UC Davis, and by the Bureau of Educational and Cultural Affairs, U.S. Department of State. October 3, 2019.)
Primary Category
Tags