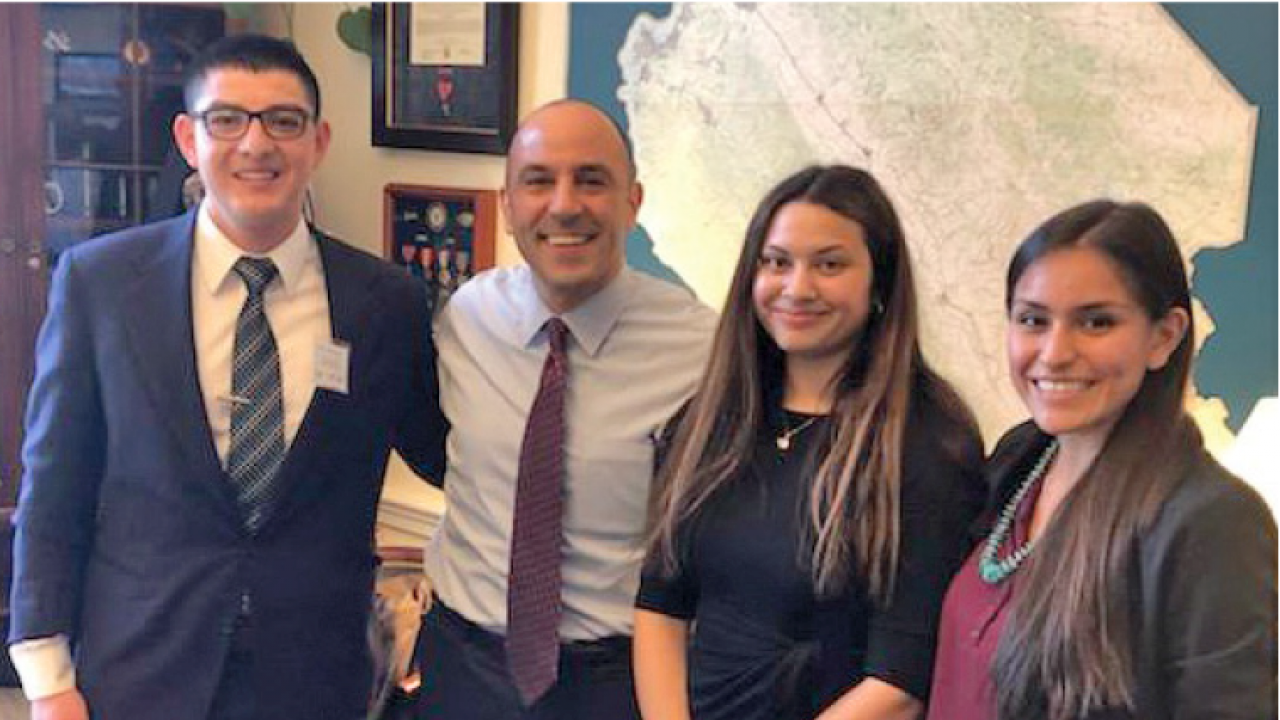 As the end of the academic year arrives, we're pleased to highlight two Plant Sciences students who had the opportunity to go to Congressional Visits Day earlier this quarter.
Samantha Hilborn (an M.S. student working with Charlie Brummer and Allen Van Deynze in Plant Sciences), and Carolina Vaquerano (a B.S. student who works in Brummer's lab) were part of the annual Congressional Visits Day program organized by the Crop Science Society of America. They went to Washington, D.C. at the start of spring quarter, and visited Congressman Jimmy Panetta (Dem., 20th District of California), a strong supporter of agricultural research.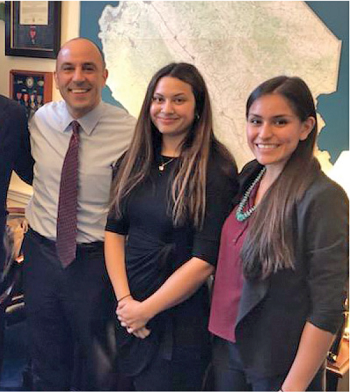 "This is an excellent program that accepts undergraduate and graduate students," said Brummer, a professor in the Department of Plant Sciences, and director of the Plant Breeding Center. "Carolina was the first UC Davis undergraduate to participate in the program. Members of ASA, CSSA, and SSSA attend to make sure that food, agriculture, and natural resources research was one of the Congressional Visits Day priorities."
More than 70 people attended, including some faculty and a fewer students, noted Brummer. He said that attendees meet with their members of Congress and advocate for federal funding for USDA research, specifically the competitive research program – the Agriculture and Food Research Initiative (AFRI). Several faculty in the Department of Plant Sciences receive AFRI funding for their critical research.
After the trip, both students say they would encourage other students to apply for opportunities like this, since it is such a unique and insightful experience.
Carolina Vaquerano
Carolina Vaquerano is a fourth-year student majoring in Plant Sciences, and a first-generation college student in her family.
"I am one of the few Golden Opportunity Scholars to be selected to participate in Congressional Visits Day 2019," said Vaquerano, "and I am the first student from UC Davis to be a Golden Opportunity Scholar. This trip exposed me to a side of agriculture that most students do not know about. I got to see first-hand the importance of government and how it affects agricultural research. As a future scientist, my work will be affected by the funding available.
"It was a very empowering experience and I felt a sense of duty in representing UC Davis and the agriculture industry in the best way possible (much like when I was in the United States Air Force). I want to make an impact in the agriculture industry, and the best way is to inform government officials about the importance of agricultural research."
Samantha Hilborn
"I was interested in participating in Congressional Visits Day because I wanted to learn more about how policies are created and amended," said Hilborn. "It is very important to bring awareness and support for science and research funding, especially in agriculture.
"I learned how congressional meetings are conducted and how to effectively communicate our message. Many of the staffers we had meetings with wanted to learn more about us and supported our request for funding. My group was able to meet Representative Jimmy Panetta."
This was a real learning opportunity for Hilborn. "This experience of public speaking and working as a team put me out of my comfort zone, but it will help me in the future as I hope to interface with the public as an extension educator," said Hilborn.
Samantha Hilborn was supported by the National Association of Plant Breeders.
(Article by Ann Filmer, Department of Plant Sciences, UC Davis)
Category
Tags