UC Davis Provost Croughan visits the Department of Plant Sciences
Provost Mary Croughan of the University of California, Davis, met with faculty members of the Department of Plant Sciences during a two-and-a-half hour guided tour on March 2. The tour served as an introduction for the Provost to the orchard research sites and field facilities held by the department along Hutchinson Drive on the west-side of campus.
Department Chair Gail Taylor kicked off the tour by telling the Provost that nearly half of the 68 faculty members in Plant Sciences have research programs linked to nut and fruit tree crops, including almonds, walnuts, pistachios and peaches, and that a significant amount of the $30 million in external funding won each year by the department is linked to orchard tree research.
"The department has been central to the expansion and success of fruit and nut crops in California over the past 50 years, from the release of new varieties like the Chandler walnut in 1979 and Golden Hills pistachio in 2005, to working in multiple ways to reduce the application of nitrogen and water to these crops and to ensure healthy soils for future generations," said Taylor.
After brief introductions, Professor Tom Gradziel discussed the genetic improvements of almonds and peaches through plant breeding, reiterating that more than 1 million acres of almond are now in production in California, only beaten by dairy as the most valuable agricultural commodity in 2019.
Assistant Professor Grey Monroe and Associate Professor Pat J. Brown guided the group to the walnut and pistachio orchards and described the latest research at UC Davis to sequence the genome of walnut and a new project to produce the pan-genome of pistachio.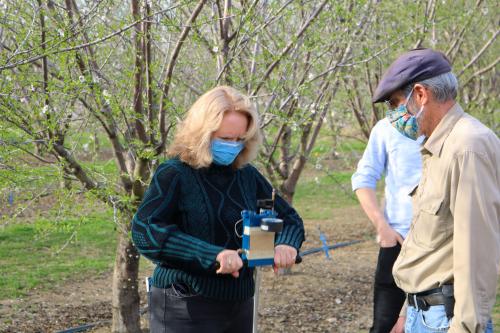 Professors Ken Shackel and Astrid Volder, along with Cooperative Extension Specialist Bruce Lampinen, led the group through explorations of innovative research in fruit tree pruning, root health, fruit tree water status and irrigation. Cutting-edge tools designed within the department were also discussed, with Ken Shackel memorably asking Provost Croughan for a demonstration of a tool to assess tree water status.
Cooperative Extension Specialist Brad Hansen discussed in-the-field weed management research and the sustainability of cover crops in orchards. Israel Herrara, the agricultural manager for the Department of Plant Sciences, provided information about the many field facilities on campus and how they are being used.
Herrara also described the $2 million investment by the College of Agricultural and Environmental Sciences for the new irrigation system installed throughout the research fields on campus, enabling researchers to undertake state-of-the-art irrigation experiments.
Professor Patrick H. Brown provided an overview of the best management strategies for nitrogen – a key nutrient that can be deadly for trees and costly for growers and the environment if mismanaged – in various orchard tree crops. Using giant, whole tree lysimeters, Brown is assessing exactly how orchard trees use nitrogen and how the nutrient can be efficiently applied in agricultural production so as to reduce environmental damage.
"It was wonderful to spend some time in the Davis fields with the Provost, talking plants," said Taylor. "Despite being socially distanced, we were nevertheless able to highlight some of the important on-going research on nut trees in the department."