UC Davis Ranked as Fulbright 'Top Producer': Plant Sciences Faculty are Recent Recipients
Plant Sciences faculty – Steve Fennimore, Cameron Pittelkow, and Kassim Al-Khatib – are among recent recipients
UC Davis is a "top producer" of Fulbright U.S. Scholars in 2019–20, as announced by The Chronicle of Higher Education (Feb. 10, 2020).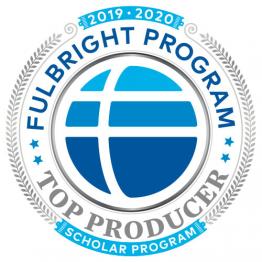 Twenty-one colleges and universities comprise "The Chronicle List" of top-producing doctoral institutions, with UC Davis in a fifth-place tie for having the most scholars — seven — in the U.S. government's flagship international educational exchange program. UC Berkeley, the only other UC on the list, was among the schools that tied for the fifth-place ranking.
"At UC Davis, we pride ourselves on welcoming the world to campus and connecting the campus with the world," said Joanna Regulska, vice provost and associate chancellor of Global Affairs. "The Fulbright Program brings tremendous opportunities to do just that, which is why I am thrilled to see an increasing number of faculty and staff engaging in these experiences. 
"Our UC Davis Fulbrighters exchange culture, knowledge, and perspectives that benefit us all and create lasting impact, locally and globally."
UC Davis Fulbright Scholars, 2019-20
David Corina, professor, Department of Linguistics, College of Letters and Science, hosted at University College London
Steven Fennimore, Cooperative Extension specialist, Department of Plant Sciences, College of Agricultural and Environmental Sciences, hosted by the National Institute of Agricultural Research, Uruguay
Brianne Holden, Study Abroad program coordinator and advisor, Global Affairs, hosted by the Foundation for Scholarly Exchange, Taiwan
Carson Jeffres, staff research associate, Center for Watershed Sciences, hosted by Federal University of Para, Brazil
Naomi Martisius, research associate, Department of Anthropology, College of Letters and Science, hosted by New Bulgarian University
Scott Palmer, advisor, Undergraduate and Prestigious Scholarships, hosted by the German-American Fulbright Commission
Richard Sayler, graduate student, Department of Chemistry, College of Letters and Science, hosted by National Polytechnic Institute, Mexico
Recent Fulbright Scholars in the Department of Plant Sciences
The Fulbright Program provides international exchange opportunities for students, scholars and professionals in graduate study, advanced research, university teaching, and teaching in elementary and secondary schools. Global Affairs counts more than 400 UC Davis-affiliated Fulbright U.S. Scholars and Students over the past decade.
More information is available on Global Affairs' Fulbright Program Opportunities webpage.
(Article from UC Davis Dateline, with additional information from Ann Filmer, Plant Sciences, UC Davis.)
Primary Category
Tags