Undergraduate in plant biology course earns Prized Writing distinction
Fifth consecutive year a student from PLB143 has been honored
Alexander Saka, a senior biology student, has been honored by Prized Writing for his essay "Origin and Domestication of Soybean," a paper he wrote for Distinguished Professor Paul Gepts' Evolution of Crop Plants course in the Department of Plant Sciences. Prized Writing is an annual juried competition that highlights exemplary undergraduate writing from across the many disciplines at the University of California, Davis.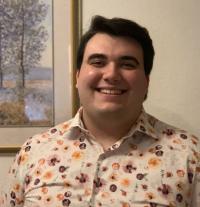 Saka wrote the paper as the terminal project for Gepts' class, an assignment tasking students to conduct a scientific review on the domestication of a specific crop. Saka had no intention of ever thinking about the essay again after he turned it in. It was Gepts who encouraged him to submit it.
"I was really humbled when Professor Gepts made the suggestion," Saka said. "I wasn't writing for Prized Writing – I just got really into the paper."
 Saka explained his choice in soybeans as a desire to better understand the crop's global importance and his interest in its cultural significance to cultures throughout Asia, such as China, the Koreas, and Japan.
"Professor Gepts really inspired me to look at the topic from every angle," Saka said. "The soybean has had a complex, intertwined history with humanity, and it appears in many different cultures' creation mythology. I knew I had to do justice to that aspect in my research."
While not a student of the Department of Plant Sciences, Saka explained he took the course out of his interest in environmental science, environmental activism, and to explore the linkages between the health of humans and that of the planet. Following graduation, Saka hopes to pursue a career in medicine.
A ceremony celebrating Saka and all the authors honored by Prized Writing for the 2020-2021 edition will be held in October. The complete Prized Writing volume, with Saka's essay, can be read here.
A cornucopia of gifted writers
Alexander Saka's essay marks the fifth year in a row a paper from Paul Gepts' course has been selected by the jury of Prized Writing. It is the seventh piece of writing overall from Gepts' Evolution of Crop Plants course that has received the honor, with the first distinction dating back to 2010.
"Dr. Gepts has a way of showing you how amazing every single crop is – how we are culturally and historically interconnected with our ancestors through our food," Saka said, reflecting on how Gepts' approach to the course inspired his essay. "He makes the complicated studies digestible and really inspires you to think about crops in a unique way."
Christopher Lew, another student of Gepts' Evolution of Crop Plants course who received the Prized Writing award for his paper on coconuts in 2019, shared Saka's sentiments: "The interdisciplinary look at plants, connecting different lines like history and plant sciences together, was a breath of fresh air."
Lew continued, explaining that the writing assignment opened his eyes to what he could do with his plant breeding degree, which he received from UC Davis in 2019. In fact, he partially attributes his new job as a scientific specialist at a law firm where he will assist on patent laws pertaining to plants to the paper, due to him submitting it as a writing sample and his employers being greatly impressed by it.
Gepts himself acknowledges the invaluable roles that his teaching assistants have played in helping students refine their essays, such as his graduate student Kimberly Gibson. Gibson has been Gepts' teaching assistant for the Evolution of Crop Plants course since 2019.
"Alexander's writing success would not have been possible without the guidance, advice, and dedication of Kimberly," Gepts said. "I would also like to acknowledge all the TAs who have preceded Kimberly and the Shields Library staff for helping students in their bibliographic and writing assignments."
Primary Category
Secondary Categories
Tags