Valerie Eviner, Plant Sciences Professor, Selected as a Community Engaged Learning (CEL) Faculty Fellow
The Community Engaged Learning (CEL) Faculty Fellows program seeks to acknowledge and reward exemplary faculty and instructors who are eager to incorporate community-framed problems and questions into their classrooms. These leaders recognize the value of student learning experiences outside the classroom that address issues of public concern.
The program is primarily designed for faculty interested in:
Learning about tools and resources for supporting student learning in community settings on our campuses, in our region, and throughout the world

Promoting student learning that incorporates collaborative problem-solving activities, intercultural engagement, and global learning
Valerie Eviner, a professor of Ecosystem Management and Restoration in the Department of Plant Sciences at UC Davis, has been selected as one of the 2020 Community Engaged Learning Faculty Fellows.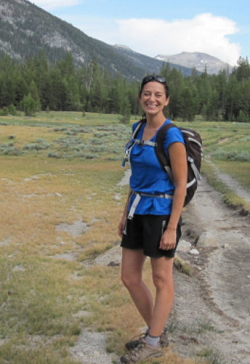 Much of Eviner's research is in collaboration with diverse land managers to simultaneously address holes in our fundamental ecological understanding, and key challenges in ecosystem management, including plant invasions, conservation of native plant communities, ecosystem services, restoration, and the resilience of ecosystem structure and function to multiple environmental changes.
"I'm honored and excited to be selected as a Community Engaged Learning Faculty Fellow," said Eviner. "Thanks to wonderful collaborators such as Putah Creek Preserve and Solano County Resource Conservation District, for the past 12 years, students in my Restoration Ecology class have addressed real-world restoration challenges — developing a restoration plan for a different local site each year by combining field monitoring with scientific summaries for diverse management goals."
Eviner says that participating in the CEL program will expose her to the latest scholarship on how to most effectively train students in applied science and in engagement with stakeholder communities to address our most pressing environmental issues.
"When classroom activities are linked to making positive impacts on our environment and community, students rise up to the challenge."
"This program will open up even more exciting opportunities for future classes to learn through hands-on experiences," she noted. "When classroom activities are linked to making positive impacts on our environment and community, students rise up to the challenge — engaging in field research, data analyses, literature reviews, writing, and public presentations that prepare them for their careers in ecological management."
Eviner also works closely with bridge organizations and government agencies to integrate the most recent scientific insights into policies affecting the environment and sustainable land management.
About the Community Engaged Learning (CEL) Faculty Fellows Program
While community engaged learning courses may take different forms, they all:
Address a specific need, problem or common concern

Include collaboration with a community partner

Connect this collaboration with course content and disciplinary perspectives

Include ongoing and documented student reflection
The CEL Faculty Fellows program aims to support individuals working to fully integrate this learning approach into existing courses and new curricular experiences. Some of the questions the program will address include: How can engagement enhance student learning experiences and outcomes? How can students be prepared to engage responsibly and thoughtfully with community partners? How can mutually beneficial relationships be built with community partners?
Through the CEL Faculty Fellows program, Public Scholarship and Engagement will provide concrete tools and facilitate opportunities for UC Davis faculty members across all disciplines to create and improve community-based student learning experiences that will help cultivate and foster a culture of engagement at UC Davis through impactful partnerships with non-university groups.
The 2020 Cohort of Faculty Fellows
Eight UC Davis faculty and instructors have been selected for the 2020 Fellows Program:
Valerie Eviner

, Department of Plant Sciences

Milmon F. Harrison

, Department of African American and African Studies

Heather Jane Hether

, Department of Communication

Kristin Kiesel

, Department of Agricultural and Resource Economics

Lee Martin

, School of Education

Tim McNeil

, Department of Design

Lindsay Poirier

, Science and Technology Studies

Lisa Rasmussen

, UC Davis Medical Center
Learn more about the CEL Faculty Fellows Program at UC Davis.
(Article by Ann Filmer, Plant Sciences, UC Davis. January 15, 2020.)
Primary Category
Tags