Dan Putnam receives the James H. Meyer Distinguished Service Award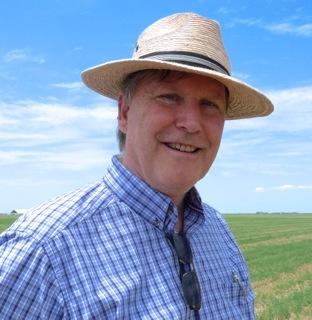 "Ice cream in the making" – this is the unusual designation given to alfalfa by Dan Putnam, a Cooperative Extension Specialist in the Department of Plant Sciences at the University of California, Davis.
Alfalfa is often overshadowed by California's more famous vegetable and fruit crops, like nuts and wine, despite the key roles it plays for our food systems. It's a highly productive crop that serves as the basis for milk, cheese, leather, honey and wool production. In other words, what lies behind the carton of ice cream on the refrigerator shelf is a field of alfalfa.
This green legume rarely leaves the attention of Putnam, who has spent the past 28 years conducting critical research, outreach and education activities for alfalfa and other forage crops at UC Davis.
In recognition of his outstanding research, extension programs and general advancement of alfalfa as an irrigated crop in Mediterranean and desert climates, Putnam has been named the 2021 recipient of the James H. Meyer Distinguished Service Award by the Academic Federation of UC Davis. The annual award is the Federation's highest honor, a distinction only given to one of their members.
"Putnam's career-long, impactful leadership at the state, regional, and national level exemplifies the spirit of this award," wrote Professor Charlie Brummer and John B. Orr Endowed Chair Gail Taylor, both of the Department of Plant Sciences. 
Standing up for Alfalfa
While surprising to some, alfalfa and other forage crops are large acreage crops in California, being grown throughout the State's major agricultural areas. These areas extend from Oregon to the Mexican border, with the heart of production occurring in the Central Valley.
These forage crops are inextricably linked to California's top agricultural product: dairy. Putnam's applied research and outreach programs, which have touched on nutritional improvement, sustainability and water usage in drought years, have significantly contributed to the management and production of forage crops throughout California's growing regions. 
Through Putnam's research, he has significantly addressed improvement and measurement of the quality of alfalfa, from its protein and fiber content to its potential energy levels, all of which are extremely important for the health of cows, milk production, and other animals who rely on alfalfa as a primary food source. This is attendant to other qualities of his research, such that forage quality must be balanced with yield, resource use and environmental impacts.
Significant for our changing world and our current climate emergency, Putnam has demonstrated the tremendous water flexibility of alfalfa. While alfalfa has historically been criticized as a crop that wastes water, Putnam and colleagues have demonstrated the plant's remarkable adaptability, high water-use efficiency, and its positive characteristics for the environment while in a drought. He has even led efforts on the environmental issues and wildlife interactions associated with alfalfa.
"Dan has a keen eye on the evolving needs and challenges of California producers and a commitment to providing science-based solutions," one nominator wrote. "It is rare to find top level plant scientists with such a firm connection to local and regional growers."
"I believe that science is a fully collaborative effort, that it is important to work together on important issues," Putnam said. 
While Putnam conducts most of his research on the UC Davis campus, UC Research and Extension centers, and grower fields across the state, he often collaborates with a wide array of UC and non-UC collaborators to evaluate systems-level impacts of changes in alfalfa and forage crop management. He also works closely with UC Davis faculty members, CE Specialists and Farm Advisors to address both local and regional problems growers face with forage crops.
Putnam has helped establish grower-directed advocacy and research organizations. He helped form the California Alfalfa and Forage Association, a grower-led commodity group in the 1990s. He has worked with the United States Department of Agriculture to fund forage research positions nationally and in California, and has mentored numerous graduate students to become successful researchers, practitioners, and educators.
Of his work with farmers, Putnam is especially proud: "Throughout my career, I have wanted to help farmers solve problems and improve production methods and stand up for their own crops."
The Importance of Communication
Putnam believes that alfalfa is largely overlooked as a crop both by the public and by researchers, and that, because of this, there needs to be accessible and effective communication about the crop.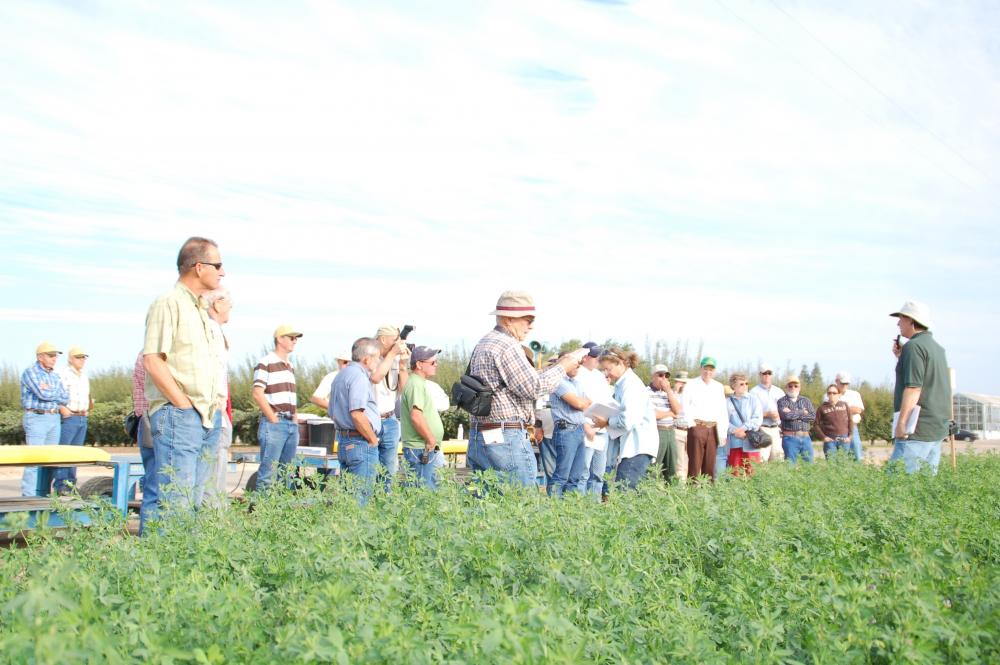 To this end, he organizes and chairs the annual Western Alfalfa and Forage Symposium, an event attracting several hundred attendees each year. He also organizes public showcases of alfalfa research, grower meetings and field days, at various locations across California. Beyond events, Putnam developed the UC Alfalfa Workgroup Website and Blog to share information and updates about crops, which he still regularly writes articles for to this day. He led the editing and wrote many chapters of the book Irrigated Alfalfa Management for Mediterranean and Desert Zones – an A-to-Z 'how to' manual that is widely considered to be the bible of irrigated alfalfa production.
"It is rare to find an individual with Dan's scientific expertise and skills for effective communication to a wide range of listeners, team building and team leadership," a nominator wrote. "It's no wonder he remains a sought-after collaborator, speaker, and fount of practical information about alfalfa production in the Western U.S. and international markets with similar environments."
"The Shoulders of Giants"
"Dan has worked tirelessly, imaginatively, and humbly to help the industry in every way one could imagine," wrote one nominator. "In other words, Dan is not just a leader, but a giver."
When asked in a Zoom interview what he wants from his future, Putnam emphasized the importance of those that came before him that allowed him to achieve the many successes of his career. 
"It is said we stand on the shoulders of giants," Putnam observed. He paused, surveying his surroundings as if they were a field with a deep horizon line. "While looking at the researchers who came before me, public scientists like myself have a duty to help envision solutions to some of our biggest problems today, like water use and climate change."
In other words, Putnam is eager to continue advancing the research and extension programs for those that will follow him. He isn't ready to join those giants quite yet.
Congratulations to Dan Putnam for receiving the James H. Meyer Distinguished Service Award.
Primary Category
Tags