Graduates launch exciting careers
Student showcase: Doctoral graduates Solins and Kuzay
We are pleased to profile two people who have graduated from the Department of Plant Sciences and who are now launching exciting careers in their fields. The stories of Joanna Solins and Saarah Kuzay tell of the passion they brought to their studies, and how people here supported them in their journeys.
Solins to offer guidance for greenery as cities face climate change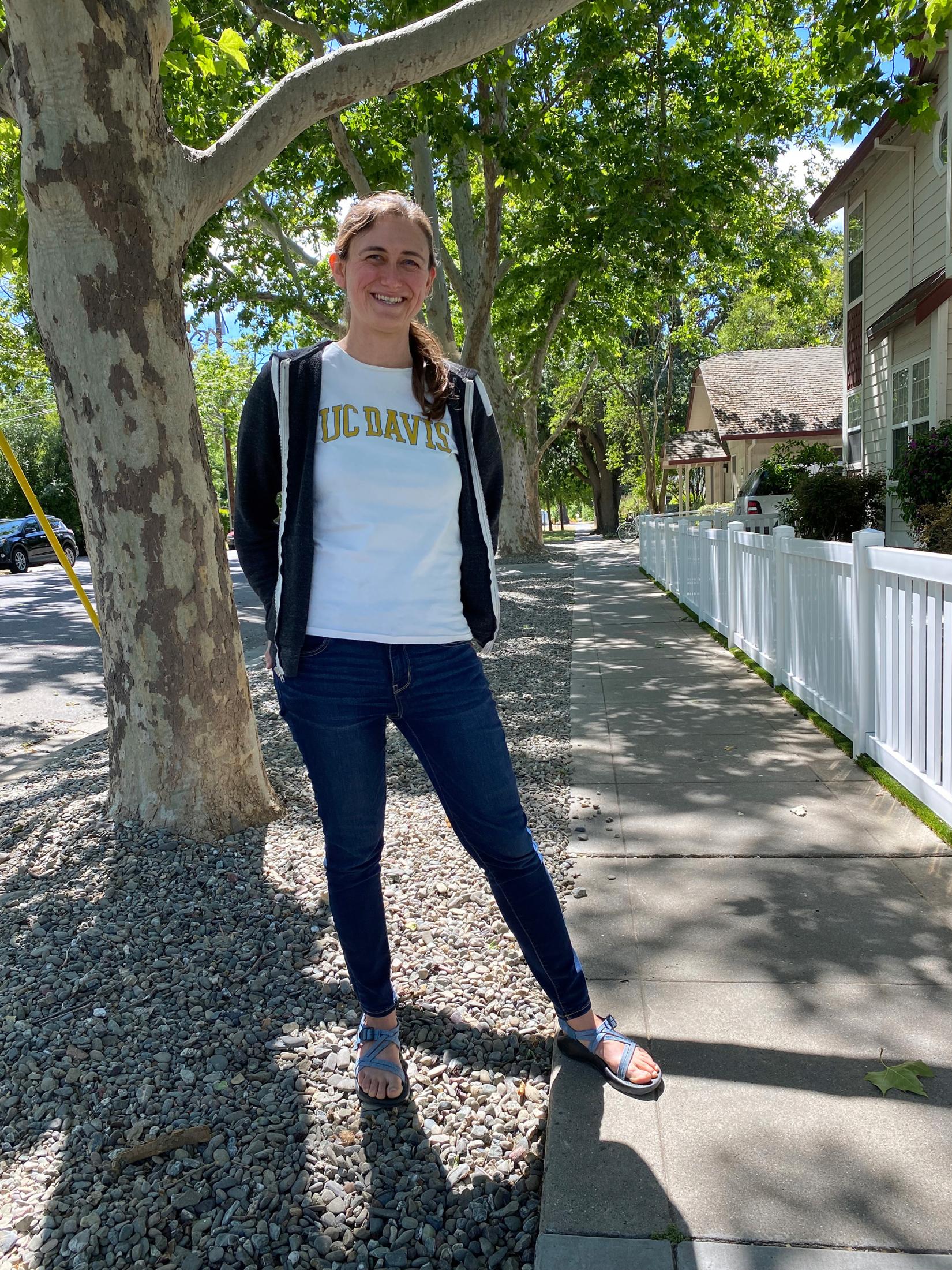 The large London plane trees lining the streets of Old North Davis offer shade, beauty and character to the neighborhood. Department of Plant Sciences graduate Joanna Solins (Ph.D., 2018) will use her experience studying these trees and other plants in the urban environment when she takes a full-time position this fall with UC Cooperative Extension.
This new chapter for Solins, 40, comes after nearly a decade in the department, where she earned her master's and doctorate and completed several years of postdoctoral work – including research on the London plane trees – in the Cadenasso Landscape and Urban Ecology Lab. She'll soon be working as the environmental horticulture advisor for Sacramento, Yolo and Solano counties, home to 2.2 million people.
Street trees, private landscaping, parks, and vegetation along urban streams and in other open spaces can better our physical and mental health, offer shade and cooling, help us save energy, provide habitat and reduce flooding, Solins explained. But, our green spaces and urban forests are facing new challenges as climate change makes temperatures warmer, storms stronger and water scarcer. In her Extension work, she'll help people navigate these challenges, working with urban foresters, nursery growers, landscapers, and officials in local governments and utilities, among others.
"The thing that excites me most about this position is that it's focused on solving problems that affect people's experiences of the places where they live," Solins said.
The Massachusetts native came to the department after working for a decade in educational publishing and nonprofit communications. "I've always been interested in environmental issues, since I was a kid," she said. She became intrigued by the ecology of cities after living in San Francisco and decided to pursue a graduate degree in that field.
While the prospect of studying in the Cadenasso Lab drew Solins to UC Davis, the offer of a four-year department research award made her choice of schools certain. Once here, she found ample physical space and resources to work. Departmental travel funds allowed her to present her work at conferences, building her public speaking skills and expanding her professional network.
Faculty and staff helped Solins make the most of her experience. "We have very generous faculty members. They were willing to loan equipment and help me think through the data that I'd collected and the methods I was using," Solins recalled. "The department is full of amazing scholars, and they've been generous with their time.
"The support I received from the department and its faculty were key to my success in graduate school, and I'm very grateful that I had a strong foundation to launch my career."
Kuzay to unfold the secrets of growing tomatoes vertically
In 2021, two days after Saarah Kuzay graduated with a Ph.D., she went to work for a Davis start-up company. Unfold had launched a year earlier with $30 million in funding from Bayer AG, the German pharmaceutical and life sciences giant, and Temasek, a global investment company in Singapore. Unfold is taking the genes of favorite vegetables and crafting new varieties that will thrive in racks illumined by LED lights and fed with nutrient-loaded water. Called vertical farming, the industry is projected to sell $12 billion in fresh produce by 2026.
The industry started with leafy greens, whose relatively flat shapes and fast growth adapt easily to the high-tech environment. "My role is to expand into vegetable fruiting crops," whose shapes and sizes, slower growth and evolving needs pose challenges, Kuzay said. Her goal: Develop a prototype tomato with a physical structure and growth pattern amenable to vertical farming, but which still looks and tastes delicious. "I'm basically creating a plant parasite inside a mechanical host," she added.
Early on, Kuzay had another important task. "The building where the company will be located is in a warehouse, and there are lots of bats," Kuzay said. "I researched a vacuum that would vacuum bat poop, and I go around the warehouse and vacuum up bat poop." She's in good company: On the warehouse floor sit little pots of seeds being grown for research, and when the pots need re-organizing, the start-up's top executives get down on their knees. "That's what you do when you're a new company, you get down and dirty," Kuzay said. "If you have that attitude, you can do anything well."
The Detroit native grew up in southern California before enrolling as an undergraduate. Over the next 10 years, Kuzay worked in seven labs, gaining experience in biochemistry, biotechnology, traditional and organic breeding and post-harvest.
"I got to work with so many crops. I worked with everybody, and I learned a lot," Kuzay said of her time, much of it spent in the Dubcovsky Lab. "There are so many opportunities and ways to get involved."
Faculty shepherded Kuzay through graduate school applications, strategized for funding, showcased her work and sent her to conferences. Those experiences helped her win a department fellowship and assemble a supportive network. That network strengthened her confidence, helped her explore and eventually led to Unfold.