Local high-school girls do science with Webster Award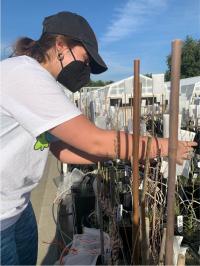 Studies show high school and undergraduate students who get hands-on experience with scientific research do better at remembering the material, they feel more positive about scientific research, and they more often go on to study to science. When women and minority students get that experience, science benefits with broader participation and diversity.
Inspired by those studies, Department of Plant Sciences Prof. Jennifer Funk used her $20,000 award from the Barbara D. Webster Scholar program to give local high-school girls the opportunity to conduct research in plant ecology.
Funk's program engaged 10 girls from Davis Senior High School during winter 2022. In 20 hours over a 10-week period, the students collected and analyzed data from lab and greenhouse experiments. 
"During weekly two-hour visits to my laboratory, students received an overview lecture about plant ecology, processed leaf samples using a microbalance and elemental analyzer, and worked on three projects led by graduate students in the Orchard Park greenhouse facility," Funk reported. "As part of these projects, students counted and identified germinating seedlings, collected growth measurements, and harvested root systems of potted plants."
Five women graduate students and a woman research technician, a recent UC Davis graduate, mentored the girls.
"Collectively, the experiences introduced students to scientific thinking, quantitative approaches, and concepts in plant science and ecology," Funk reported.
Three of the girls were so excited about the work that they asked to continue working in the lab as volunteers during spring and summer quarters, Funk said.
Prof seeks to extend program's scope
Inspired by Funk's success, Assistant Prof. Xiaoli Dong, of the UC Davis Department of Environmental Science and Policy, aims to extend the experience to teach the girls to use more scientific tools. Dong has applied for funding from the National Science Foundation and work with the same cohort of Davis Senior High students in a subsequent quarter.
"Her research focuses on theoretical ecology, so students will gain valuable computational and quantitative skills as they assist with her research," Funk said.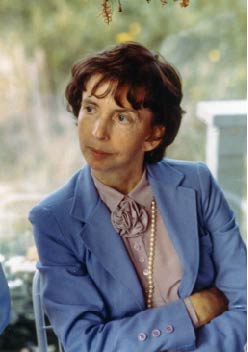 Webster Award promotes women in plant sciences
The Barbara D, Webster Award Program was established in memory of Barbara D. Webster, a botanist and expert in plant development and structure. She was the first woman to join the faculty of the Department of Agronomy, which later became part of Plant Sciences. Throughout her pioneering career, she pushed to bring women and minorities into the field and strengthen their presence in leadership roles. She died in 2017 at the age of 88, and her daughter, Susan V. Webster, founded the award program in her honor.
Funk is the first Webster Award winner.
To learn more about the award or to apply, visit
https://www.plantsciences.ucdavis.edu/barbara-d-webster-scholar-award
Related stories:
https://caes.ucdavis.edu/news/barbara-d-webster-scholar-award-established-daughter-susan-honor-uc-davis-professor-and
https://www.plantsciences.ucdavis.edu/news/jennifer-funk-receives-inaugural-barbara-d-webster-scholar-award
Tags