#1intheWorldPlantSciences
Increasing our knowledge of green plants has rarely been more important. As we grapple with the challenges of food security, our impact on the environment and the loss of biodiversity and as the world becomes more urban, plants have an important role to play. We have an important role to play in shaping the future.
The Department of Plant Sciences, continues to take important strides to improve our understanding of plants, but equally important, our mission is to work with our partners to ensure we translate this new knowledge into real world solutions to improve the lives of those in the state, nation and world. Last year was a phenomenal year for us, we won in excess of $49M (our best year ever) in external funding, from a wide array of sources including commodity boards for specific crops, but also from multiple federal grant bodies and internationally funded agencies and charities. Take a moment to read about some of these wonderful new projects and how our scientists are making fascinating new discoveries.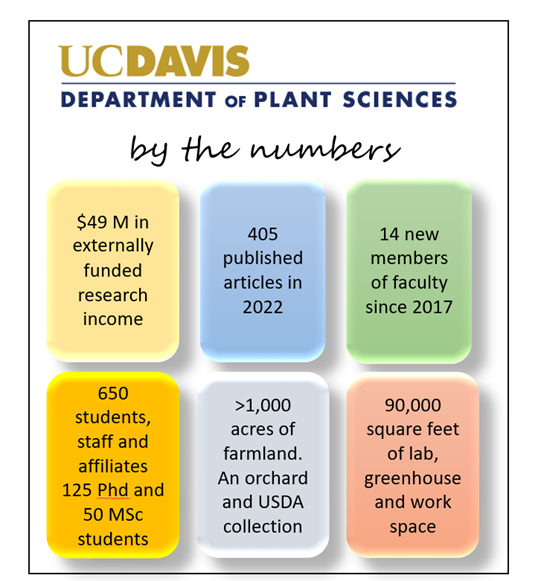 A note on diversity This powerhouse of plant sciences can only be achieved through people working together. Our excellent faculty have won a significant number of accolades this past year or so, including three women faculty members being named as fellows of AAAS, with   congratulations to Valerie Eviner, Dina St. Clair and Maeli Melotto, alongside Mary Cadenasso elected as a fellow by the Ecological Society of America. Our women faculty are making great strides, helped by a new endowment – the Barbara D Webster Scholar Award, to advance women in Plant Sciences with the inaugural award going to Jennifer Funk, working to inspire school children in plant sciences and the second to Louise Ferguson to develop a leadership program to help our plant science junior faculty to achieve their full potential. At the same time, that highest of academic accolades – the competitive award of an endowed chair, has been achieved by two women – the Chair, Gail Taylor is the current holder of the John B Orr Endowment in Environmental Plant Sciences and Amelie Gaudin now holds the endowed Chair in Agroecology. A first for women in Plant Sciences. We still have some way to go with respect to diversity in Plant Sciences but these women are all trail blazing for the future.  
Significant achievements and excitement for the future Plant Sciences by the numbers confirms why we are world leading – over 400 publications achieved in 2022, and many of those including our graduate and post-doctoral scholars. Eduardo Blumwald was acclaimed as a highly cited researcher for the sixth year in a row which is a phenomenal achievement with Jorge Dubcovsky, Patrick H Brown and many other faculty winning major national awards that celebrate their achievements. Perhaps the most exciting happening in Plant Sciences just now is the recruitment of 14 new members of faculty since 2017 – these new faculty colleagues are outstanding and we can rest easy that they are securing the future of Plant Sciences through their excellence in research, commitment to their scholarship, to teaching and extension, as is our tradition. The future has also been blessed with the largest donation ever made by an individual to the campus - $50M to build a new building, nestled alongside the Plant Reproductive Biology building will be the Resnick Center for Agricultural Innovation, bringing together plant biotechnology for designed plants, sensors and robotics and a commitment to reduce waste from agriculture as we move towards a new circular economy. The Department has an important role to play in this shared vision for the future.