Biodiversity Museum Day
Pet a pine cone at Biodiversity Museum Day March 6
Visit a pine cone petting zoo and craft a pressed-flower bookmark during UC Davis' 11th annual Biodiversity Museum Day. Children and the young-at-heart will enjoy hands-on activities that bring science to life from 11 a.m. to 3 p.m. Sunday, March 6, at the UC Davis Conference Center, across from the Robert Mondavi Center.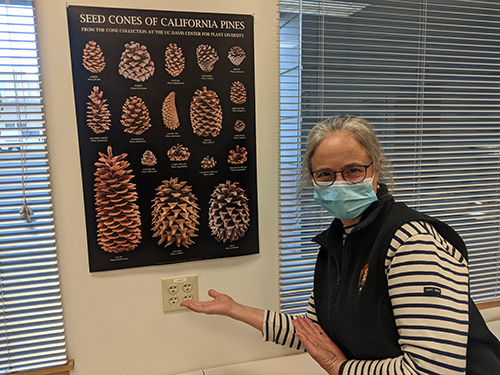 The Center for Plant Diversity herbarium, part of the UC Davis Department of Plant Sciences, is one of 11 museums on campus that will host displays and activities that celebrate the diversity of life on Planet Earth.
The herbarium's popular Pine Cone Poster, showcasing the brilliant variety of these primordial seed-bearing structures in California, has been reprinted by popular demand. Posters will be on sale for $20 (cash or check only, please).
Visitors will see the fascinating work of university scientists and share in their discoveries that reveal the secrets of the plants, microbes and animals that feed us, clothe us and surround us.
On the Biodiversity Day website, you can find pre-recorded programs from previous events, which you can enjoy for free any time.
Admission is free and open to the public. Follow us on Instagram, Twitter and Facebook.
COVID-19 Guidelines
Although Yolo County has lifted the mask mandate, county Health Officer Dr. Aimee Sisson recommends that people voluntarily continue to wear masks indoors until community transmission reaches the "moderate" level. Currently, community spread in our county remains in the "high" tier.
Out of continued concern for the health of everyone on campus, UC Davis is maintaining the mask requirement for indoor gatherings for the rest of winter quarter. In addition, visitors will be asked at the Conference Center door to either show proof of vaccination or a completed UC Davis Daily Symptom Survey. Hand sanitizer stations will be scattered throughout the venue. Capacity in the conference center will be limited to approximately 300 people.
Parking
Campus parking is free on the weekends. The closest parking for the UC Davis Conference center is immediately south of Old Davis Road on the south side of the Conference Center.
Primary Category
Tags