Department celebrates diversity of students, faculty
Multi-cultural display draws on a world of traditions
Students, staff and faculty in the UC Davis Department of Plant Sciences come from a wide range of cultures, from all over the world. To celebrate the strength we find in our diversity, the department for several years has placed an evergreen tree in the lobby of the Plant and Environmental Sciences building amid the year-end holidays, and invites everyone to bring a symbol of their own heritage to hang on the tree.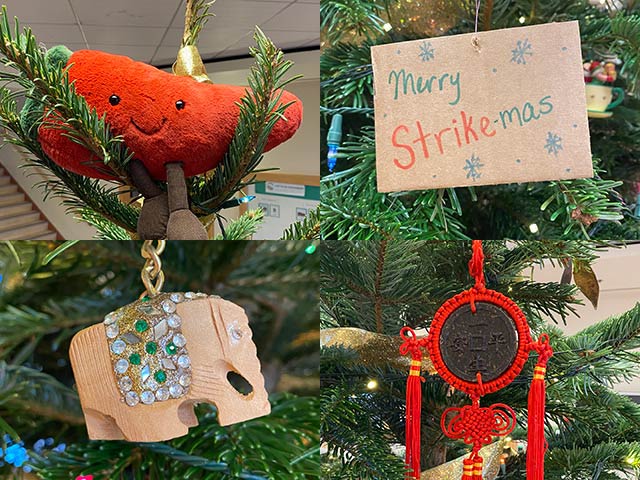 This past holiday season, our multicultural holiday tree evoked faith traditions, seasonal images, social and environmental values, hobbies and interests, national motifs and favorite holiday foods. The scent of pine brought the outdoors in, and lights on the tree brought cheer, some in the building commented. As a labor action by University of California employees continued during this time, the tree also became a place where strikers and sympathizers could safely express their positions.
"The illuminated tree is a symbol of light and life at the darkest time of the year for many of us and acts as a focal point in the Plant Sciences building entrance," said department Chair Gail Taylor. "I was keen to decorate a tree and initiated this new activity where, each year for the past few years, we have invited everyone in the department to add their own decoration to the tree that reflects their science, culture, religion or nation.
"The Department of Plant Sciences is an international community, with scholars coming together from across the world with one thing in common: their passion for plant sciences and for using their discoveries to make the world a better place, addressing the big global challenges such as food security, climate change and nature conservation," Taylor added. "The tree provides a focus where we all come together to celebrate."
Taylor began the tradition of the multicultural holiday tree after becoming department chair in 2017.
Media Resources
Trina Kleist, UC Davis Department of Plant Sciences, tkleist@ucdavis.edu, (530) 754-6148 or (530) 601-6846
Primary Category
Tags