Hanson named fellow of Western Society of Weed Science
Career contributions and 'problem-solving mindset' lauded
Folks in Davis know Brad Hanson as the Weed Doctor, always available during the annual UC Davis Picnic Day festivities to answer questions about what's that growing in the yard. He's equally knowledgeable about solving farmers' issues, and that commitment was recognized recently when he was named a fellow of the Western Society of Weed Science. The distinction is the society's highest honor and recognizes people who have made significant contributions to the society and to the discipline of weed science.
"The Western Society of Weed Science has felt like my 'home' society since I was a graduate student," Hanson said.  "The WSWS is very supportive of graduate students and early career scientists, and my weed science career has benefited greatly from being a member. The list of previous WSWS fellows includes many of my mentors and people I've admired for many years, and I am honored to be considered among that that group."
Hanson is a professor of Cooperative Extension in the Department of Plant Sciences, and has been an Extension specialist since 2009. His statewide weed management research and extension program is focused on orchard and vineyard crops. He also provides weed science support for agronomic and horticultural crops and supervises the UC Davis IR-4 Field Research Center. From 2005-09, he was a research agronomist with USDA-ARS in Parlier, Calif., where he conducted research on soil fumigants and weed control in nursery crops.
The WSWS committee recognized Hanson's productive career. He has co-authored 92 peer-reviewed articles, 16 book chapters and extension publications, and more than 60 research papers presented at WSWS meetings. Hanson and members of his lab delivered more than 500 extension presentations during his career at UC Davis. He is considered an excellent mentor for graduate students and young weed scientists.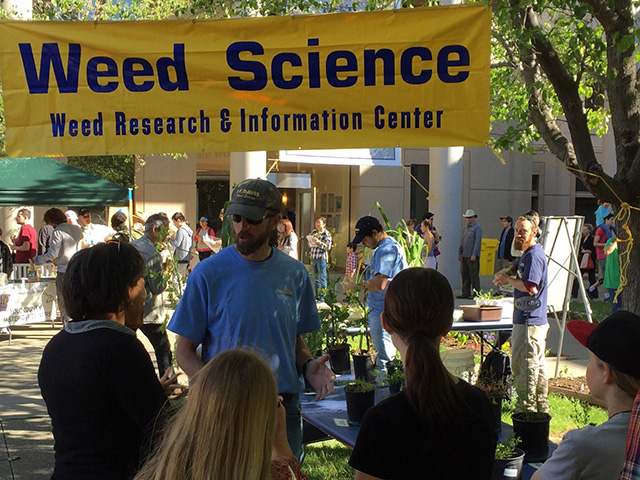 WSWS leadership
Hanson has a long record of serving the society in leadership roles. In 2011, he was recognized as WSWS Outstanding Early Career Weed Scientist. In addition to WSWS, he is active in the California Weed Science Society and the Weed Science Society of America.
One letter of support for the honor noted that Hanson is "committed to solving problems. He has the ability to blend curiosity-driven scientific advances with a problem-solving Extension mindset."
Hanson's award was made during the 76th annual meeting of the WSWS, held Feb. 27-March 3 in Boise, Idaho.
Media Resources
Carol Mallory-Smith is a professor emeritus at Oregon State University. Trina Kleist, of the UC Davis Department of Plant Sciences, edited this article.
Trina Kleist, tkleist@ucdavis.edu, (530) 601-6846
Primary Category
Secondary Categories
Tags