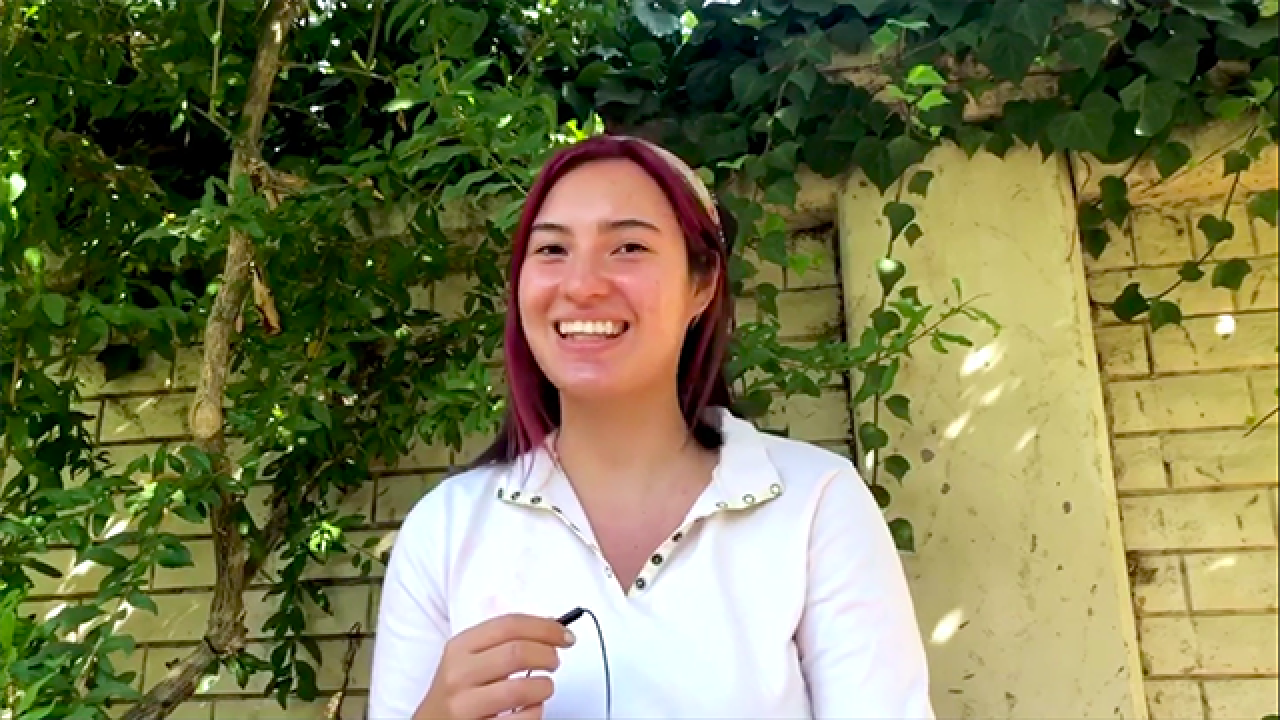 Department of Plant Sciences Assistant Professor Barbara Blanco-Ulate represented her department for the second consecutive year in the annual Undergraduate Research Week, which lasted from October 12 to October 16. Coordinated by the Undergraduate Research Center (URC), the week-long celebration aims to develop interest in research opportunities for UC Davis students by inviting faculty members to celebrate the work of their undergraduates. Within Plant Sciences, the interest was strong: all 14 students nominated to present their research accepted the honor.
Yet, they were faced with an unusual problem. In response to the COVID-19 pandemic, the URC decided to move the event onto Zoom, meaning students would need to employ innovative solutions for showcasing their research. Taking the helm, Blanco-Ulate guided the students in producing three-minute videos that explained who they were, their research, and the importance of their findings.
These videos – 13 in total due to two students collaborating on one project – were unveiled on October 15, the date of the department's hour-long live exhibition for the Undergraduate Research Week. Illustrating the students' creativity, the presentations of their research ranged from in-depth PowerPoint presentations to vlogs and even impromptu tours of campus labs as the student provided visualizations of their findings and process.
"I personally enjoyed speaking at the Undergraduate Research Week through a video format," said Karen Nguyen, fourth-year Global Disease Biology major in the Drakakaki Lab. "It really added a layer of creativity that wouldn't be possible in person."
This variety of form was only matched by the cornucopia of research topics. To name but a few: Senior Zheng Zhenglin, a Plant Sciences major in the Pittelkow Lab, looked at greenhouse emissions from rice production, specifically in Southeast Asia; fourth-year biotech major and Berry Lab member Parker Wheeler showcased her research into root node symbiosis in nitrogen-fixing plants, like legumes, with potential to reduce the need for nitrogen-based fertilizer and to potentially limit eutrophication – the unsightly process that, for example, turns the waterway in the UC Davis Arboretum green; And Talissa de Oliveira Floriani, a visiting intern at the Gepts Lab and senior agronomy major from Santa Catarina State University in Brazil, who presented her work on plant breeding within fabaceae.
While it is tempting to point to a unifying theme from the students' presentations, it is difficult to pin one down. This could be due to the different class levels of the students who participated, from juniors to first-year grads, but Blanco-Ulate thinks it is due to something inherent to the Department of Plant Sciences itself.
"Everyone in the department is so different," said Blanco-Ulate. "From pastures to rain forests, there's no common thread but plants and diversity."
The Department of Plant Sciences would like to congratulate the students who participated in the Undergraduate Research Week: Guelta Laguerre, Karen Nguyen, Matthew Bustamante, Keyun Wang, Ben Cohen Stillman, Peng Huang, Talissa de Oliveira Floriani, Abelina Jackson, Guelta Laguerre, Eleanor Haworth, Tristan Tran, Jing Li, Zheng Zhenglin, and Parker Wheeler.
If you would like to find out more information regarding the Undergraduate Research Week, such as how you can participate in the event next year, please check out the URC website.
(Article by Matt Marcure, Plant Sciences, UC Davis. October 29, 2020)