Roche seeks sustainability in new role at Society for Range Management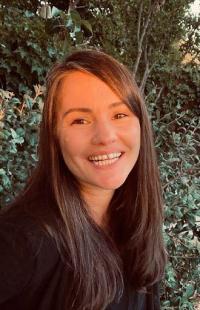 Rangeland specialist Leslie Roche will bring her California ranching background to her new role on the board of directors of the Society for Range Management (SRM).
Roche, a faculty member with the UC Davis Department of Plant Sciences, was elected to a two-year term at the society's annual meeting in Albuquerque, N.M., in February. Her research focuses in grazing on lands affected by wildfire and drought, both complex conditions that are worsening with climate change. Her work is helping to protect California's cattle and dairy ranchers, whose products were valued at more than $10 billion in 2020, according to the state Department of Food and Agriculture.
Dairy products, including milk, ranked No. 1 among California's agricultural commodities, with nearly $7.5 billion in sales for ranchers in 2020, CDFA reported. Cattle ranked No. 5, with more than $2.7 billion in receipts.
"SRM is one of the few societies that effectively brings together scientists and managers, and has built a strong community while doing so," Roche said. "We can leverage these strengths as we continue to transform our professional society and build our capacity to improve the world through the conservation and sustainable management of our biologically and culturally diverse rangelands."
Roche seeks sustainable ways to feed the world's growing population amid the challenges that include socioeconomic conditions.
"To meet these challenges, we need to work beyond institutional, land ownership and political boundaries and build broad-scale partnerships," Roche said. "We must build collaborations that span disciplines, areas of knowledge, and backgrounds. Including diverse perspectives will foster critically needed transformative rangeland science, learning and management."
In her early career in rangelands in California, Roche collaborated with a broad range of stakeholders to tackle major issues at the intersection of agricultural, environmental and social aspects of sustainability, ranching and livestock production. Her involvement in the Society for Range Management furthers her work with local communities, natural resource managers, scientists, and students, SRM wrote in announcing her election.
Primary Category
Tags