Students present research, network at vegetable conference
They'll discuss their findings at coming Seed Central events
Ten UC Davis students and postdoctoral researchers recently attended the annual Vegetable and Flower Conference of the American Seed Trade Association. They enjoyed the opportunity to showcase their research during poster sessions, hear speakers and network with people in the industry. More than 800 seed professionals from 33 countries attended.
Among those attending from the Department of Plant Sciences were:
Maria Alejandra Ponce de Leon
"The focus of my research is to use and develop models to better understand water use in crop systems," said Maria Alejandra Ponce de Leon, a postdoctoral scholar in the lab of Brian Bailey. "I was very excited to learn how remote sensing techniques and modeling tools are currently being used in the seed industry.
Jaclyn Adaskaveg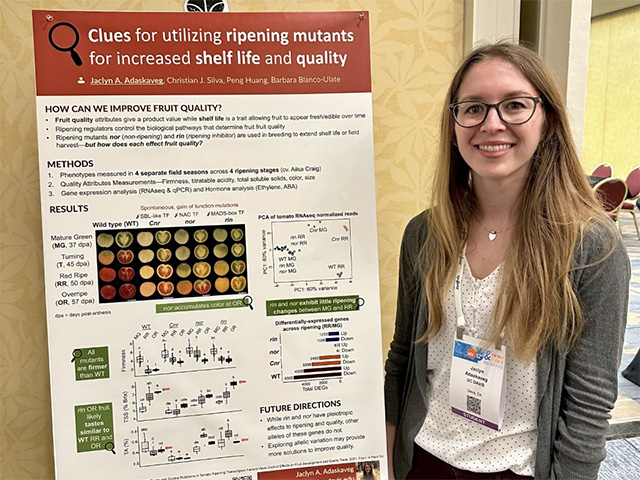 "My research centers around understanding the molecular drivers of fruit quality during fruit ripening in tomato," said Jaclyn Adaskaveg, a doctoral candidate in the plant biology graduate group and a collaborator in the lab of Barbara Blanco-Ulate. "The conference allowed me to expand my network, learn about different companies and their business in the seed industry, learn about job opportunities, and gave me a better idea of what I want to do after I graduate with my Ph.D."
Amanda Lima Vilela
"The focus of my research is to create mutants in genes regulating various steps involved in meiosis, using the capabilities of CRISPR-Cas9 gene editing and combining it with ectopic expression of a transcription factor  ̶  BABY BOOM  ̶  in the egg cell to engineer apomixis in potato," Lima Vilela said.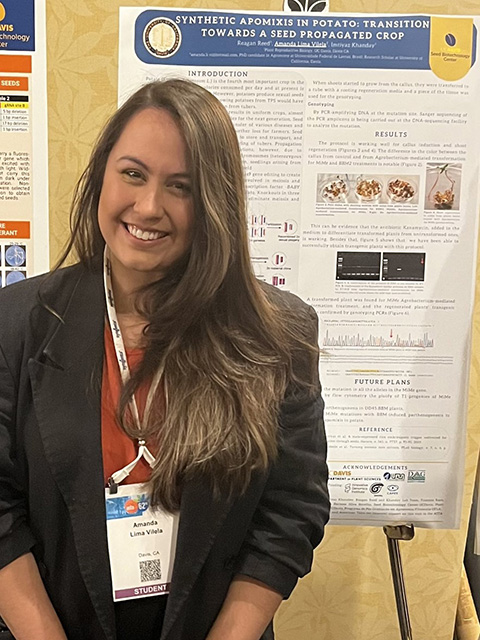 "I am a research scholar at UC Davis, and this opportunity to participate in the ASTA Conference was an incredible gift," added Lima Vilela, who studies plant reproductive biology in the lab of Imtiyaz Khanday. "As a graduate student from Brazil, it was great meeting so many companies, having the chance to talk to seed professionals and understand more about gene editing and U.S. regulations."
Lima Vilela is a doctoral candidate at the Federal University of Lavras, in the state of Minas Gerais, Brazil.
Carolina Lemus
"By attending the conference, I was able to meet leaders in the agricultural industry, where I could network and learn more about the world of agriculture," said Carolina Lemus, a fourth-year undergraduate student in the department's international agricultural development track.
Terryn Hutchings
"My research is focused on the improvement of peppers for traits such as mechanical harvesting and disease resistance, through traditional and molecular marker-assisted breeding," said Terryn Hutchings, an undergrad biotechnology major (plant option).
"Attending the ASTA Conference was a great opportunity to network and make industry connections, as well as learn more about current policy, hot topics and career possibilities within the seed industry."
Hear more at Seed Central meet-ups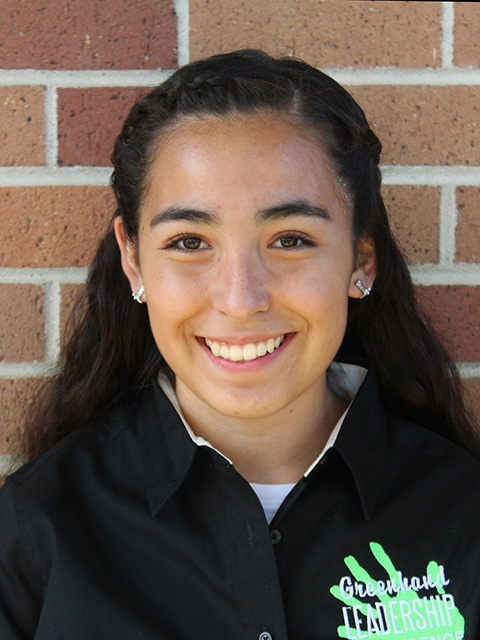 The Aggies were among 27 students and postdocs from 14 American universities sent to the conference by Seed Central, with sponsorship from ASTA and eight seed companies. The two-day event was Jan. 28-29 in Orlando, Fla.
They will speak about their conference experiences at upcoming Seed Central events at UC Davis:
4:30 p.m. Thursday, Feb. 9, at Buehler Alumni Center, UC Davis. Networking starts at 4:30 p.m.; speakers start at 6 p.m. The featured speaker is Department of Plant Sciences Professor Emeritus Heiner Lieth.

March: Details will be announced.
Get more information here about the Seed Central events and register to attend. Entrance is free, and snacks and beverages are served.
Seed Central is a public-private partnership that facilitates communication and research collaboration between UC Davis and the seed and agricultural biotech industry.
Media Resources
Trina KIeist, UC Davis Department of Plant Sciences, tkleist@ucdavis.edu, (530) 754-6148 or (530) 601-6846
Primary Category
Secondary Categories
Tags