UC Davis Research Prepares State's $3.7 Billion Nursery and Floral Industry for a Drier Future
As California enters a third summer of record drought, farmers who raise nursery and floral crops are looking for ways to grow plants with less water, more efficiently, while fighting new diseases and detecting plagues quicker.

Researchers with the UC Davis Department of Plant Sciences are finding ways to help, with support from the Plant California Alliance. The grower-supported organization has granted nearly $400,000 to the department since 2006, according to college records.
Department Chair Gail Taylor recently reported on the latest research and thanked the PCA's board members for their ongoing support.
To further the department's overall mission, Plant Sciences has appointed 12 new professors over the past five years, several with core skills relevant to the nursery and floriculture industry, Taylor told board members. In particular, the alliance has generously supported the work of UC Cooperative Extension specialists Heiner Lieth, a crop ecologist, and Lorence Oki, a landscape horticulturalist. Both are faculty within Plant Sciences who are developing more resilient systems for container-grown plants for urban settings.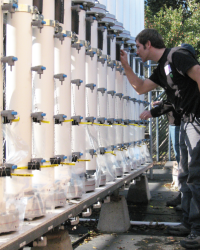 Research projects at funded in 2021 through the Alliance-related CANERS Foundation include:
Acceleration of nursery crop production through recirculating soilless culture systems

Relationship between stem water potential, chlorophyll fluorescence and stomatal conductance in landscape plants grown on three levels of deficit irrigation
Department promotes undergrad majors
In other developments, the department is promoting undergraduate major including environmental horticulture and urban landscapes, which are part of building a pipeline of highly trained experts to lead the industry of the future. The department also has made exciting advances in research on indoor vertical agriculture.
The partnership between plantsciences and PCA strengthens the state's nursery industry, which saw revenues of more than $3.7 billion annually from 2013 through 2017. Nursery and floral production make up about 7% of California's overall agricultural output and account for about 20% nationally, according to UC Davis Professor Emeritus Hoy F. Carman.
The Plant California Alliance is devoted to protecting and promoting the California nursery industry, whose products in 2020 made up the state's fifth-largest agricultural commodity sector. Members include growers, urban agriculturalists, wholesalers, retail garden centers, garden suppliers, horticulturalists and plant experts. PCA supports industry education, research and career development.
Resources for growers
Research by Lorence Oki and the team at UC Davis Plant Sciences offers guidance on the irrigation needs of landscape plants, from work funded in part by the Plant California Alliance. The information helps growers meet the Model Water Efficient Landscape Ordinance for new and renovated urban landscapes. 
Oki's work on climate-ready landscape plants is detailed here.
Helpful tools for growing Easter lilies and roses, from Heiner Lieth, are here.
Tags