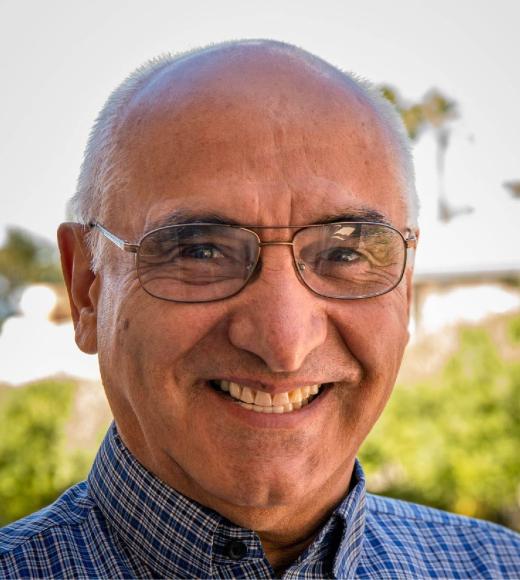 Position Title

Distinguished Professor and Professor of Extension

Consumer Quality and Postharvest Technology
1061 WICKSON
UC Davis, One Shields Ave, Davis CA 95616
Bio
Education:
Ph.D., Oregon State University; Tree Physiology, 1988

M.S., University of California, Davis; Pomology, 1983

Ingeniero AgrÛnomo, Catholic University (Santiago, Chile); Pomology and Enology, 1979
Research interests and expertise:
Sensory quality perception of fresh fruit and nuts in relation to postharvest technologies and handling with the goal to deliver high quality commodities to the consumer.
Current projects:
Improving U.S. Imported Mangos Consumer Quality (Andrea M. Velasquez).
Mangos from different countries most often spend several days in transit from their country of production to the wholesale markets in the U.S. (Slaughter, 2009). Upon arrival in East Coast (Philadelphia) and West Coast (Los Angeles), mangos are transferred to distribution center prior to retail stores. Consequently, an examination of the condition of these mangos upon arrival is vital to confirm the reliability of their maturity indices and appropriateness of their postharvest handling. U.S. Mango consumption has increased from 1.75 into 3.63 pound per person per year in 2020. However, the U.S. mango per capita consumption is still lower than other commodities available in similar yearly cycle. In 2020, bananas had a 27.38, apples 17.59, pineapple 7.28, and table grapes 8.38 pound per person per year (Statista, 2022). We believe that for mangos to compete with the wide variety of fruits and vegetables available to purchase and satisfy consumers, a clear understanding on consumer quality and postharvest quality deterioration at arrival and distribution in U.S. is important to propose postharvest handling strategics.
We hypothesize that the main barriers to increase mango consumption further are chilling injury incidence, consumer sensory quality (dry matter), softening problems, and handlers-consumer education. Our study covered an evaluation of Imported Mango Postharvest Quality at Arrival and During Store Display; Improving 'ready to eat' ripening protocol (Revealing Exogenous Ethylene Ripening Performance for Imported Mangos) and Understanding the Role of the Physiological Maturity and Shipping Temperature on Mango Arrival Quality (market life potential). Thus, our results reveal current potential mango limitations, point out at which step(s) during handling quality problems are occurring, assisting handling changes, and establishing solid educational programs to reduce these problems and increasing mango consumption.
Next-Generation Smart Surfaces and Coatings to Improve Food Safety and Water- Efficiency of U.S. Specialty Crops during Harvest, Storage, Sorting, and Processing (Maria de la Paz Frailer Reyes).
Foodborne illnesses associated with specialty crops are a long-standing problem causing financial loss due to loss of business, unexpected expenses on recalls, disposals, and penalties, legal costs due to foodborne outbreaks, deterioration of the growers' reputation, and loss of consumer's confidence and loyalty for stakeholders. One of the key long-term goals of this project is to minimize the pathogenic contamination of specialty crops-owing to the bacterial cross-contamination of farm tools, utensils, and components used in harvesting and crop-/food-contact surfaces used during storing, sorting, and processing - through smart, novel sanitary design. Given that water use for washing, cleaning, and sanitization of such tools, accessories, and surfaces during harvest and post-harvest is a mandatory, everyday-operational cost for stakeholders and the price of water is increasing day by day, the second long-term goal is to reduce total water volume use during these processes with the development and implementation of next-generation coatings that have easier cleanability and improved hygiene for the use in crop related harvest and post-harvest operations
Current teaching:
Principles of Fruit and Nut Tree Growth, Cropping and Management; Extension Short Course (winter quarter)
Outreach and Extension:
Postharvest Specialist, Cooperative Extension

Director, Fruit and Nut Research and Information Center
External activities that contribute to scholarship:
University liaison, California Fig Institute

University liaison, California Kiwifruit Commission

Adjunct faculty, Dept. of Plant Sciences, California State University, Fresno

Editor, Postharvest Biology and Technology
Editor, Frontiers in Plant Science

Member, American Society for Horticultural Science

Member, International Society for Horticultural Science

Member, American Pomological Society

Member, Italian Pomological Society

Member, National Peach Council

Member, CIAD (Centro de InvestigaciÛn en AlimentaciÛn y Desarrollo, A.C. ñ Research Center for Food and Development in Mexico)

UC ANR Working Groups Member: Almond, Cling Peach, European Pear, Integrated Grape Production, Pistachio, Postharvest Integrated Pest Management, Postharvest Center, Prune, Spray Application Technology, Strawberry, and Walnut
Prizes, Awards, Honors, Distinctions:
2020 Distinguished Professor at UC Davis (the highest campus-level award for faculty who demonstrate outstanding scholarship).

UCCE-ANR 2019/2020 Outstanding Research Distinguished Service (2020).

California Fig Award for

Distinguished Service Achievement, which

"recognizes distinguished service supporting development and improving marketing and utilization of dried and fresh figs products", 2020.

Fruit Flavor Innovation Research Award; SaveMart, 2013

Carroll R. Miller Award, National Peach Council, 2004

California Tree Fruit Agreement, Save the Stone Fruit Award, 2004

Award to Most Valuable Cooperator; Centro de Investigación en Alimentación y Desarrollo, AC, México (CIAD), 2002
Social media links:
Keywords: 
Fresh fruits and nuts

Postharvest biology and technology

Temperature management

Alternatives to fungicides

Arrival quality conditions

Consumer quality

Postharvest environmental conditions during storage and transportation

Fruit preparation for consumers

Ripening protocols

Retail handling

Peach storage quality traits markers

Fruit sensory evaluations
Tags