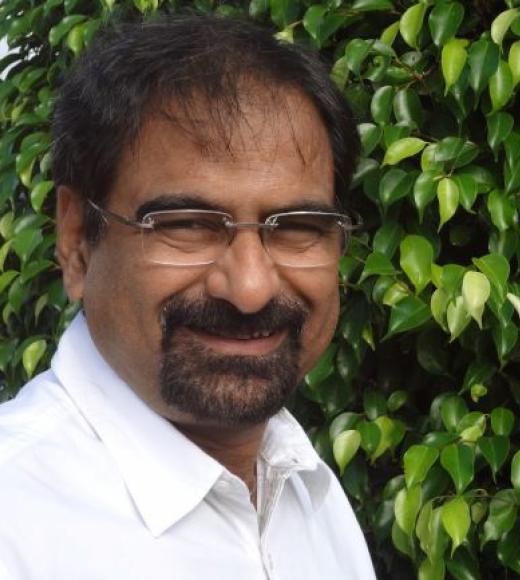 205 Hunt Hall
UC Davis, One Shields Avenue, DAVIS CA 95616
Bio
Education
Ph.D., Banaras H University; Botany, 1973

M.S., Jiwaji University; Botany, 1971
Research interests and expertise:
I am a soil microbiologist and agronomist with more than 35 years of experience on aspects of sustainable management of agriculture and natural resources for increasing food security and environmental quality. Throughout my career, a topic that has continually attracted my attention and interest is nitrogen, an "intriguing enigma." Nitrogen's good side is that the nutrient is required for crop production. However, the element's bad side is that excess amounts not used by plants go either into the groundwater as nitrate, or the atmosphere as nitrogen oxide, which can cause serious human and animal health problems and air pollution. The challenge is to optimize nitrogen (N) use while minimizing its negative impacts. We have been encouraging farmers to efficiently apply N fertilizer only when the crop requires it.
One of the most exciting projects for me at IRRI was working in the 1990s on the international initiative to investigate the feasibility of developing cereals, such as rice, that could fix biological nitrogen like legumes do. We discovered that rice possesses a genetic mechanism for nodulation, as in legumes. Recently, we developed global N budgets for the three globally important cereals — maize, rice and wheat. I have also been interested in long-term experiments — analyzed trends of crop productivity and soil N and carbon (C) stocks in more than 100 experiments running throughout world.
Recently, I analyzed IRRI's Long-Term Continuous Cropping Experiment (LTCCE), one of the world's longest-running agricultural trials. In the experiment, we have watched rice yields decline starting in 1968 all the way through to 2015. We concluded that growing three rice crops in a year is too intensive to be sustainable in the long-term unless the relationships between varieties and agronomy are addressed. During the last two decades, I have been working on conservation agriculture in South Asia. I led the Cereal System Initiative System for South Asia and the Rice-Wheat Consortium Project that aims to sustainably enhance crop productivity and environmental quality. Following a holistic, systems approach, covering various components of agronomic, soil and water management, we developed innovative resource-use-efficient alternatives of tillage/crop establishment strategies.
Current projects:
Nitrogen and Carbon Management in Relation to Sustainable Development Goals

Climate Smart Agronomic Research to Solving Food and Environmental Problems

Soil Microbiome and Crop Nitrogen Nutrition

Conservation Agriculture in Cereal-Based Systems of South Asia
Current teaching:
Analysis and Determinants of Farming Systems; IAD 202 (spring quarter)
External activities that contribute to scholarship:
Chair, Advisory Board, South Asia Nitrogen Hub, supported by the UK Research and Innovation Global Challenges Research Fund (https://noc.ac.uk/projects/gcrf-south-asian-nitrogen-hub)

Member, Scientific and Technical Committee of the Four per Thousand. Soils for Food Security and Climate, a French Government Initiative 

(

https://www.4p1000.org/

)

Advisory Board, The Plant Nitrogen Network (PlaNNet;

http://plannet-rcn.org/about/

)

Advisor, Newton-Bhabha Virtual Centre on Nitrogen Efficiency of Whole-Cropping Systems

Co-Editor-in-Chief, Field Crops Research

Adjunct Professor, Professor Jayshankar Telangana State Agriculture University, Hyderabad, India
Prizes, Awards, Honors:
The World Academy of Sciences, Agricultural Sciences Prize, 2015

International Service in Crop Science, 2015

Fellow, Crop Science Society of America (CSSA), 2014

Lifetime Achievement Award, Conservation Society of India, 2014

Plaque of Recognition, Nepal Agricultural Research Council, 2014

International Service in Agronomy Award, 2011

International Soil Science Award, 2010

International Plant Nutrition Institute, Science Award, 2009

Fellow, American Association for the Advancement of Science (AAAS), 2008

Chair, International Agronomy, American Society of Agronomy, 2007 and 2008

Frosty Hill Fellow, Cornell University, 2006

Outstanding Agriculture Scientist Award, Association of Scientists of Indian Origin in America, 2005

Fellow, American Society of Agronomy (ASA), 2004

King Baudouin Award for Outstanding Scientific Partnership (team award), 2004

CGIAR Chairman's Excellence Science Award (team award), 2000

Fellow, Indian Academy of Agricultural Sciences, 1999

Indian National Science Academy Young Scientist Award, 1979
Google Scholar:
https://scholar.google.com/citations?user=nKv_qigAAAAJ&hl=en
ORCID (16-digit identifier):
https://orcid.org/0000-0001-6517-5379
Social media links:
Keywords:
Agronomy

Soil microbiology

Rice

Cropping systems

International agriculture

Conservation agriculture

Sustainability

Long-term experiments

Soil health

Scientific writings

Nitrogen dynamics/Budgeting and management

Sustainable intensification
Tags