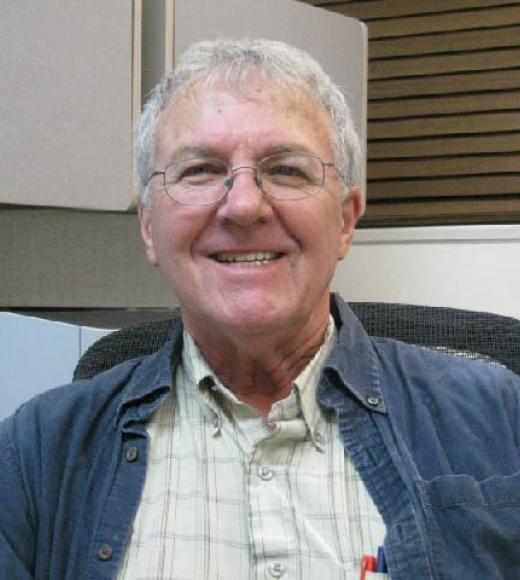 Position Title

Cooperative Extension Specialist and Director, UC West Side Research & Extension Center
SHAFTER
UC Davis, One Shields Ave, Davis CA 95616
Bio
Education:
Ph.D., Texas Tech University; Crop Physiology, 1983

M.S., Texas A&M University; Soil Physics, 1979

B.S., University of California, Davis; Agronomy, 1977
Research interests and expertise:
In my assignment with the University of California (since 1997), I have research and extension education responsibilities for cotton production in California. This work includes interaction with UC agronomy farm advisors with research and extension responsibilities in cotton and work with USDA-ARS and California State University system researchers, largely in the San Joaquin Valley but also including researchers in other cotton-producing states.
The focus of recent research has been host plant resistance screening and breeding of cotton for Fusarium oxysporum race 4 resistance, variety evaluations and irrigation management / water stress responses in a number of crops including cotton, switchgrass, sorghum and sweet sorghum and some other potential biofuel crops, including winter oilseeds. The focus in the field trial work includes potential interactions between production practices and pest management, alternative cropping systems including evaluations of double row planting configurations, crop responses to and potential nitrogen losses under a range of nitrogen management practices in cotton, and fungal disease impacts on seedling survival and host plant resistance evaluations for specific fungal diseases of cotton.
Current projects:
Fusarium oxysporum f. spp. Vas infectum (race 4) host plant resistance screening in cotton (pima and upland types) ñ funded by USDA-ARS, California Cotton Alliance, and California Cotton Growers and Ginners Association.
Cotton breeding for improved resistance to Fusarium oxysporum race 4 ñ funded by USDA-ARS, National Cotton Council, California Cotton Growers and Ginners Association, California Cotton Alliance, and seed companies.

Water stress responses and deficit irrigation management in Pima and Upland cotton .

Water stress responses and deficit irrigation management in sorghum (Dept. of Energy, UC Berkeley, UC ANR).

Cotton Variety trials (California Cotton Alliance, Cotton Incorporated, seed companies).

Sorghum and corn nitrogen management under deficit to full ETc replacement subsurface drip irrigation.

Saline irrigation responses and screening for salt tolerance in sorghum.
Outreach and Extension:
Work on responses of a range of potential biofuel and alternative forage crops to irrigation management, including deficit irrigation practices.

Field demonstrations and projects on various aspects of drip irrigation and deficit irrigation of Pima and Upland cotton.

Joint projects with Steve Kaffka (UCCE specialist) on canola, camelina and sweet sorghum agronomic practices, irrigation and varieties.

Joint projects with Dan Putnam (UCCE specialist) on alfalfa, switchgrass and perennial grass species, and varietal screening for salt tolerance in alfalfa cultivars.

Joint projects with Steve Wright (UCCE advisor) and Jeff Dahlberg (UC specialist) on grain and forage sorghum cultivars as a drought-tolerant crop alternative for California farmers. Research has focused on evaluating commercial sorghum hybrids to determine types of sorghums that will function within growing conditions here in California.

Outreach activities have been focused on participating in regional symposia and field days to present information on cultivars and particularly on cultivar differences in responses to irrigation ranging from moderate deficit to full irrigation. A focus has been on including deep soil gravimetric sampling to be able to provide full water balance information so total crop water use can be calculated under San Joaquin Valley production conditions.

Participated multiple times over five years in nitrogen management training programs jointly developed by University of California, Calif. Dept. of Food and Agriculture and California Assn. of pest Control Advisers (CAPCA) to provide training materials in nitrogen management, including sessions developed for cotton and soil management practices impacting N management.
External activities that contribute to scholarship:
Advisor and board member; National Cotton Council

Advisor and university liaison; California Cotton Growers and Ginners Association

Member; California Cotton Pest Control Board
Prizes, Awards, Honors:
Past-president, Executive board member, California Chapter - American Society of Agronomy, 2014, 2018

Cotton Specialist of the Year, Beltwide Cotton Conferences, U.S. Cotton Specialists Working Group, 2017

Award of Merit, California Cotton Growers Association, 2006, 2014

Distinguished Service Award by the California Cotton Growers

, 2007
Social media link:
Ag Fax (Ag FAX west - contributions made to industry-sponsored crop management website)
Keywords related to your work:
Cotton

Irrigation

Plant water stress

Fusarium

Cotton host plant resistance ñ disease management

Sorghum

Corn

Nutrient management

Nitrogen management

Pima cotton

Cotton breeding for disease resistance
Tags