Effectiveness and Impacts of Dust Control Measures for Owens Lake
New and innovative approaches are needed to improve air quality, reduce water use, and preserve habitats.
The National Academy of Sciences' Owens Lake Scientific Advisory Panel (OLSAP) has been assessing how to manage Owens Lake to balance water needs, dust control, environmental goals, and cultural resources. Professor Valerie Eviner at UC Davis, an expert on a range of ecological issues, serves on the Owens Lake Scientific Advisory Panel.
A new report from NAS, released today, addresses dust control measures for Owens Lake. The mission of the National Academy of Sciences is to "provide independent, objective analysis and advice to the nation and conduct other activities to solve complex problems and inform public policy decisions."
Brief summary of the OSLAP publication

In the early 1900s, the Los Angeles Department of Water and Power diverted water from Owens Lake to supply Los Angeles with drinking water. This essentially desiccated the lake, resulting in the highest PM10 dust emissions in the United States. This new report addresses how dust is now being managed, and how planned decreases in water available for dust control (due to more water diversion to Los Angeles and more variable water availability under a changing climate) will affect many other aspects of the environment. The report develops a framework for better balancing these multiple goals by redesigning dust control infrastructure from an engineering system, to more of a self-sustaining ecological system that is better suited to the landscape.
"Using science to address society's challenges is an important part of the University of California mission," said Eviner, "and is especially critical in the face of environmental changes that are leading to novel conditions and more stress on our natural resources.
"Certainly there are difficult decisions when balancing environmental conservation and human needs, but this panel made it clear that long-term restoration and conservation of key habitats provides the ecological functions that will sustain human needs more effectively and efficiently."
Valerie Eviner is a faculty member in the Department of Plant Sciences at UC Davis. She uses a mechanistic understanding of plant-soil interactions to increase understanding and effective management of ecosystem services, plant invasions, restoration, plant community composition, biogeochemical cycling, global change, grazing systems, and resilience of ecosystem structure and function.
Read the OLSAP report online here or download the PDF
(Article by Ann Filmer, Plant Sciences, UC Davis. February 26, 2020)
###
NAS Press Release
Feb. 26, 2020
New, Innovative Approaches to Dust Control Needed at Owens Lake, Report Says
A new report from the National Academies of Sciences, Engineering, and Medicine finds new and innovative approaches to dust control are needed at Owens Lake, California, to improve air quality, reduce water use, and preserve habitats.
Effectiveness and Impacts of Dust Control Measures for Owens Lake says while much progress has been made in improving air quality through dust control, none of the dust control methods currently in use at the lake meet the mandated levels of air quality while also addressing concerns about water use and environment. Existing dust control measures are dominated by methods that use large amounts of water, such as shallow flooding. The report recommends future research examine individual and hybrid dust control methods and develop new approaches for planning and evaluating the use of those methods. 
Owens Lake used to cover about 100 square miles, until water was diverted from the Owens River in 1913 to bring water to the city of Los Angeles. The diversion caused large portions of the lake bed to dry out, and today it covers less than one-third of its former area. Before dust controls were implemented, the exposed lakebed produced large amounts of dust under high winds, resulting in the highest concentrations anywhere in the U.S. of airborne PM10, or particulate matter with a diameter of 10 micrometers or less.
The Los Angeles Department of Water and Power (LADWP) has spent $2.1 billion on dust control efforts as of May 2019, mostly in the form of shallow flooding of the lake, which is used on about 62 percent of the dust control areas on the lakebed. In a 2014 stipulated judgment, LADWP and the Great Basin Unified Air Pollution Control District (GBUAPCD) agreed to rely less on shallow flooding for dust control and to investigate new, refined methods that reduce water use. The stipulated judgment also directed that the National Academies evaluate the effectiveness of alternative dust control efforts, taking water use, cost, reliability, durability, and environmental impacts into account.
"Much progress has already been made in controlling dust at Owens Lake," said David Allen, director of the Center for Energy and Environmental Resources at the University of Texas at Austin, and chair of the panel that wrote the report. "However, our report finds that Owens Lake needs innovative solutions that not only control dust to meet air quality standards but use less water and meet the needs of the local environment as well."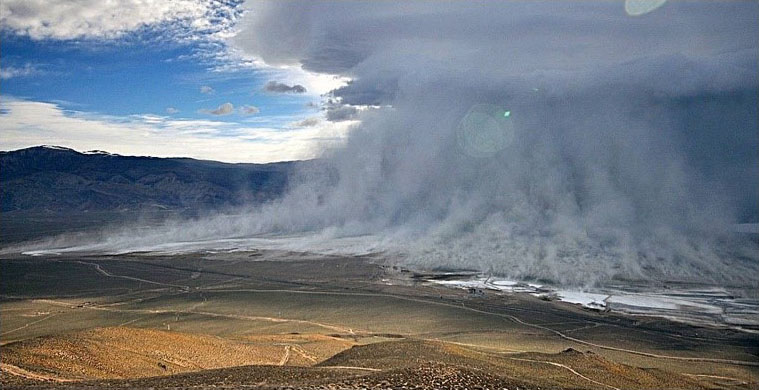 The report emphasizes that dust control methods used at a variety of locations on the lakebed should be evaluated using a systems approach, assessing their ability to improve air quality and their positioning — considering proximity to groundwater, salinity, habitats, and water savings potential. Management decisions should take the value and abundance of diverse ecosystems into consideration, such as the lake's shallow flooding areas that attract migratory and nesting birds or the alkaline meadows created by vegetated dust control measures. Local tribes have expressed concerns about the potential damage to valued cultural resources on the Owens Lake bed — caused by the use of heavy machinery and leveling operations that come with some dust control measures — and preservation of the natural landscape. The report says that a systems approach can best address the multiple goals of dust control and concerns about its impact.

GBUAPCD and LADWP should develop and deploy new methods to assess PM10 emissions from individual dust control areas, supplementing the current monitoring network, the report says. Moving forward, performance of dust control measures should be more directly linked to PM10 emissions, as opposed to surrogate metrics like percentage of land covered by vegetation. This would enable the use of more innovative and adaptive strategies for dust control.

The study — undertaken by the Owens Lake Scientific Advisory Panel — was sponsored by Great Basin Unified Air Pollution Control District and the Los Angeles Department of Water and Power. The National Academies are private, nonprofit institutions that provide independent, objective analysis and advice to the nation to solve complex problems and inform public policy decisions related to science, technology, and medicine. They operate under an 1863 congressional charter to the National Academy of Sciences, signed by President Lincoln. 
Primary Category
Tags