High-schoolers see biotech up close during campus visit
Beckles encourages students to consider science careers
Nearly 40 high school students dropped iodine into test tubes during a special class recently at UC Davis. They wanted to see if certain genes affecting the starch in potatoes had been passed on to the plants being tested in the little tubes.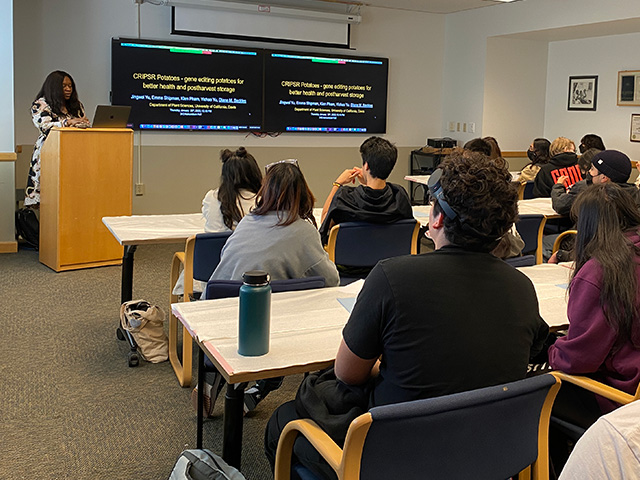 The plants had been bred to create tubers that could withstand colder temperatures, explained Diane Beckles, a professor of postharvest integrative biology in the Department of Plant Sciences. Such potatoes could last longer in cold storage, and if they could last longer, they could feed more people. The students got busy with their tests, working in small groups and comparing their results.
The teenagers already had been exposed to genetics and genomics at El Camino and South San Francisco high schools on the San Francisco Peninsula. They were visiting as part of the UC Davis Biotechnology Program's outreach to regional schools, encouraging students to explore careers in the field and attend UC Davis.
"We need you!" Beckles told the students; she is also the advisor for the biotech undergraduate major.
Beckles' own undergrads encouraged their young visitors through the experiment. Among them were undergrads Loraine Cruz and Esperanza Cortez, who themselves had first visited UC Davis a few years ago when they studied in the same program at South San Francisco High. Being in a mentoring role keeps her excited about her own career plans and research, Cruz said.
"Meeting and engaging with the students is so inspiring because, seeing their fascination when I share my research interests and being told that they value my advice on how to navigate college motivates me to push through my own academic journey," Cruz added.
Outreach program of UC Davis Biotech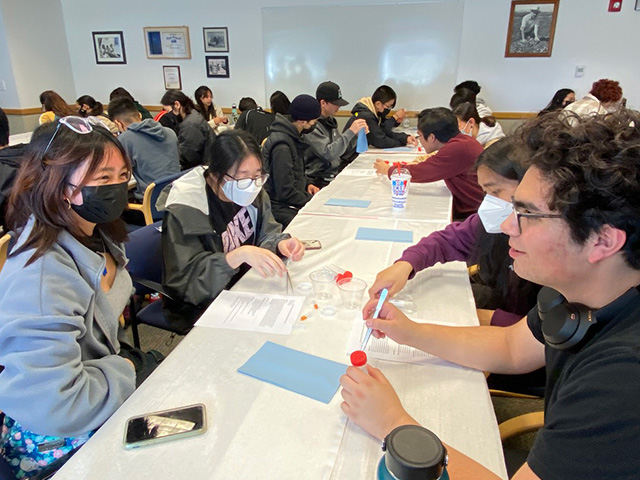 Students on the field trip reported liking their tour of the campus' plant conservatory, getting a small taste of college life, hearing from current UC Davis students, learning about resources to help young scholars, exploring… and, getting lunch at the Memorial Union.
 "UC Davis is an option for college if I want a biotech major," wrote one student after the tour.
That's a win for organizers. The students visited through Biotech SYSTEM, a consortium for science outreach and education led by the UC Davis Biotechnology Program and partnering with regional schools at all grade levels, plus community colleges, regional universities and private industry. The on-campus visits are one of the program's most impactful activities, said program Director Denneal Jamison-McClung.
"We expose students and teachers to the cutting-edge research happening on campus through our graduate student STEM-Talks, and for many students, it is their first visit to a college campus," Jamison-McClung said. "Being here helps to demystify academic career paths, from undergraduate through graduate and professional school, while providing high-school visitors with an opportunity to interact with potential role models and mentors."
These high-schoolers already are learning about biotechnology through a program bringing together the South San Francisco Unified School District and Genentech's Futurelab Science Garage, explained Rocky Ng, a biotech teacher at South San Francisco High. This group​ is in their second  year of studies, when they learn more-advanced laboratory techniques and explore applications in agriculture and the environment, he said.
"Going to the UC Davis field trip enables students to learn about exciting plant biotechnology research from graduate students and professors," Ng added. "More importantly, we want students to recognize UC Davis as a potential avenue to study biotechnology after high school."
For the visitors, it was a plus to learn from kids from their own neighborhoods. "I… really liked hearing from South City alumni, and to see how far they came in the biotechnology field was very admirable," one of the high-schoolers wrote.
"There are a lot of things being done to advance in agriculture sciences," another visitor reported learning. "However, the process is a lot of work… the hard work of these scientists is contributing to future advancements."
"Biotech might be one of the majors that will help the world," wrote a third.
Related links
UC Davis Biotechnology Program and K-14 STEM outreach.
Primary Category
Secondary Categories
Tags