Monroe, Quiroz seek way to speed genome research
Study of DNA processes has potential for ag crops, cancer
Scientists Grey Monroe and Daniela Quiroz are trying to develop a technique that could speed research on processes affecting countless facets of biology – from how plants respond to stressful conditions to the changes that trigger cells' cancerous growth. They just won a $50,000 boost for their work, with a grant from the UC Davis Science Translation and Innovative Research (STAIR™) program.
The two Department of Plant Sciences researchers have been studying how DNA gets repaired when it is damaged, and how DNA repair proteins target certain parts of the genome. "This field of biology is becoming a really exciting area to work in," said Monroe, an assistant professor and director of the Monroe Lab. "Scientists sequenced the human genome nearly 20 years ago, but now we're understanding how the genome actually works, and our work is a part of that."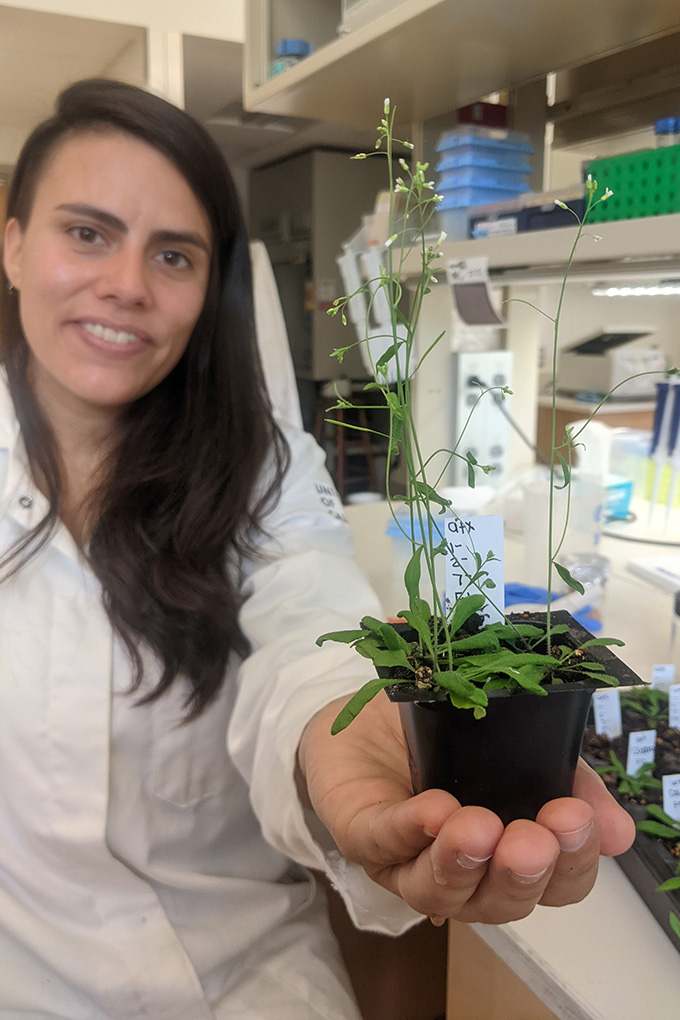 Quiroz, a doctoral candidate in the Monroe Lab, will spearhead the research using the humble weed commonly known as thale cress, or Arabidopsis thaliana. Eventually, she'll expand to other species, including crops important for California agriculture. By looking at the biochemistry of proteins that interact with DNA in those plants, she hopes to develop a new research tool that would easily identify where critical processes like DNA repair go wrong.
Such a tool would accelerate the pace of discovery, Monroe explained. Currently, this area of research relies on a different method that is time-consuming, gives inconsistent results, can't be easily duplicated and is expensive.
"Our new tool could be useful to everyone interested in understanding how the genome works and wanting to apply that to solving problems, whether it's in human health or agriculture," Quiroz said.
Goal: Read the 'histone code'
The study of the proteins entwined with genetic material in plants and animals is called epigenomics. Those proteins, called histones, act as signals between the DNA in each cell and other proteins, governing the most fundamental processes in biology. For example, histones affect how genes are expressed and coordinate repairs when the DNA gets damaged. When damage is repaired, cells continue to get built as before; but if the damage is not repaired, there is a mutation in the DNA, and new cells carry that mutation – perhaps even becoming cancerous.
The histone signals – the code these proteins use to communicate with other protein molecules that do the work – are not well understood. Monroe and Quiroz want to find a faster, more efficient way to study them.
"The histones are like the lights on the runway directing the plane where to land at night. The plane is another protein, such as the one involved in DNA repair.  We want to understand the histone code, and which molecules are reading the code, and how they read it," said Monroe. "In cancer biology, it's become clear that this code is regulating whether cancer develops. If the histone code gets messed up, that can be a catalyst for cancer."
In agricultural crops, a faster way of deciphering the histone code could make it easier to identify opportunities for using CRISPR genetic engineering to improve plants for human use, Monroe added.
STAIR bridges gap between research and early investment
The Monroe team's proposal, "Engineered histone readers: Disruptive technology for epigenomics," was funded in the STAIR category of Food, Agricultural Systems and Nutrition. It is among six UC Davis projects to receive funding in 2022.
Now in its ninth year, STAIR supports campus innovators so they can demonstrate early proof-of-concept, making their innovations more attractive to commercial investors. The program is funded by the UC Davis Office of Research and managed by Venture Catalyst.
"These grants provide a path for bold ideas to reach commercial applications benefiting the public that may otherwise have sat idle," said Vice Chancellor for Research Prasant Mohapatra.
The grants include entrepreneurial training and patent counseling, and it pairs researchers with business mentors who guide them on their commercial transition. 
Related links:
Media Resources
Trina Kleist, tkleist@ucdavis.edu, (530) 754-6148 or (530) 601-6846.
Primary Category
Secondary Categories
Tags