Pepper genetics pioneer Paul Smith honored
Plant pathologist Paul G. Smith, the founder of pepper genetics and a retired professor at UC Davis, has been recognized for a lifetime of contributions that continue to shape plant sciences today.
Smith was a professor in the former UC Davis Department of Vegetable Crops, one of four departments that merged to become the current Department of Plant Sciences. His contributions were recognized at the recent 25th International Pepper Conference in Tucson, Ariz.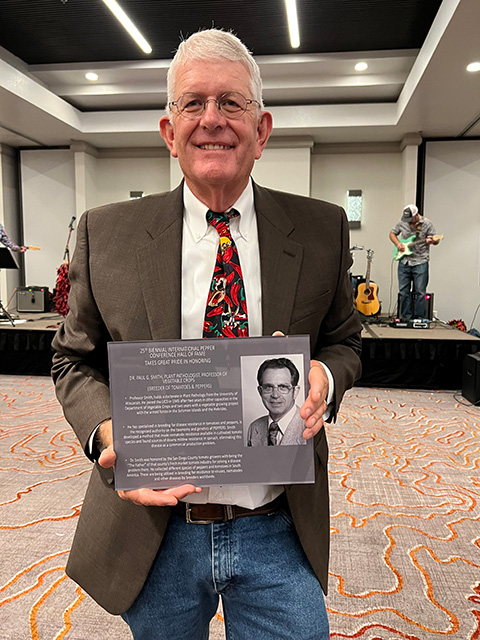 "Paul was a pioneer in pepper genetics and laid the foundation to address key challenges in pepper breeding for disease resistance and the basis of market classes still today," said Allen Van Deynze, director of the UC Davis Seed Biotechnology Center and associate director of the Plant Breeding Center
Smith joined UC Davis in 1945, after working on a vegetable growing project with the United States Armed Forces in the Solomon and Hebrides islands. He continued his work at the university into the 1980s.
"Smith released bell pepper varieties including 'Caloro,' a yellow wax-type pepper, and 'Summer Sunshine,' a yellow bell-type," according to "100 Years of Breeding," a publication of the UC Davis Plant Breeding Program. "He identified a source of resistance to phytophthora root rot disease still widely used in commercial varieties."
His work extended into tomatoes and spinach, focusing on breeding for disease resistance. "Smith developed a method that made nematode resistance available in cultivated tomato species and found sources of downy mildew resistance in spinach, eliminating this disease as a commercial production problem," according to the plaque awarded to him at the conference.
His research enabled tomato growers in San Diego County to develop a strong market there.
Smith also "is the recognized authority on the taxonomy and genetics of peppers," the plaque reads. He identified a new species of pepper from Peru and developed a model of how color in bell peppers is controlled at the genetic level, according to "100 Years of Breeding."
Meeting gathers chile researchers, fans
Smith was presented the plaque by conference chair and Arizona pepper grower Ed Curry.
The International Pepper Conference gathers scientists, researchers, breeders, horticulturists, pathologists, entomologists, geneticists, physiologists, virologists, extension agents, seed and chemical company representatives, major processors, growers and chile fans from around the world. The conference bills itself as "the premier venue for the dissemination and exchange of information on Capsicum."
Media Resources
Trina Kleist, tkleist@ucdavis.edu, (530) 601-6846
Primary Category
Secondary Categories
Tags