Which trees will keep on shading us?
UC Davis team looks at how urban forests will fare in a hotter, drier climate
Trees in our towns give us shade and relief from the heat, but how long can they keep that up as our climate warms and water becomes scarcer? Scientists at UC Davis are figuring that out and hope to create guides for homeowners, landscapers, nursery managers, parklands officials, urban planners and others trying to preserve islands of refuge within our hot-and-hotter urban centers.
Alessandro Ossola, an assistant professor in the Department of Plant Sciences, is working with a UC Davis team that is measuring how well urban trees grow and cool the areas around them, even as city temperatures rise and regional droughts become more frequent and intense. They already are looking at trees commonly grown in Sacramento, and they'll expand to New Orleans and Raleigh, N.C. . Residents in the three cities long have enjoyed the beauty and benefits of trees such as American elms, sweetgums and willow oaks, but the impacts that climate change could have on these species are unclear
Among the researchers' goals is to predict which trees are more likely to thrive in a hotter, drier future, and to educate consumers and professionals who are planting now the trees that could protect them – or perhaps perish – in the future.
The team also will try to figure out why people choose the trees they plant, and to what extent people select those trees based on how well they might grow in a warmer future, as opposed to other qualities. They hope to create an education and outreach program that combines all their findings and encourages people to plant trees that are the most suitable for future conditions.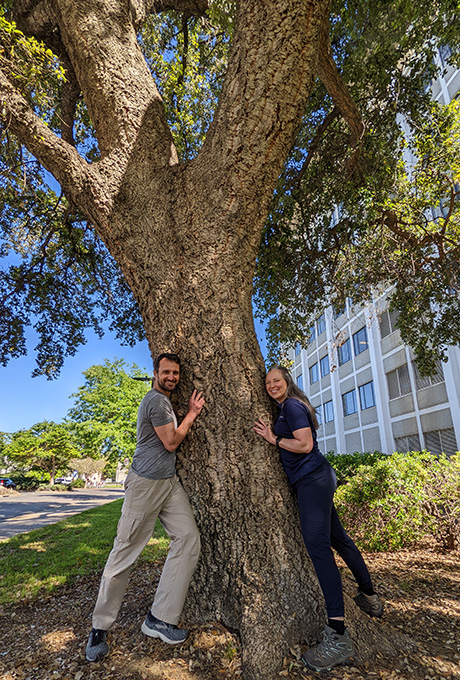 Emily Meineke, an assistant professor in the UC Davis Department of Entomology and Nematology, is leading the effort. Mark Lubell, a professor in the UCD Department of Environmental Science and Policy and director of the UCD Center for Environmental Policy and Behavior, is also participating. Earlier this year, the team won a three-year grant of $649,000 to fund their studies through the Agriculture and Food Research Initiative of the National Institute of Food and Agriculture, part of the United States Department of Agriculture.
"I can't wait to look back in time through tree rings to see which trees will thrive in the face of climate change," Meineke said.
Lower income, less shade, higher temps
Scientists already know that communities with lower-income residents have fewer trees – and consequently, higher on-the-ground temperatures during hot months. This project will compare tree growth and shade to local census information.
They will also measure differences among local heat islands within the three cities that have very different conditions. They'll measure factors such as how much rain and run-off the trees have access to, rates of evapotranspiration, how much tree crowns expand year after year, how many leaves are growing, the condition of the soil, pests attacking the trees, local air pollution and how trees fare across zones with different temperatures.
Related links
Read the full AFRI grant, "Urban Heat Islands as Windows into Climate Change and Ecosystem Service Provisioning by Street Trees," here.
Media Resources
Trina Kleist, tkleist@ucdavis.edu, (530) 601-6846
Primary Category
Secondary Categories
Tags