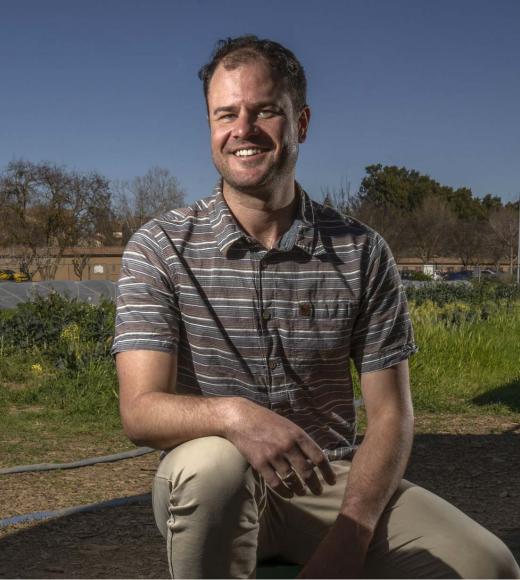 Bio
Education:
Ph.D., University of Idaho; Natural Resources (Geospatial Laboratory for Environmental Dynamics), 2015

B.A., University of Denver; Physical Geography (Remote Sensing), 2010
Research interests and expertise:
Our lab seeks to better understand plant systems through the lens of remote sensing and environmental informatics. This work is largely interdisciplinary and combines the fields of plant ecophysiology, biophysics, optics, statistical and computer science.
We develop instruments and methods for mapping vegetation structure and function at the leaf, tower, airborne, and satellite scales. This includes optical sensors that measure vegetation reflectance, thermal emission and solar-induced fluorescence (SIF), as well as active sensors (lidar, radar, microwave). Our work spans the plant kingdom – from agricultural applications (i.e., water and nutrient use efficiencies) to managed and unmanaged ecosystems (i.e., CO2 uptake, productivity, stress).
Current projects:
Multi-decadal time series of vegetation chlorophyll fluorescence and derived gross primary production (NASA MEASURES, 2019–2023)

Ecophysiological and physical mechanisms linking solar-induced fluorescence and vegetation reflectance to Boreal forest productivity (NASA ABoVE, 2019–2022)

Seasonality of photosynthesis of temperate and boreal conifer forests across North America (NSF Macrosystems Biology, 2019–2022)

Exploiting diurnal cycles to evaluate vegetation responses to heat and drought stress (NASA ECOSTRESS, 2020–2023)

Developing solar-induced chlorophyll fluorescence as a ground-based and remotely-sensed physiological indicator of grapevine stress under field conditions (American Vineyard Foundation, 2019–2020)
Current teaching:
Courses in vegetation remote sensing and environmental informatics (coming 2021)
External activities that contribute to scholarship:
Associate guest editor, AoBP Plants

Peer reviewer for more than 25 scientific journals

NASA Arctic Boreal Vulnerability (ABoVE) Science Team

NASA OCO-2/3 Science Team
Prizes, Awards, Honors
NASA Group Achievement Award. OCO-2 Science Team. 2018.

NASA Postdoctoral Program Fellowship. 2015–2018.

University of Idaho Outstanding Doctoral Student Research and Creativity Award. 2015.

College of Natural Resources Overall Outstanding Graduate Student,

University of Idaho

. 2015.

NASA Idaho Space Grant Consortium Graduate Fellow. 2013–2015.

Decagon Devices GA Harris Instrumentation Fellow. 2014.
Google Scholar: https://scholar.google.com/citations?user=Q87VW00AAAAJ&hl=en
ORCID (16-digit identifier): 0000-0002-9033-0024
Social media links:
Keywords:
Remote sensing

Environmental informatics

Plant biophysics

Photosynthesis
Tags