Davis lands Rockey Fellowship for tree nut studies
Program funds three years of 'critical' ag research
Doctoral student Matt Davis has been accepted into a three-year fellowship program that nurtures young scientists who are addressing unprecedented challenges in American food and agriculture.
Davis is part of the 2022-25 cohort of the Rockey Fellowship, of the Foundation for Food and Agricultural Research. He's among several dozen graduate students across the nation selected each year who are investigating areas of urgent concern. Fellows receive funding for their research, work with university and industry representatives and participate in professional development activities. Davis' FFAR fellowship is co-sponsored with matching funds from the California Pistachio Research Board.
Davis is working on orchard crop genomics and aims for a Ph.D. in plant biology.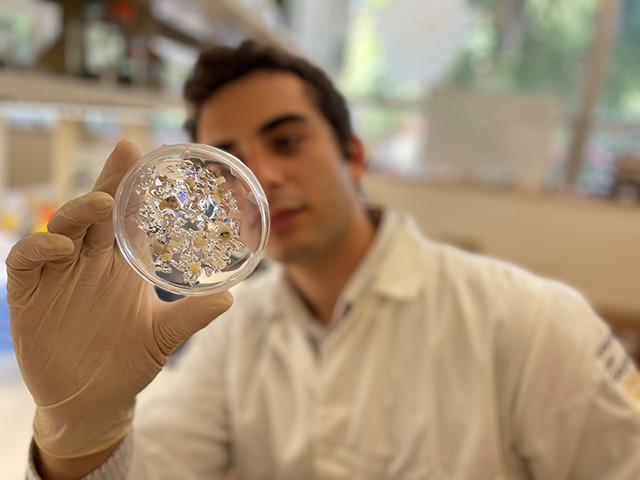 "I'm interested in developing genomic tools to help with the pistachio and walnut breeding programs here at UC Davis to support California agriculture," Davis said. "With the assistance of FFAR and the California Pistachio Research Board, we will be further investigating the genetic control of salt tolerance in pistachio trees. We are also interested in looking into the effect on mutation that long-term tissue culture has had on walnut embryogenic cultures."
Davis' advisors in the department are Grey Monroe, an assistant professor, and Pat J. Brown, an associate professor and nut crops breeder.
"Matt has an eye for big questions in plant genetics and is passionate about addressing challenges facing California agriculture," Monroe said. "I have no doubt that he will go far. The Rockey Fellowship is a launchpad for exciting work to come."
The goal of the Rockey FFAR Fellows program is to prepare young scientists to tackle critical problems in agriculture created by climate change, a growing population and evolving pests and pathogens. The program funds graduate students working in the areas of next-generation crops, urban food systems, soil health, sustainable water management, advanced animal systems and the health-agriculture nexus. In addition, the program seeks to break down the disciplinary silos and train participants in professional development and people-skills.
The program is led by the Academic Programs Office at the College of Agriculture and Life Sciences, North Carolina State University.
Media Resources
Trina Kleist, tkleist@ucdavis.edu, (530) 754-6148 or (530) 601-6846.
Primary Category
Secondary Categories
Tags